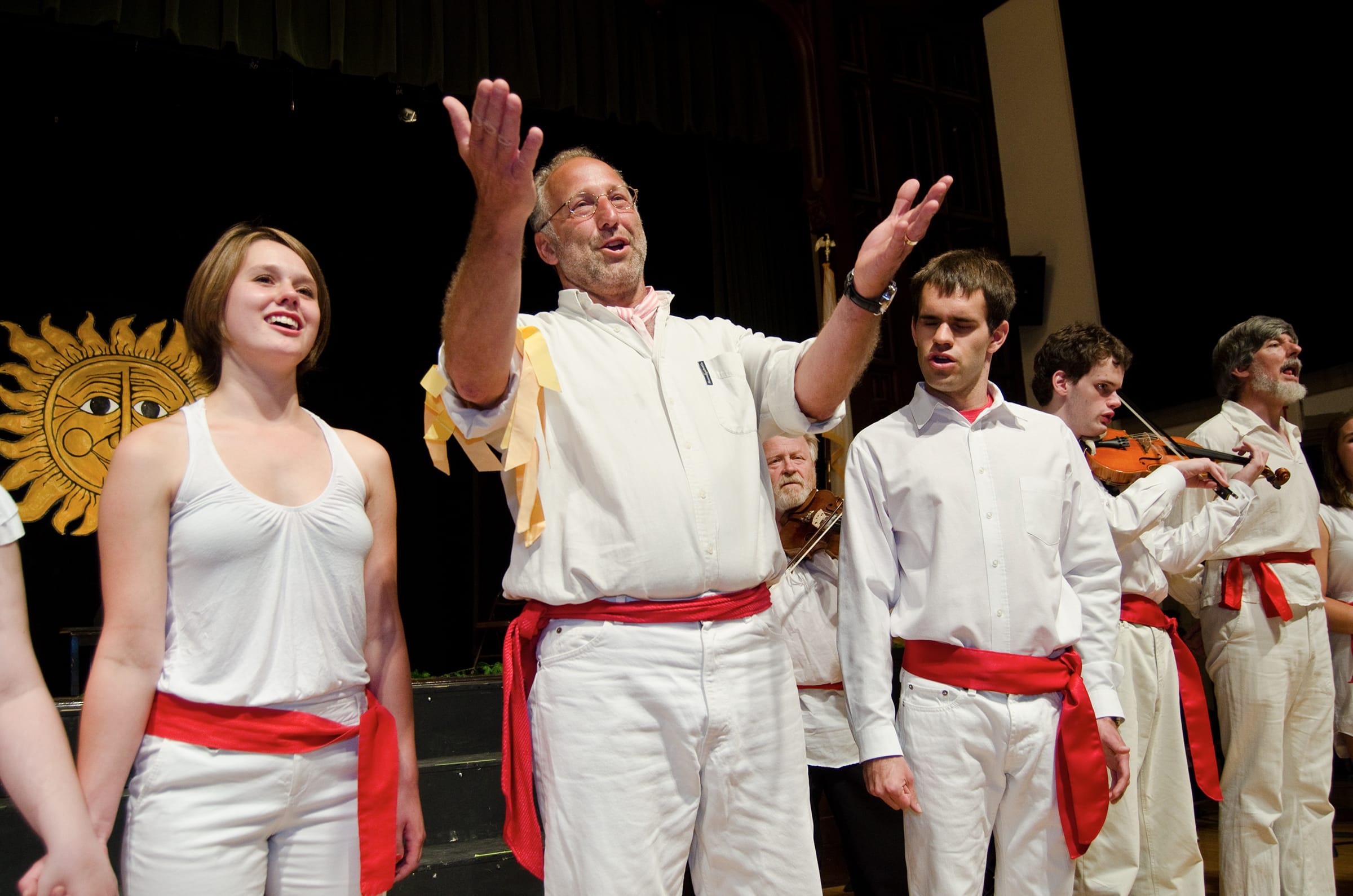 A Celebration of Spring with Perkins School for the Blind
There are many harbingers of Spring in the Revels calendar but for us, the annual Spring concert that we perform with our friends at Perkins School for the Blind is a special favorite. Traditionally our Revels chorus pairs up with the Perkins students one-on-one and we sing and dance the season in. This year, like last, will be a virtual event, but that will not stop the dancing or the singing! We will be filming on-site at Perkins and we are looking forward to the amazing alchemy that always accompanies this musical collaboration. As a bonus, members of Boston's Chorus pro Musica will be adding their voices to the celebration. Join us at home in this decades-old tradition!
FREE! Streaming on Facebook Live on Thursday, May 26, 2022, 7:30 PM ET
The program is supported in part by a grant from the Watertown Cultural Council, a local agency which is supported by the Mass Cultural Council, a state agency, and by a gift from the Klarman Family Foundation.
Patrick Swanson
Revels Artistic Director
Read More
Patrick Swanson
Revels Artistic Director
Paddy Swanson began his career in London as an actor at the Arts Theatre in the West End. In 1969, he toured Europe with La MaMa Plexus and subsequently got his world theater education from Ellen Stewart at La MaMa E.T.C. in New York. His numerous directing projects include opera, ensemble, music theater and circus.  He was a founding stage director of Circus Flora.
Paddy taught acting and improvisation at the London Academy of Dramatic Art (L.A.M.D.A.), the London Drama Centre, and New York University. He served as artistic director of the Castle Hill Festival at Castle Hill in Ipswich, Massachusetts, directing and co-producing opera and theater works, including the premiere of Julie Taymor's Liberty's Taken and Peter Sellars' production of Cosi fan Tutte. Other directing credits include Tristan and Iseult with the Boston Camerata at the Spoleto USA festival; Shirley Valentine by Willy Russell at Houston's Alley Theatre and Boston's Charles Playhouse;  Happy Days by Samuel Beckett, The Caretaker by Harold Pinter, and two stage premieres at Gloucester Stage Company; Talking Heads by Alan Bennett; and Fighting Over Beverley by Israel Horowitz . His Actors' Shakespeare Project (A.S.P.) production of  Shakespeare's King Lear with Alvin Epstein was nominated for three 2006 Elliot Norton awards. For A.S.P. he subsequently directed The Tempest, The Coveted Crown  (Henry IV Parts One and Two) and A Midsummer Night's Dream. His most recent acting performance was for Gloucester Stage in their 20th anniversary production of Fighting over Beverley.
For Revels, Paddy has directed a contemporary version of the medieval mystery plays, The Mysteries by Tony Harrison, co-produced by Revels and Shakespeare & Company, and Britten's opera Noye's Fludde. He writes and directs all Cambridge Revels scripts, and with music director George Emlen, serves as consultant to the other eight Revels production companies.
Elijah Botkin
Revels Music Director
Read More
Elijah Botkin
Revels Music Director
Elijah Botkin graduated from Northeastern University in 2015 with bachelor's degrees in Music History & Analysis and Mathematics. During his time at Northeastern, Elijah founded and directed the Northeastern Madrigal Singers; was President, Bass Section Leader, and Assistant Director for the NU Choral Society; and sang with and arranged for the award-winning a cappella group Distilled Harmony. In 2015, Elijah won the award for Outstanding Arrangement for his arrangement of Distilled Harmony's quarterfinal-winning set in the International Championship of Collegiate A Cappella. In the same year, his arrangement of "Nothing Feels Like You" by Little Mix also won a CARA (Contemporary A Cappella Recording Award) for Best Mixed Collegiate Song. In 2014, Elijah was granted the Gideon Klein Award in order to write his composition The Closed Town, which was premiered by the Northeastern University Chamber Choir in April 2015. Currently, Elijah continues to direct the NU Madrigals and serves on the Board of Trustees for Chorus pro Musica. He also sings with the Boston-based chamber choir Carduus and serves as their Treasurer and Business Manager.
David Coffin
Musician and Soloist
Read More
David Coffin
Musician and Soloist
David Coffin has performed throughout New England since 1980. He is widely known for his rich baritone voice and his impressive collection of musical instruments, which includes concertinas, recorders, penny-whistles, bombards, gemshorns, cornamuse, shawm, rauschphieffe – or, as he explains, "generally anything that requires a lot of hot air". At the heart of David's work is his extensive collection of songs from the Maritime tradition. To date, David has recorded four solo CDs; his latest, Last Trip Home, was released in the Fall of 2009 and features his daughter, Linnea, who is also a Revels performer.
David has performed with Revels since 1980 as a singer, instrumentalist and, since 1991, as Master of Ceremonies. Since 2014, David has served as Artist in Residence at Revels and has presented his acclaimed School Enrichment Programs to schools across the region as an extension of Revels Education. He runs tours of Boston Harbor during the summer months, leading over 5,000 inner-city children on boat trips to George's and Spectacle Islands. He also directs the narration program for Boston Harbor Cruises and hosts the Brunch Cruises every weekend from May to October.
The Perkins Secondary Chorus - Arnie Harris, Director
Featured Chorus
Read More
The Perkins Secondary Chorus - Arnie Harris, Director
Featured Chorus
The Perkins Secondary Chorus is made up of students of the Perkins School for the Blind Secondary School and directed by Arnie Harris. The chorus joins Revels for the 21st year of singing together!
Chorus pro Musica - Jamie Kirsch, Music Director
Featured Ensemble
Read More
Chorus pro Musica - Jamie Kirsch, Music Director
Featured Ensemble
Chorus pro Musica has built a superb reputation as one of the great choruses of New England. Known for innovative programming and high quality performances, Chorus pro Musica has collaborated with such famed organizations as the Boston Symphony Orchestra, the Boston Philharmonic, the Boston Ballet, and the Pittsburgh Symphony Orchestra. In recent years, the chorus has sung at Symphony Hall, Carnegie Hall and Lincoln Center.
The chorus consists of more than 100 highly talented musicians selected by audition. Repertoire consists of choral music from the Renaissance to the present, with emphasis on new and rarely performed choral music, as well as major works in collaboration with other music organizations.
The Chorus was founded in 1949 by the late Alfred Nash Patterson, one of the most influential forces in choral music in New England, and quickly built a superb reputation for its professional-level musical standards and innovative programming.
Barbara Allen Hill
Featured Soloist
Read More
Barbara Allen Hill
Featured Soloist
Highly regarded for her artistry and versatility, Barbara enjoys a broad career performing and recording the music of the Middle Ages through the present day.
As a soloist, she has appeared with Masterworks Chorale, Musica Sacra (Boston), The Boston Cecilia, Seven Times Salt, Hesperus, and the Cambridge Christmas Revels. As an ensemble member, she has performed with the GRAMMY-winning ensemble The Crossing (Philadelphia, PA), Emmanuel Music (Boston, MA),  Ensemble Altera (Providence, RI), Meravelha Medieval Ensemble (Boston, MA), Red Shift (Baton Rouge, LA), and Cappella Clausura (Boston, MA).
She also appears regularly with many of the choirs of religious institutions around Boston; to include Church of the Advent, Church of the Redeemer, and King's Chapel. Barbara is the soprano cantor at the Cathedral of the Holy Cross.
An enthusiastic supporter of new music, she especially enjoys the opportunity to premiere and record new works. Highlights include premiering Kile Smith's The Consolation of Apollo (with The Crossing, 2014), premiering Karl Henning's From the Pit of a Cave in the Cloud (2015), recording Gavin Bryars: The Fifth Century (2018 GRAMMY Award for Best Choral Performance), as well as performing the world premieres of  Julia Wolfe's "Fire in my mouth" (with the NY Philharmonic and The Crossing, 2019), and Barbara is thrilled to be making her Carnegie Hall debut as a soloist in Heidi Breyer's "Amor Aeternus: A Requiem for the Common Man" this July.
In addition to performing, Barbara serves on the board of the Society for Historically Informed Performance (SoHIP) in Boston and helps to produce their annual summer concert series. She is also the executive director of Meravelha.
The Pinewoods Morris Men
Featured Dancers
Read More
The Pinewoods Morris Men
Featured Dancers
The Pinewoods Morris Men are, by all accounts, the oldest morris team in North America (and showing it more every day).  An outgrowth of the Pinewoods Dance Camp, PMM was organized in 1964.  Although we usually say we are from Boston, our members are scattered across greater Boston and beyond, and we dance annually throughout New England (and occasionally old England).  Pinewoods have also been a definitive part of The Christmas Revels since its inception in 1971.
The Revels Chorus
Featured Ensemble
The Revels Chorus
Featured Ensemble