Get Involved
We couldn't do the work we do without each and every one of our amazing community members. We invite you to explore all the ways you can get involved with Revels, such as participating in our performances, volunteering, making a donation, or simply joining us in song as a member of the audience.
Support Revels
Revels is grateful for your financial support through individual donations, gifts of stock and securities, program advertising and sponsorships, in-kind donations, and employer matching gifts.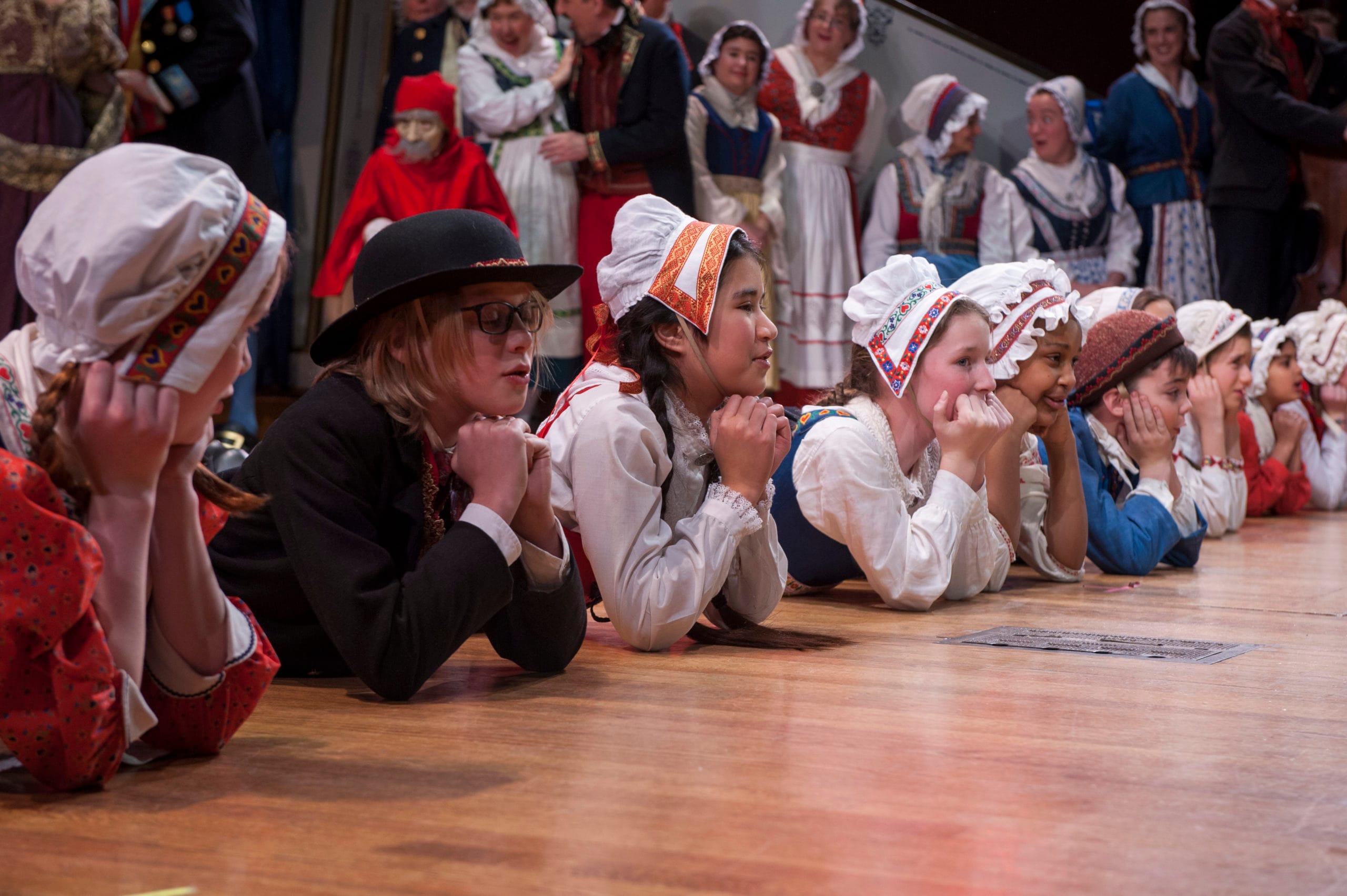 Support the Revels Fund
Support the Revels Fund
Our donors make us sing!

Every gift to The Revels Fund is an investment in our future and is critical to fulfilling our mission to create lively musical and theatrical performances and programs that celebrate the world's cultural and seasonal traditions.
PayPal Giving :
We are grateful for your support and offer the following benefits to our donors:
Supporters Circle
$125-$249
Advance ticket sales to The Christmas Revels
Acknowledgement of your contribution in select Revels publications
$250-$499 as above, plus
Discounts for Revels Online Store (CDs, books) and selected events
Invitation to "Sneak Peek" events
$500-$999 as above, plus
Invitations to exclusive guest artist event(s)
Solstice Circle
All members of the Solstice Circle will receive the benefits listed above, and
$1,000-$4.999
Concierge ticketing services for all Revels performances
$5,000-$9,999 as above, plus
Live Singing Telegram visit from David Coffin (scheduled by you)
Listing as a Christmas Revels performance sponsor
$10,000+ as above, plus
Invitation to a special luncheon with the Artistic Director and the Executive Director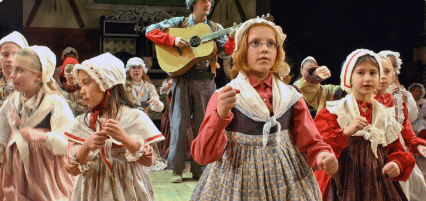 Become a Sponsor or Advertiser
Employer Matching Gifts
Employer Matching Gifts
Many employers match employee/partner contributions to eligible nonprofit organizations.  Please check with your human resources office for information on how to double (or even triple) your gift to Revels.

Gifts of Stocks and Securities
Gifts of Stocks and Securities
Revels welcomes gifts of stock and securities or IRA distributions. Please contact your broker to execute a stock transfer and provide them the following information:
Account name: Revels, Inc. Overflow Account
DTC Number: 0164
Account number: 7421-3176
Federal tax ID number: 04-2557549
So that we can accurately process and properly recognize your generous contribution, please contact Diane Kennedy 617-972-8300 x29 or dkennedy@revels.org to alert us of your transfer or for any assistance in making a gift to Revels.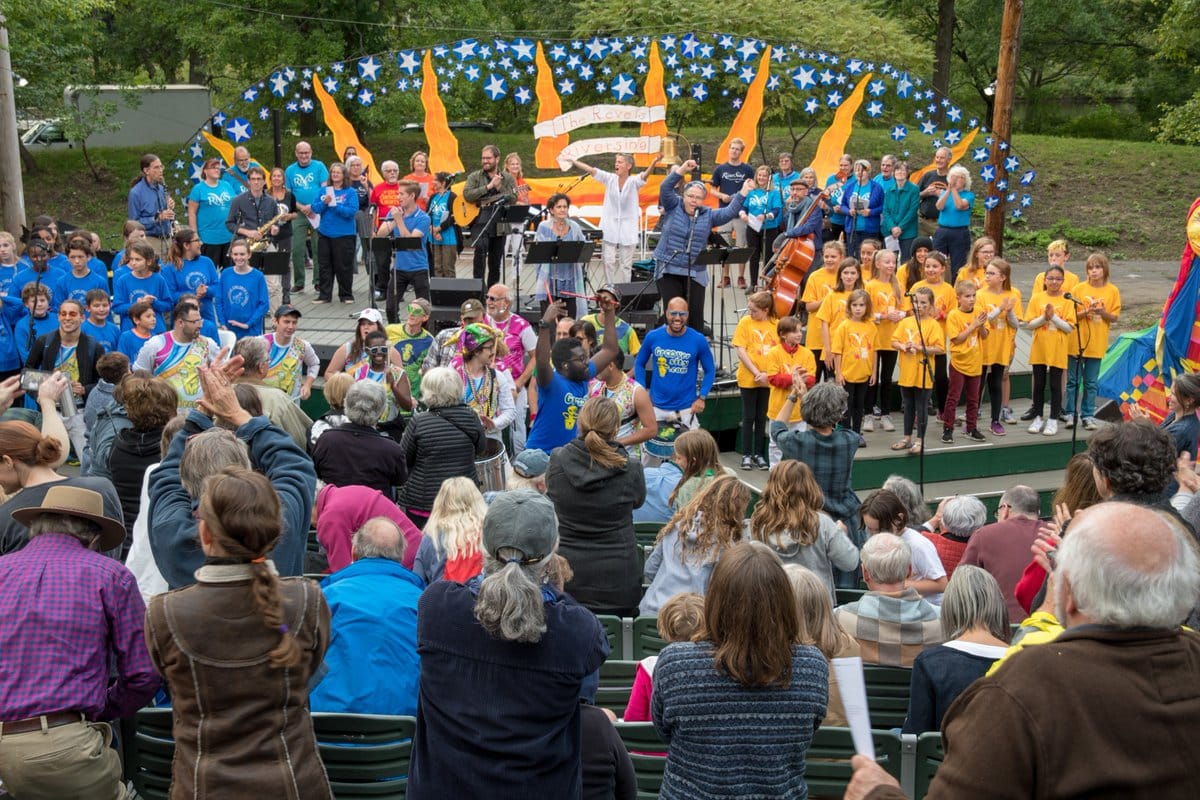 50 Years of Reveling
50 Years of Reveling
Revels remains committed to the work and vision of founder John Langstaff, who staged Cambridge's first Christmas Revels in 1971 in Sanders Theatre.  Over the next year, we look forward to sharing with you our plans for a celebration and fundraising campaign to support Revels' next 50 years. 
We welcome your participation; please reach out to Diane Kennedy, dkennedy@revels.org for more information.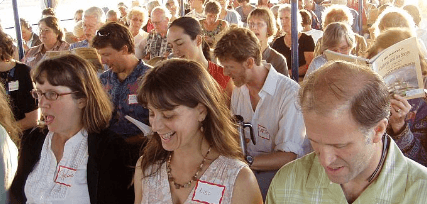 Secure Revels' Future: John Langstaff Legacy Society
Secure Revels' Future: John Langstaff Legacy Society
Making a planned gift to Revels will ensure that celebratory music, dance, and joyful theater will continue for seasons to come. Designating Revels as a beneficiary of your IRA distributions or making a bequest through your will or living trust are common ways to make a legacy gift to Revels. For more information contact Diane Kennedy at dkennedy@revels.org or 617-972-8300 x29.
Volunteer with Revels
Whether building props for The Christmas Revels, assisting in the office, singing in the chorus at Sanders, or providing audience support at our many programs, Revels volunteers are critical to our success. In our last year of live performances, volunteers donated more than 16,000 hours in support of our events and activities. We would love to have you join our fun and talented corps of volunteers!
Become a Volunteer
Auditions
Perform with Revels
While Revels hires a number of professional performers for its productions, our volunteer adult and children's choruses are at the core of every show. We audition our Christmas Revels chorus anew every year and encourage adults and children of all backgrounds to try out for each production. If you're interested in auditioning with us, click below!
Learn More
Revels Singers
Revels Singers is a non-audition-based community chorus open to everyone who loves to sing. The mission of Revels Singers is to engage people through singing, explore choral repertoire from around the world, hone musical skills, and build community through harmony. For members so inclined, there are opportunities to perform each season. Learn more and register for the next session below!
Learn More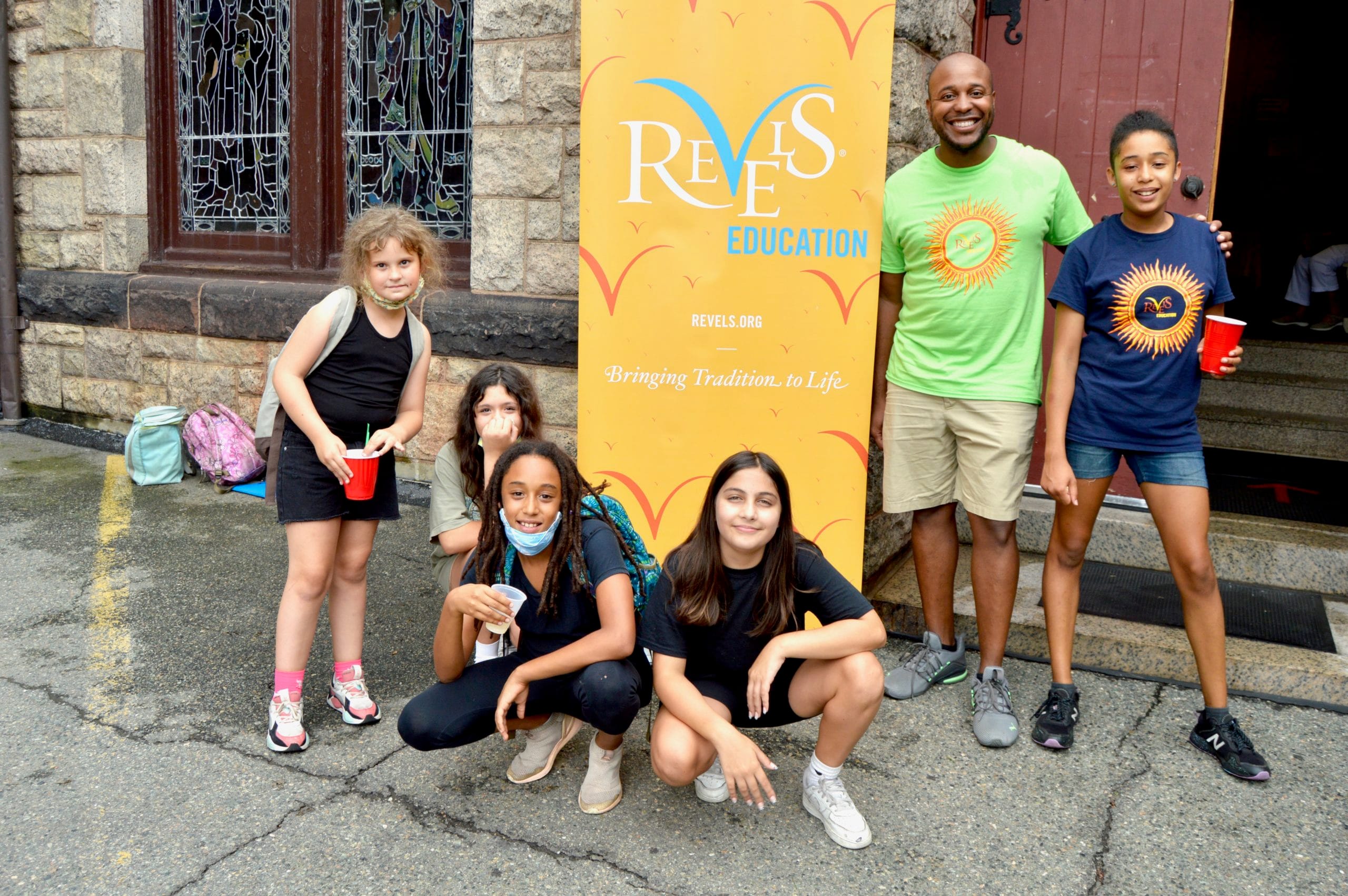 Education & Outreach
Explore Culture & Tradition with World-Renowned Teachers and Performers
Revels Education introduces cultural and seasonal traditions from around the world to children, tweens, teens, and adults. Our in-school and online enrichment programs, co-curricular performing arts series, afternoon and summer workshops, virtual skill-building programs, teacher resources, and innovative educational collaborations foster creativity, cultural literacy, and community.
Learn More
Watch, Listen, & Learn
Experience Revels
There are many ways to describe what Revels is including "a spirited mix of folk music and storytelling, drama and singalong,.." (The New York Times);, "a reminder of our commonality" (Noel Paul Stookey), and "a unique way to celebrate the seasonal rituals of the world" (Yo-Yo Ma). Revels is also "an uplifting salve", "a multi-generational celebration", and "a way to learn and have lots of fun at the same time". We encourage you to explore the resources below, join us for an event or class, and begin to discover Revels for yourself.
Visit YouTube Channel
Stay up to date
with Revels.
Sign up to receive email updates on performances, events, and news coming from Revels.
---
Contact Us
Questions? Get in touch!
Our Sponsors
Our generous sponsors make it possible for Revels to produce world-class performances and educational programs for our audiences.
Let us know how we can work together to promote music, dance, and community!
Learn More