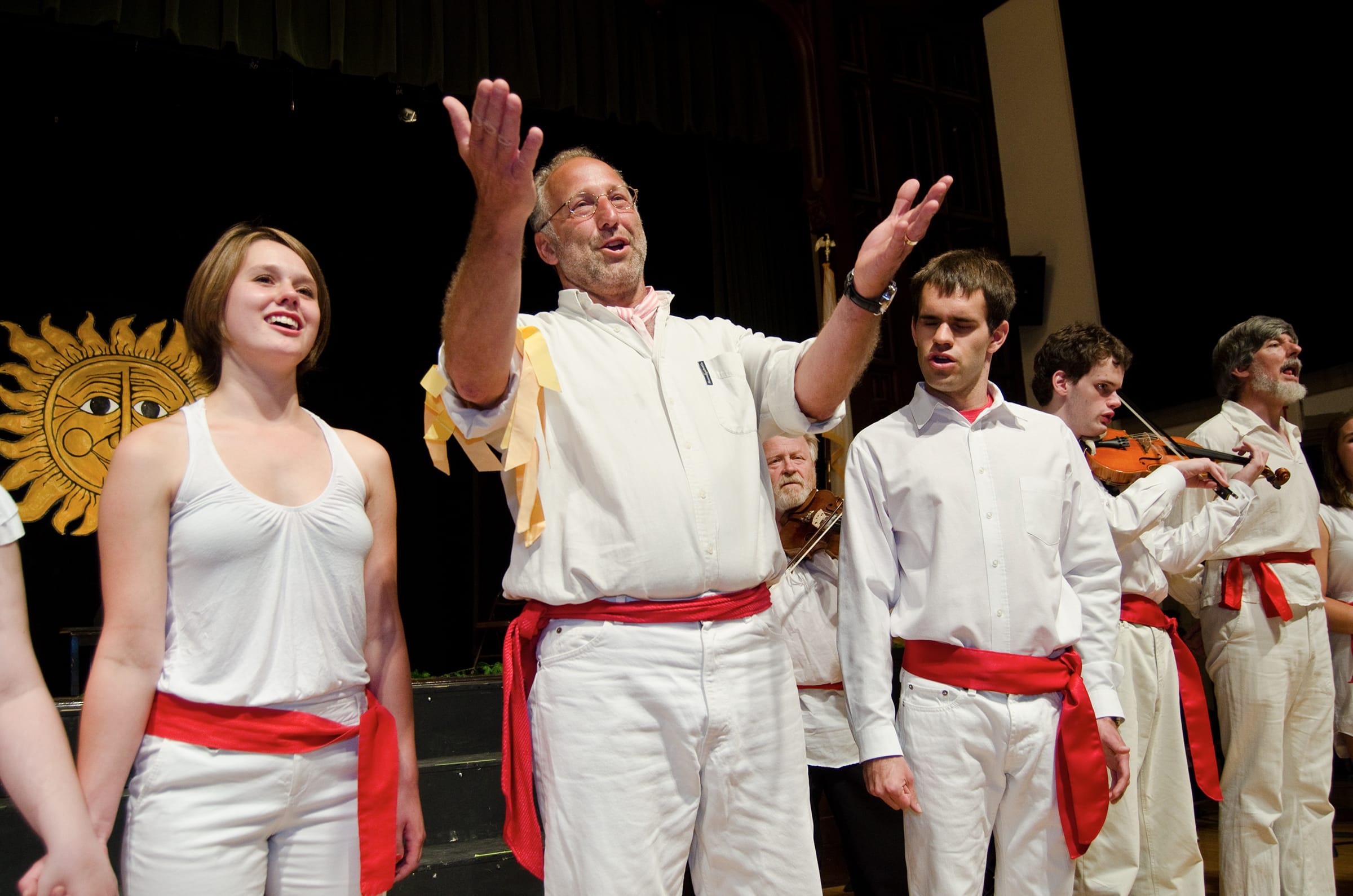 A Celebration of Spring with Perkins School for the Blind
This is our twenty-third year of celebrating Spring with Perkins School, and we are more than delighted to be back LIVE on stage with the Perkins students for the first time since 2019!
There are many harbingers of Spring in the Revels calendar, but for us, the annual Spring concert that we perform with our friends at Perkins School for the Blind is a special favorite. Traditionally our Revels chorus pairs up with the Perkins students one-on-one and we sing and dance the season in.
Join David Coffin, Tom Pixton, Natty Smith, the Great Meadows Morris and Sword Dancers, and the Perkins Secondary School Chorus as we follow the mysterious Padstow 'Obby 'Oss ushering in the spring rebirth that we have anticipated for so long! Bring your voices and join us in this decades-old tradition!
This event is presented for FREE at Perkins School for the Blind on Wednesday, May 31 at 7:30 PM
A Celebration of Spring will be performed in Perkins School for the Blind's Dwight Hall, (look for a tall, tower-like building). Please park in the Beechwood Street Parking Lot. Click here to see a map of Dwight Hall, the Beechwood Street Parking Lot, and the path between them.
The program is supported in part by a grant from the Watertown Cultural Council, a local agency which is supported by the Mass Cultural Council, a state agency, and by a gift from the Klarman Family Foundation.
The Perkins Secondary Chorus - Arnie Harris, Director
Featured Chorus
Read More
The Perkins Secondary Chorus - Arnie Harris, Director
Featured Chorus
The Perkins Secondary Chorus is made up of students of the Perkins School for the Blind Secondary School and directed by Arnie Harris. The chorus joins Revels for the 23rd year of singing together!
David Coffin
Musician and Soloist
Read More
David Coffin
Musician and Soloist
David Coffin has performed throughout New England since 1980. He is widely known for his rich baritone voice and his impressive collection of musical instruments, which includes concertinas, recorders, penny-whistles, bombards, gemshorns, cornamuse, shawm, rauschphieffe – or, as he explains, "generally anything that requires a lot of hot air". At the heart of David's work is his extensive collection of songs from the Maritime tradition. To date, David has recorded four solo CDs; his latest, Last Trip Home, was released in the Fall of 2009 and features his daughter, Linnea, who is also a Revels performer.
David has performed with Revels since 1980 as a singer, instrumentalist and, since 1991, as Master of Ceremonies. Since 2014, David has served as Artist in Residence at Revels and has presented his acclaimed School Enrichment Programs to schools across the region as an extension of Revels Education. He runs tours of Boston Harbor during the summer months, leading over 5,000 inner-city children on boat trips to George's and Spectacle Islands. He also directs the narration program for Boston Harbor Cruises and hosts the Brunch Cruises every weekend from May to October.
Patrick Swanson
Revels Artistic Director
Read More
Patrick Swanson
Revels Artistic Director
Paddy Swanson began his career in London as an actor at the Arts Theatre in the West End. In 1969, he toured Europe with La MaMa Plexus and subsequently got his world theater education from Ellen Stewart at La MaMa E.T.C. in New York. His numerous directing projects include opera, ensemble, music theater and circus.  He was a founding stage director of Circus Flora.
Paddy taught acting and improvisation at the London Academy of Dramatic Art (L.A.M.D.A.), the London Drama Centre, and New York University. He served as artistic director of the Castle Hill Festival at Castle Hill in Ipswich, Massachusetts, directing and co-producing opera and theater works, including the premiere of Julie Taymor's Liberty's Taken and Peter Sellars' production of Cosi fan Tutte. Other directing credits include Tristan and Iseult with the Boston Camerata at the Spoleto USA festival; Shirley Valentine by Willy Russell at Houston's Alley Theatre and Boston's Charles Playhouse;  Happy Days by Samuel Beckett, The Caretaker by Harold Pinter, and two stage premieres at Gloucester Stage Company; Talking Heads by Alan Bennett; and Fighting Over Beverley by Israel Horowitz . His Actors' Shakespeare Project (A.S.P.) production of  Shakespeare's King Lear with Alvin Epstein was nominated for three 2006 Elliot Norton awards. For A.S.P. he subsequently directed The Tempest, The Coveted Crown  (Henry IV Parts One and Two) and A Midsummer Night's Dream. His most recent acting performance was for Gloucester Stage in their 20th anniversary production of Fighting over Beverley.
For Revels, Paddy has directed a contemporary version of the medieval mystery plays, The Mysteries by Tony Harrison, co-produced by Revels and Shakespeare & Company, and Britten's opera Noye's Fludde. He writes and directs all Cambridge Revels scripts, and with music director George Emlen, serves as consultant to the other eight Revels production companies.
Elijah Botkin
Revels Music Director
Read More
Elijah Botkin
Revels Music Director
Elijah Botkin graduated from Northeastern University in 2015 with bachelor's degrees in Music History & Analysis and Mathematics. During his time at Northeastern, Elijah founded and directed the Northeastern Madrigal Singers; was President, Bass Section Leader, and Assistant Director for the NU Choral Society; and sang with and arranged for the award-winning a cappella group Distilled Harmony. In 2015, Elijah won the award for Outstanding Arrangement for his arrangement of Distilled Harmony's quarterfinal-winning set in the International Championship of Collegiate A Cappella. In the same year, his arrangement of "Nothing Feels Like You" by Little Mix also won a CARA (Contemporary A Cappella Recording Award) for Best Mixed Collegiate Song. In 2014, Elijah was granted the Gideon Klein Award in order to write his composition The Closed Town, which was premiered by the Northeastern University Chamber Choir in April 2015. Currently, Elijah continues to direct the NU Madrigals and serves on the Board of Trustees for Chorus pro Musica. He also sings with the Boston-based chamber choir Carduus and serves as their Treasurer and Business Manager.
Tom Pixton
Musician
Read More
Tom Pixton
Musician
Tom Pixton has been active in a variety of traditional music scenes for more than 30 years. He is a dear friend of Revels and has been a regular Revels performer since 1997, appearing on stage and working behind the scenes as an accordionist, arranger, singer, and bandleader. He's worked closely as a dance musician and musical leader for organizations such as the Pinewoods Band, the Folk Arts Center of New England, and the Boston Branch of the Royal Scottish Dance Society. Tom is an accomplished recording artist, with CDs produced in collaboration with Flying Tomatoes, BiCoastal Band, and Pinewoods Band, amongst others. He also publishes the Pinewoods International Collection, a 400-page book of folk dance tunes and songs from around the world! Learn more about Tom on his website at https://www.pixton.org/.
Natty Smith
Musician
Read More
Natty Smith
Musician
Natty Smith is a dancer, musician, designer, and teacher. He first performed in The Christmas Revels in the 2000 Children's Chorus, and has been involved in Revels in almost every possible way since then. An alumnus of the children's teams Hop Brook and Great Meadows Morris & Sword, Natty now dances or plays music for the Pinewoods Morris Men, Candyrapper VSOP, Thames Valley, International, and Maple Morris. Natty is one of the founders of the Youth Traditional Song Weekend, served on the board of directors of the Country Dance & Song Society, and currently serves on the board of directors of Pinewoods Camp, Inc. In addition to performing, Natty has taught or played music for Revels children's workshops and at various summer dance camps. Natty is a high school English teacher and user experience and interface designer.
Great Meadows Morris & Sword
Featured Dancers
Read More
Great Meadows Morris & Sword
Featured Dancers
Great Meadows Morris and Sword is a group of high school-age students from the Greater Boston area who perform traditional English morris and rapper sword dances. Since 1999, Great Meadows Morris and Sword has danced at festivals and special events throughout Massachusetts and New England, including NEFFA and the annualLilac Sunday event in Boston's Arnold Arboretum. Great Meadows also has performed on the international stage, including the Dance England Rapper Tournament and the 2004 World Sword Spectacular in Whitby, England.
The Revels Singers
Featured Ensemble
Read More
The Revels Singers
Featured Ensemble
Revels Singers is Revels' resident community chorus, open to everyone who loves to sing. The mission of Revels Singers is to engage people through singing, explore choral repertoire from around the world, hone musical skills, and build community through harmony. Revels Singers perform at Revels events including Revels Spring Sing and A Celebration of Spring with Perkins School for the Blind and host their own performances as well.
Our Sponsors
Our generous sponsors make it possible for Revels to produce world-class performances and educational programs for our audiences.
Let us know how we can work together to promote music, dance, and community!
Learn More