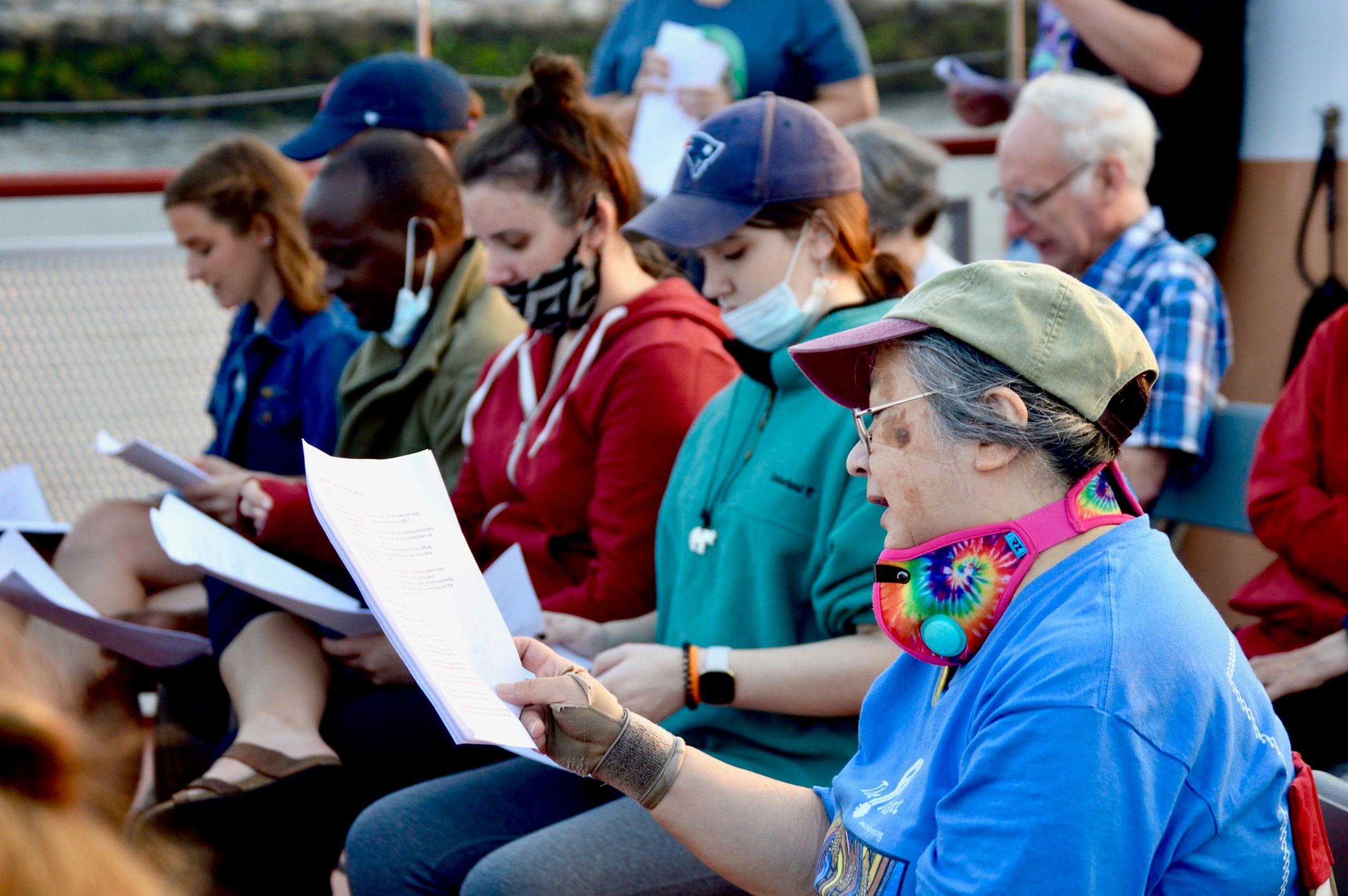 Boston Harbor Cruise and Sing with David Coffin and George Emlen
One of our favorite summer traditions, Revels' Boston Harbor Cruises take guests out on Boston Harbor for a lively sea singalong! Led by Revels' own chanteyman and harbor narrator David Coffin and music director George Emlen, Revels Harbor Cruises are full of music, magic, and fun.
Read More
Join us on the spacious Provincetown II for the return of our popular Boston Harbor Cruise and Sings with musician, maritime expert, and New England's best-known chantey-man David Coffin and Revels music director George Emlen leading the fun! We'll sing sea chanteys and more at the top of our lungs, sip our favorite (adult or children's) beverage, and enjoy spectacular views of the harbor. There'll be plenty of time to socialize between sets and David's historic/hysterical harbor narration is always a treat as well.
This is a rain or shine family-friendly event (children 11 and under are free!). Our friends from Save the Harbor/Save the Bay will also be on board with an educational exhibit and touch tank on the 2nd deck. Singing will take place in the open-air on the 3rd deck unless there is inclement weather.
Please note: Personal food and beverages are not allowed on charters. Alcoholic and non-alcoholic beverages as well as snack food (pizza, chicken fingers, french fries, chips), will be available onboard.
Accessibility
The boat is handicap accessible to the 1st deck (bathrooms are here) but the only way to get to the outside (on the 2nd and 3rd decks) is by stairs.
Follow us on Social Media
---
David Coffin
Chanteyman and Harbor Narrator
Read More
David Coffin
Chanteyman and Harbor Narrator
David Coffin has performed throughout New England since 1980. He is widely known for his rich baritone voice and his impressive collection of musical instruments, which includes concertinas, recorders, penny-whistles, bombards, gemshorns, cornamuse, shawm, rauschphieffe – or, as he explains, "generally anything that requires a lot of hot air". At the heart of David's work is his extensive collection of songs from the Maritime tradition. To date, David has recorded four solo CDs; his latest, Last Trip Home, was released in the Fall of 2009 and features his daughter, Linnea, who is also a Revels performer.
David has performed with Revels since 1980 as a singer, instrumentalist and, since 1991, as Master of Ceremonies. Since 2014, David has served as Artist in Residence at Revels and has presented his acclaimed School Enrichment Programs to schools across the region as an extension of Revels Education. He runs tours of Boston Harbor during the summer months, leading over 5,000 inner-city children on boat trips to George's and Spectacle Islands. He also directs the narration program for Boston Harbor Cruises and hosts the Brunch Cruises every weekend from May to October.
George Emlen
Songleader
Read More
George Emlen
Songleader
George Emlen is a conductor, composer, arranger, and music educator. He served as music director of Revels from 1984 to 2016 and has recently returned to that position. He is passionate about transforming people's lives and relationships through music, especially through singing together.
George teaches a leadership course, "Conducting Your Chorus," at the Harvard Kennedy School for senior executives in state and local public office. Previously he was on the faculty of the New England Conservatory, Lesley University, the College of the Atlantic, and the University of Maine. He also taught at Noble and Greenough School and the Putney School. He served as conductor of the Oratorio Chorale, the Mount Desert Summer Chorale and the Acadia Choral Society, of which he was the founding director. In recent years he worked with Bobby McFerrin in the vocal improvisatory genre of Circle Singing, which he incorporates into his conducting and teaching.
George is a graduate of Dartmouth College and the New England Conservatory, where he earned an advanced degree in choral conducting. His compositions and arrangements are published by Lawson-Gould, Thorpe, Lorenz/Sacred Music Press, and Redwing Press.
Ticket Information
Adult Ticket (Children 11 and under are FREE)
Boston Harbor Cruise and Sing with David Coffin and George Emlen
August 10, 2021 7:00 pm ET
Bay State Cruise Company, 200 Seaport Blvd
Boarding: 6:30 – 7:00 PM
Cruise: 7:00 – 9:00 PM
See Photos