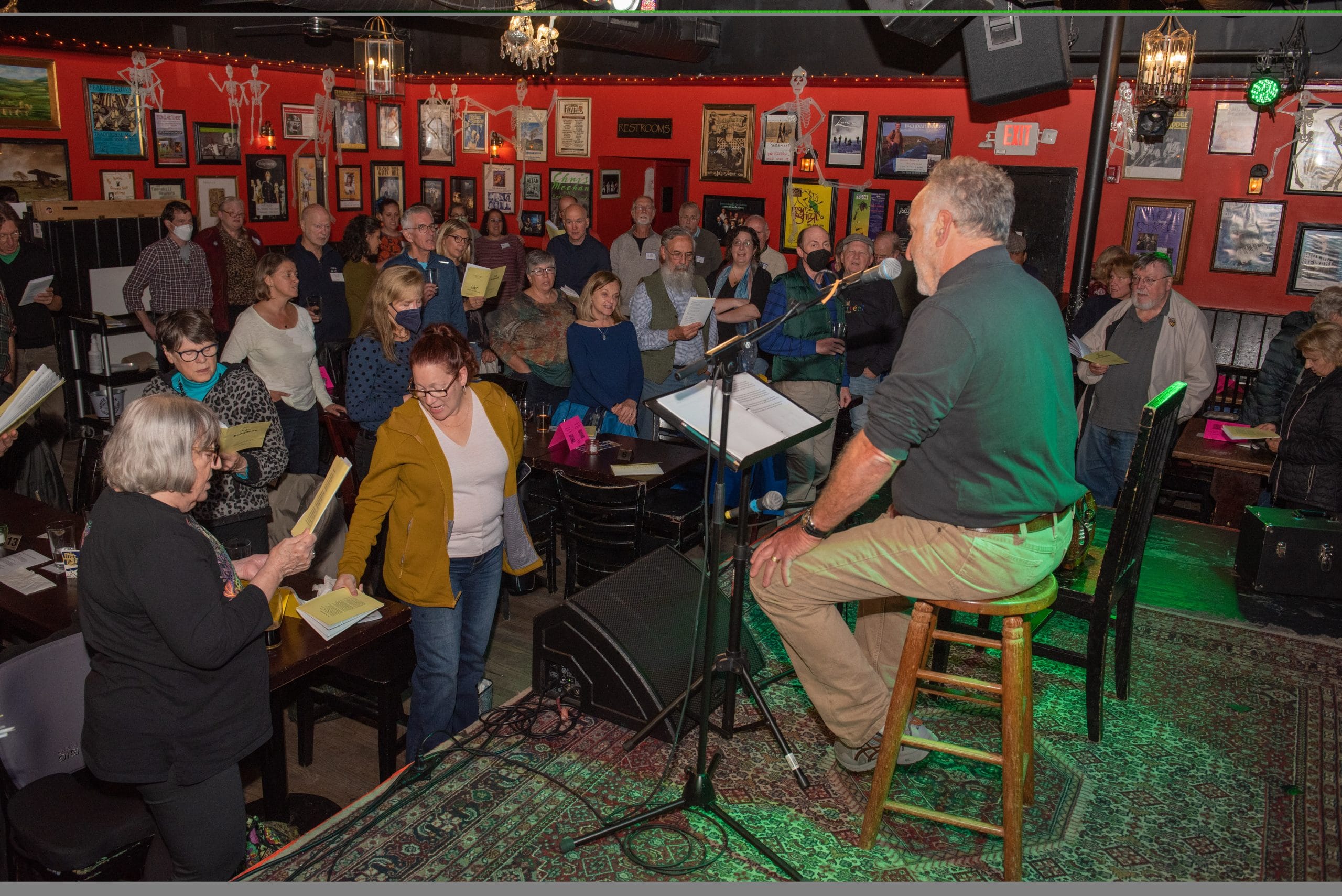 Brian O'Donovan Presents: A Revels Pub Sing with The Vox Hunters and David Coffin
Sing with Revels at a special summer Pub Sing, held Wednesday, August 2nd at The Burren! Enjoy food and drink and lift your voice in song with traditional drinking songs and more, led by Revels Artist in Residence David Coffin and The Vox Hunters. This is an audience participation event – songsheets will be provided for all. We can't wait to sing with you!
The Vox Hunters
Songleaders
Read More
The Vox Hunters
Songleaders
Hailing from the great state of Rhode Island, Armand Aromin and Benedict Gagliardi are seekers and singers of old songs, cultivators of local music, and chronic multi-instrumentalists. They are touted as strong tradition-bearers in their generation, and their genuine affinity for the music is evident in the emotion they draw from it. With a pair of oft-harmonizing voices tastefully garnished with fiddle, free-reeds, and tenor guitar, The Vox Hunters offer an all-natural connection to the living tradition of folk music.
Photo by Anna Colliton
David Coffin
Soloist and Songleader
Read More
David Coffin
Soloist and Songleader
David Coffin has performed throughout New England since 1980. He is widely known for his rich baritone voice and his impressive collection of musical instruments, which includes concertinas, recorders, penny-whistles, bombards, gemshorns, cornamuse, shawm, rauschphieffe – or, as he explains, "generally anything that requires a lot of hot air". At the heart of David's work is his extensive collection of songs from the Maritime tradition. To date, David has recorded four solo CDs; his latest, Last Trip Home, was released in the Fall of 2009 and features his daughter, Linnea, who is also a Revels performer.
David has performed with Revels since 1980 as a singer, instrumentalist and, since 1991, as Master of Ceremonies. Since 2014, David has served as Artist in Residence at Revels and has presented his acclaimed School Enrichment Programs to schools across the region as an extension of Revels Education. He runs tours of Boston Harbor during the summer months, leading over 5,000 inner-city children on boat trips to George's and Spectacle Islands. He also directs the narration program for Boston Harbor Cruises and hosts the Brunch Cruises every weekend from May to October.
Elijah Botkin
Revels Music Director
Read More
Elijah Botkin
Revels Music Director
Elijah Botkin graduated from Northeastern University in 2015 with bachelor's degrees in Music History & Analysis and Mathematics. During his time at Northeastern, Elijah founded and directed the Northeastern Madrigal Singers; was President, Bass Section Leader, and Assistant Director for the NU Choral Society; and sang with and arranged for the award-winning a cappella group Distilled Harmony. In 2015, Elijah won the award for Outstanding Arrangement for his arrangement of Distilled Harmony's quarterfinal-winning set in the International Championship of Collegiate A Cappella. In the same year, his arrangement of "Nothing Feels Like You" by Little Mix also won a CARA (Contemporary A Cappella Recording Award) for Best Mixed Collegiate Song. In 2014, Elijah was granted the Gideon Klein Award in order to write his composition The Closed Town, which was premiered by the Northeastern University Chamber Choir in April 2015. Currently, Elijah continues to direct the NU Madrigals and serves on the Board of Trustees for Chorus pro Musica. He also sings with the Boston-based chamber choir Carduus and serves as their Treasurer and Business Manager.
Brian O'Donovan
Presenter
Read More
Brian O'Donovan
Presenter
Brian O'Donovan is the second youngest of nine children, born in 1957 in Clonakilty,West Cork. O'Donovan studied at UCC in the 1970s but now lives in Boston, where he works as a broadcaster for WGBH, a public radio station.  He presents a show that explores "traditional and contemporary music from around the Celtic world". Although Brian is widely known today for his work in public broadcasting, music production, and as a curator for live events, his earlier professional career was in a very different world. He held management and executive positions at then Foxboro Stadium, the home of the New England Patriots. O'Donovan lives in Cambridge, MA and has four grown children: Aoife, Ciaran, Aidan, and Nuala and two grandchildren, Ivy Jo Jacobsen of Brooklyn, NY, and Nomi Francis O'Donovan of Denver, CO.
Brian O'Donovan Presents: A Revels Pub Sing with The Vox Hunters and David Coffin
$28 in Advance
$32 Day of Show
$23 w/ GBH Membership
Our Revels Pub Sings are known to sell out – we highly recommend anyone who wishes to attend buys their ticket ahead of time.
Tickets on sale soon!
August 2, 2023 7:30 pm
If the cost of tickets prevents you from enjoying Revels programs such as this, please write info@revels.org for details on reduced ticket pricing.
Schedule
5:30 PM: Doors Open – arrive early to purchase food and drinks before the show begins! There will be no table service once the performance starts.
7:30 PM: Pub Sing Begins
Location
The Burren, 247 Elm Street, Somerville, MA 02144
The Revels Summer Solstice Pub Sing will take place in the Burren Backroom.
Buy Tickets
Follow us on Social Media
---