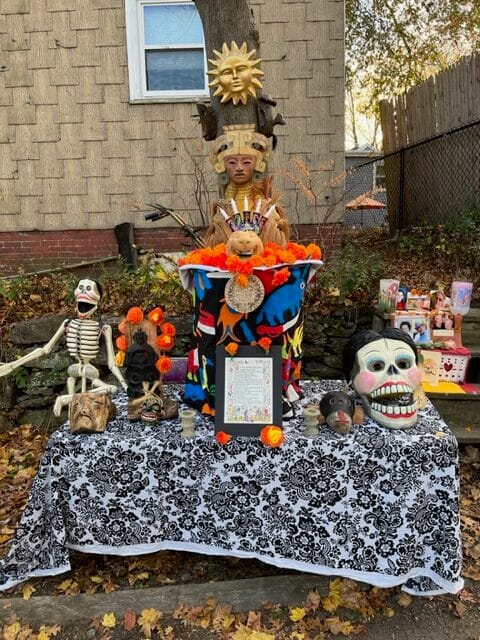 Día De Los Muertos Community Celebration with La Piñata
Our friends at La Piñata are once again hosting an incredible Dîa De Los Muertos community celebration, and Revels is excited to participate with the building of a community ofrenda (altar)! Join us as we build a collective Revels ofrenda, and help contribute by bringing along photos, sweets, mementos, poems, and more to place on the altar in commemoration of your loved ones. See the picture to the left to take a look at last year's Revels ofrenda.
After the ofrenda-building is complete, stick around for singing, dancing, and celebration of Día De Los Muertos! Activities will include a community fire offering ceremony, traditional Aztec dancing, a meditation circle, and sharing of community art.
Date: November 4, 2023
Location: Spontaneous Celebrations, 45 Danforth St, Jamaica Plain
Revels Schedule:
3:00 PM – Revels community members arrive to build the Revels ofrenda
5:00 PM – Community celebration begins
La Piñata is a nearly thirty-year-old Latin American cultural & performing arts community organization based in Jamaica Plain and led by Rosalba Solis. Rosalba is a long-time Revels tradition bearer and collaborator, and was most recently seen in Midwinter Revels: Tales from Ellis Island.