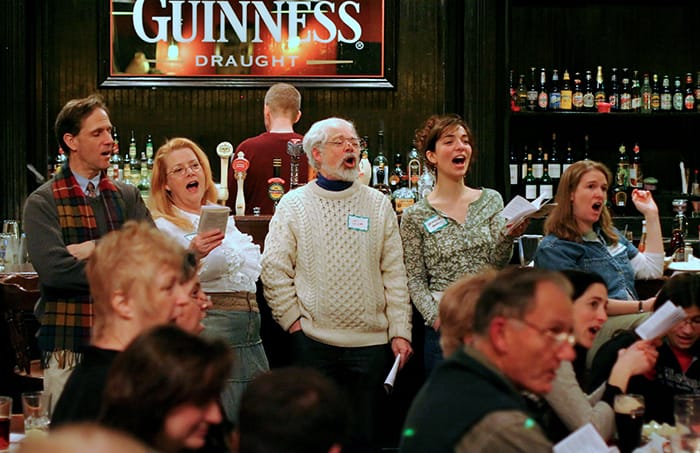 A Revels Pub Sing with David Coffin & Friends
Welcome to the Quarantine Pub!
Grab a drink and join Revels for singalongs and socializing! Whether they're held in-person at a local pub or virtually from "The Quarantine", Revels Pub Sings are a great way to sing with friends and have some fun. Stay tuned for more Pub Sings coming in Fall 2021!
Read More
We didn't even have to leave home to enjoy a Revels Pub Sing! In April 2021, Revels Artist-in-Residence David Coffin led us in an evening of traditional pub songs from the virtual Quarantine Pub and shared some clips of Christmas Revels and Spring Revels pub songs from our video archives. David was joined by special guests The Vox Hunters, the Rhode Island based duo, and popular traditional folk musician Anayis "A.J. Wright.
The entire program is still available to watch for FREE to via Facebook Live @TheRevels.
You can also watch our 2020 virtual Pub Sing on YouTube @Revels, Inc.!
Follow us on Social Media
---
David Coffin
Revels Artist-in-Residence and Songleader
Read More
David Coffin
Revels Artist-in-Residence and Songleader
Revels Artist-in-Residence David Coffin has performed throughout New England since 1980. He is widely known for his rich baritone voice and his impressive collection of musical instruments, which includes concertinas, recorders, penny-whistles, bombards, gemshorns, cornamuse, shawm, rauschphieffe – or, as he explains, "generally anything that requires a lot of hot air". At the heart of David's work is his extensive collection of songs from the Maritime tradition. To date, David has recorded four solo CDs; his latest, Last Trip Home, was released in the Fall of 2009 and features his daughter, Linnea, who is also a Revels performer.
David has performed with Revels since 1980 as a singer, instrumentalist and, since 1991, as Master of Ceremonies. Since 2014, David has served as Artist in Residence at Revels and has presented his acclaimed School Enrichment Programs to schools across the region as an extension of Revels Education. He runs tours of Boston Harbor during the summer months, leading over 5,000 inner-city children on boat trips to George's and Spectacle Islands. He also directs the narration program for Boston Harbor Cruises and hosts the Brunch Cruises every weekend from May to October.
The Vox Hunters
Songleaders
Read More
The Vox Hunters
Songleaders
Hailing from the great state of Rhode Island, Armand Aromin and Benedict Gagliardi are seekers and singers of old songs, cultivators of local music, and chronic multi-instrumentalists. They are touted as strong tradition-bearers in their generation, and their genuine affinity for the music is evident in the emotion they draw from it. With a pair of oft-harmonizing voices tastefully garnished with fiddle, free-reeds, and tenor guitar, The Vox Hunters offer an all-natural connection to the living tradition of folk music.
Photo by Anna Colliton
Anayis "A.J." Wright
Songleader
Read More
Anayis "A.J." Wright
Songleader
Anayis (AH-nah-ees) "A.J." Wright is a distinctive voice in the traditional folk genre who captivates audiences and scholars alike with their connection to maritime music, English folk, shape note, and early music. Steeped in the musical arts from childhood, A.J. grew up teaching shape note singing schools with their family and graduated with a BA in cello performance from Clark University. A.J. has been playing English concertina for seventeen years, cello for twenty, and has seamlessly incorporated ukelele, mountain dulcimer, whistle, and more into the rotation over the years. They have hands-on tall ship experience on-board the U.S. Brig Niagara, and at Mystic Seaport Museum where they worked as a chanteyman.
Classical training and a deep rooted foundation in various musical traditions blend seamlessly in A.J.'s solo performances, as well as their work in the duo Twa Corbies and the trio Skylark. Their refreshing instrumental arrangements, no-holds-barred powerhouse vocals, and the deep knowledge gained from their lifelong dedicated exploration of source material has enthralled audiences from New England to the Great Lakes.
Ticket Information
A Revels Pub Sing with David Coffin & Friends
April 16, 2021 7:00 pm EST
This is such a joyful gathering of wonderful performers! I look forward to seeing all of you in person again.
Thank you from North Carolina. These virtual Revels events are a major PRO of this pandemic, otherwise I'd never had the opportunity to sing with y'all!