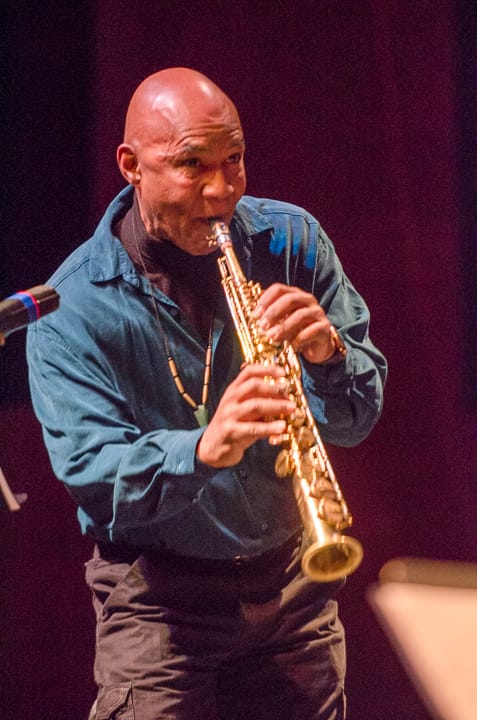 Revels Spring Sing - A Family Celebration of the Vernal Equinox
Join us for our annual celebration of the vernal equinox on Sunday, March 20, as we officially welcome in the spring! This year's Revels Spring Sing will feature longtime Revels friend and Boston jazz legend Stan Strickland as bandleader, saxophonist and vocal soloist. Stan will be joined by colleagues on keyboard, bass and drums to round out the Stan Strickland Revels Jazz Quartet.
Acclaimed educator and songleader Dr. Kathy Bullock, hailing from Berea, KY, will lead us in several songs, both traditional and standards. Claire Dickson, former Revels "kid" and now an established musician in New York, will also dazzle us with her vocal artistry in some familiar songs. And of course, Revels' own resident (and resonant) baritone, songleader and all-around musician, David Coffin,  will lead us a pair of beautiful songs as only he can.
Revels Spring Sing is full of fun for the whole family! Please plan to join us after the program for a special Meet and Greet with our performers and new Music Director Elijah Botkin.
This year's Spring Sing will take place at The Center for the Arts at the Armory, 191 Highland Ave Ste 1C, Somerville, MA 02143.
Check out the Revels Spring Sing Program
Revels Spring Sing- A Family Celebration of the Vernal Equinox
The Center for the Arts at the Armory
Dr. Kathy Bullock
Singer and Songleader
Read More
Dr. Kathy Bullock
Singer and Songleader
Dr. Kathy Bullock is an educator, scholar, singer, accompanist, arranger and choral conductor who specializes in gospel music, spirituals and classical works by composers from the African diaspora.  A Professor Emerita of Music from Berea College, Berea, Kentucky, she currently teaches, performs, and conducts workshops and other programs on African American music throughout the United States, Europe, and Africa.
Dr. Bullock earned a Ph.D. and M.A. in Music Theory from Washington University in St. Louis, MO, and a B.A. in Music from Brandeis University, MA.  At Berea College she taught Music Theory, African-American Music, World Music, and other courses in music and general studies. She also directed Berea's Black Music Ensemble, a choral ensemble that specializes in African American sacred music, developing a small student-run ensemble into an accredited, diverse, and exciting course that averaged seventy students each semester.  Additionally, Dr. Bullock designed and led new international study courses in Ghana, Zimbabwe, and Jamaica. In her role as administrator she actively participated in the college's governance structure throughout her tenure; she was chair of the department, and member of primary governance committees. Dr. Bullock received many acknowledgements for her contributions to Berea College.  In particular, she was awarded the highly coveted Seabury Award for teaching, and was later made an Honorary Alumni of the college. Although she has now retired from fulltime teaching, Dr. Bullock recently joined the faculty of the University of Kentucky, School of Music as an adjunct, teaching and providing master classes in African American music.
Dr. Bullock's presentations include workshops on spirituals and gospel music and explorations of musical connections between African American culture and West African and Appalachian cultures. Other research areas include the Music of the Civil Rights Movement, and African American Women's Contributions to the Women's Suffrage Movement. Dr. Bullock teaches and performs at schools, universities, churches, community organizations, throughout the US, educational programs such as the Kentucky Humanities Council, and singing camps such as the Swananoaa singing camp in North Carolina and workshops in Findhorn Foundation in Forres, Scotland. Recently, Dr. Bullock was the first artist at the John C. Campbell Folk School to teach about Appalachian and African American Musical Connections.  Other research projects include the completion of an edition of art songs by contemporary African-American composers. 
In response to the 2020 pandemic Dr. Bullock created a series of inspirational videos online, performing songs of faith and hope. Indeed in all of her work, Dr. Bullock shares infectious joy and inspires heartfelt connections as she celebrates the transcending power of love and spirit through music.
Stan Strickland and The Stan Strickland RiverSing Jazz Quartet
Spring Sing Associate Music Director and Featured Band
Read More
Stan Strickland and The Stan Strickland RiverSing Jazz Quartet
Spring Sing Associate Music Director and Featured Band
Singer, saxophonist, flutist, actor, Stan Strickland has performed extensively throughout the United States, Europe, New Zealand and the former Soviet Union. . He has performed with the Boston Pops, the Village People, Aretha Franklin, and jazz greats Yusef Lateef, Pharoah Sanders, Shirley Scott and Marlena Shaw, and opened for Miles Davis, Sonny Rollins, Natalie Cole and The Bare Naked Ladies.
Stan is an associate professor of voice at Berklee College of Music and executive co-director of Express Yourself, a multi-cultural arts organization that serves mentally ill youth through the Department of Mental Health. He received a MA degree from Lesley University in Expressive Arts Therapy with a major in dance therapy.
He has performed and worked with many modern dance companies including members of the Alvin Ailey, Jose Limon, and Bill T Jones companies and Dance Collective of Boston.
His one-man show "Coming Up For Air, An Auto-Jazzography", tells the story os his near-death experience swimming in Hawaii and received the prestigious Eliot Norton Award in theatre for best solo performance.
Elijah Botkin
Revels Music Director
Read More
Elijah Botkin
Revels Music Director
Elijah Botkin graduated from Northeastern University in 2015 with bachelor's degrees in Music History & Analysis and Mathematics. During his time at Northeastern, Elijah founded and directed the Northeastern Madrigal Singers; was President, Bass Section Leader, and Assistant Director for the NU Choral Society; and sang with and arranged for the award-winning a cappella group Distilled Harmony. In 2015, Elijah won the award for Outstanding Arrangement for his arrangement of Distilled Harmony's quarterfinal-winning set in the International Championship of Collegiate A Cappella. In the same year, his arrangement of "Nothing Feels Like You" by Little Mix also won a CARA (Contemporary A Cappella Recording Award) for Best Mixed Collegiate Song. In 2014, Elijah was granted the Gideon Klein Award in order to write his composition The Closed Town, which was premiered by the Northeastern University Chamber Choir in April 2015. Currently, Elijah continues to direct the NU Madrigals and serves on the Board of Trustees for Chorus pro Musica. He also sings with the Boston-based chamber choir Carduus and serves as their Treasurer and Business Manager.
George Emlen
Spring Sing Music Director
Read More
George Emlen
Spring Sing Music Director
George Emlen is a conductor, composer, arranger, and music educator. He served as music director of Revels from 1984 to 2016 and has recently returned to that position. He is passionate about transforming people's lives and relationships through music, especially through singing together.
George teaches a leadership course, "Conducting Your Chorus," at the Harvard Kennedy School for senior executives in state and local public office. Previously he was on the faculty of the New England Conservatory, Lesley University, the College of the Atlantic, and the University of Maine. He also taught at Noble and Greenough School and the Putney School. He served as conductor of the Oratorio Chorale, the Mount Desert Summer Chorale and the Acadia Choral Society, of which he was the founding director. In recent years he worked with Bobby McFerrin in the vocal improvisatory genre of Circle Singing, which he incorporates into his conducting and teaching.
George is a graduate of Dartmouth College and the New England Conservatory, where he earned an advanced degree in choral conducting. His compositions and arrangements are published by Lawson-Gould, Thorpe, Lorenz/Sacred Music Press, and Redwing Press.
David Coffin
Soloist and Songleader
Read More
David Coffin
Soloist and Songleader
ornamuse, shawm, rauschphieffe – or, as he explains, "generally anything that requires a lot of hot air". At the heart of David's work is his extensive collection of songs from the Maritime tradition. To date, David has recorded four solo CDs; his latest, Last Trip Home, was released in the Fall of 2009 and features his daughter, Linnea, who is also a Revels performer.
David has performed with Revels since 1980 as a singer, instrumentalist and, since 1991, as Master of Ceremonies. Since 2014, David has served as Artist in Residence at Revels and has presented his acclaimed School Enrichment Programs to schools across the region as an extension of Revels Education. He runs tours of Boston Harbor during the summer months, leading over 5,000 inner-city children on boat trips to George's and Spectacle Islands. He also directs the narration program for Boston Harbor Cruises and hosts the Brunch Cruises every weekend from May to October.
Claire Dickson
Soloist and Songleader
Read More
Claire Dickson
Soloist and Songleader
Claire Dickson is a creative vocalist, songwriter, and producer from Medford, Massachusetts currently based in Brooklyn. Her music is influenced by jazz, avant-pop, folk, ambient, and electronic music. She currently co-leads the songwriting project called Myrtle, performs with her solo project and as a solo performer improvising with voice and electronics. She will self-release her first solo album, "Starland", in December 2021. 
Facebook: @clairedicksonmusic
Instagram: @claire.dickson
The Revels Spring Sing Chorus
Featured Ensemble
Read More
The Revels Spring Sing Chorus
Featured Ensemble
Revels Singers is a non-auditioned community chorus open to everyone who loves to sing. The mission of Revels Singers is to engage people through singing, explore choral repertoire from around the world, hone musical skills, and build community through harmony. Revels Singers sings a broad spectrum of choral music drawn mostly from five decades of Revels performances.
The Revels Spring Sing Children's Chorus
Featured Ensemble
The Revels Spring Sing Children's Chorus
Featured Ensemble
Modern life tends to separate us from one another. Yet nowhere is the strength of diversity expressed more completely than when our voices come together in song.
Wonderful! Thank you for sharing the joy of raising up voices in celebration!
Revels Spring Sing - A Family Celebration of the Vernal Equinox
Adult Tickets – $35/Person (+$4 Processing Fees)
Youth Under 18 – $10/Person (+$2 Processing Fees)
Children Under 2 – Free
All Seating is General Admission
March 20, 2022 3:00 pm ET - March 20, 2022 4:30 pm ET
If the cost of tickets prevents you from enjoying Revels programs such as this, please write info@revels.org for details on reduced ticket pricing.
Schedule
2:00 PM – Doors Open
3:00 PM – Revels Spring Sing Program Begins
4:15 PM – Open Meet and Greet with Revels Spring Sing performers and Revels Music Director Elijah Botkin.
Location
The Center for the Arts at the Armory, 191 Highland Ave Ste 1C, Somerville, MA 02143. Limited free parking is available on-site. Somerville street parking is also available and free on Sundays.  Directions
Mask/Vaccine Policy
Effective March 14, 2022: Revels  requires all staff and event guests to show proof of vaccination status or a negative test for admittance.  Children age 5+ must present proof of full vaccination (2 doses) by May 1, 2022. Children under 5 do not need a negative test. Once inside the Armory building, Revels requires masks for all but soloists and children 2 and under,  regardless of whether they have been vaccinated against COVID-19. It is recommended that all staff and guests use an N94 or K95 mask. We will continue to evaluate and update these policies as the situation evolves.
Buy Tickets
Follow us on Social Media
---
Our Sponsors
Our generous sponsors make it possible for Revels to produce world-class performances and educational programs for our audiences.
Let us know how we can work together to promote music, dance, and community!
Learn More