Revels Spring Sing - A Singalong Celebration of the Vernal Equinox
Raise your voices in song and welcome in the spring at Revels Spring Sing, our annual celebration of the vernal equinox! Join Revels at 3 PM on Sunday, March 19 for this special singalong event, featuring Revels fan favorites Carolyn Saxon and David Coffin as songleaders and soloists. David and Carolyn will be joined by the Shine A Light Gospel Ensemble, the Revels Singers, the Spring Sing Children's Choir… and of course, the voices of our audience members!
This year's program includes a number of American classics, including music from the Appalachian and Gospel traditions. Song sheets will be available so all can participate and sing along. Bring the whole family and share in the joy of spring and song!
Revels Spring Sing will take place at The Center for the Arts at the Armory, 191 Highland Ave Ste 1C, Somerville, MA 02143.
Learn how EBT and WIC card holders can receive ticket discounts for Revels Spring Sing
View the Revels Spring Sing program here!
View the Revels Spring Sing song sheet here!
Revels Spring Sing - A Singalong Celebration of the Vernal Equinox
The Center for the Arts at the Armory
Carolyn Saxon
Soloist and Songleader
Read More
Carolyn Saxon
Soloist and Songleader
Carolyn Saxon is so excited to be back with Revels after performing in last year's RiverSing and in Midwinter and Christmas Revels from 2019 – 2022! She is a lifelong performer who tells stories and sings all over the world. Her theatrical credits include Broadway, Off-Broadway, Broadway National Tours, film and regional theatres throughout the United States including Papermill Playhouse (NJ), Alliance Theatre in Atlanta, Actors Theatre of Louisville, North Shore Musical Theatre, Forestburgh Playhouse and Connecticut Repertory. Now based in Boston, she's worked with Greater Boston Stage, New Repertory Theatre, Wheelock Family Theatre, SpeakEasy Stage, Central Square Theater, Lyric Stage Company, Front Porch Arts Collective, American Classics, Moonbox Productions, Queen Mab Micro-Theatre, Starlight Square in Cambridge, Boston Opera Collaborative, the Outside the Box Festival and the Emerson Paramount. Her orchestral work includes the Boston Pops, Carnegie Hall, Teatro Colon, Boston Landmarks Orchestra, Indianapolis Symphony and the Buffalo Philharmonic. She is a member of the Boston Pops Gospel Choir, NEC Millennium Choir, Sharing a New Song and the One City Chorus. She is a standing Guest Soloist at Historic Twelfth Baptist Church in Roxbury. An avid traveler who believes in the power of music to unite, she's entertained audiences throughout Japan, South Africa, Argentina, Uruguay, Colombia, Jamaica and the United States. Film credits include 'Sweet & Lowdown', 'Small Time Crooks' and 'The Curse of the Jade Scorpion'.  Happy to have stayed busy during the pandemic, Carolyn created and performed in 4 different cabarets, 'Songs I Might Have Missed', 'There & Back Again', 'Songs From Center Stage' and 'Carolyn Saxon and Friends: Singing In the New Year!'
David Coffin
Soloist and Songleader
Read More
David Coffin
Soloist and Songleader
ornamuse, shawm, rauschphieffe – or, as he explains, "generally anything that requires a lot of hot air". At the heart of David's work is his extensive collection of songs from the Maritime tradition. To date, David has recorded four solo CDs; his latest, Last Trip Home, was released in the Fall of 2009 and features his daughter, Linnea, who is also a Revels performer.
David has performed with Revels since 1980 as a singer, instrumentalist and, since 1991, as Master of Ceremonies. Since 2014, David has served as Artist in Residence at Revels and has presented his acclaimed School Enrichment Programs to schools across the region as an extension of Revels Education. He runs tours of Boston Harbor during the summer months, leading over 5,000 inner-city children on boat trips to George's and Spectacle Islands. He also directs the narration program for Boston Harbor Cruises and hosts the Brunch Cruises every weekend from May to October.
Elijah Botkin
Revels Music Director
Read More
Elijah Botkin
Revels Music Director
Elijah Botkin graduated from Northeastern University in 2015 with bachelor's degrees in Music History & Analysis and Mathematics. During his time at Northeastern, Elijah founded and directed the Northeastern Madrigal Singers; was President, Bass Section Leader, and Assistant Director for the NU Choral Society; and sang with and arranged for the award-winning a cappella group Distilled Harmony. In 2015, Elijah won the award for Outstanding Arrangement for his arrangement of Distilled Harmony's quarterfinal-winning set in the International Championship of Collegiate A Cappella. In the same year, his arrangement of "Nothing Feels Like You" by Little Mix also won a CARA (Contemporary A Cappella Recording Award) for Best Mixed Collegiate Song. In 2014, Elijah was granted the Gideon Klein Award in order to write his composition The Closed Town, which was premiered by the Northeastern University Chamber Choir in April 2015. Currently, Elijah continues to direct the NU Madrigals and serves on the Board of Trustees for Chorus pro Musica. He also sings with the Boston-based chamber choir Carduus and serves as their Treasurer and Business Manager.
Paddy Swanson
Revels Artistic Director
Read More
Paddy Swanson
Revels Artistic Director
Paddy Swanson began his career in London as an actor at the Arts Theatre in the West End. In 1969, he toured Europe with La MaMa Plexus and subsequently got his world theater education from Ellen Stewart at La MaMa E.T.C. in New York. His numerous directing projects include opera, ensemble, music theater and circus.  He was a founding stage director of Circus Flora.
Paddy taught acting and improvisation at the London Academy of Dramatic Art (L.A.M.D.A.), the London Drama Centre, and New York University. He served as artistic director of the Castle Hill Festival at Castle Hill in Ipswich, Massachusetts, directing and co-producing opera and theater works, including the premiere of Julie Taymor's Liberty's Taken and Peter Sellars' production of Cosi fan Tutte. Other directing credits include Tristan and Iseult with the Boston Camerata at the Spoleto USA festival; Shirley Valentine by Willy Russell at Houston's Alley Theatre and Boston's Charles Playhouse;  Happy Days by Samuel Beckett, The Caretaker by Harold Pinter, and two stage premieres at Gloucester Stage Company; Talking Heads by Alan Bennett; and Fighting Over Beverley by Israel Horowitz . His Actors' Shakespeare Project (A.S.P.) production of  Shakespeare's King Lear with Alvin Epstein was nominated for three 2006 Elliot Norton awards. For A.S.P. he subsequently directed The Tempest, The Coveted Crown  (Henry IV Parts One and Two) and A Midsummer Night's Dream. His most recent acting performance was for Gloucester Stage in their 20th anniversary production of Fighting over Beverley.
For Revels, Paddy has directed a contemporary version of the medieval mystery plays, The Mysteries by Tony Harrison, co-produced by Revels and Shakespeare & Company, and Britten's opera Noye's Fludde. He writes and directs all Cambridge Revels scripts, and with music director George Emlen, serves as consultant to the other eight Revels production companies.
Shine A Light Gospel Ensemble
Featured Ensemble
Shine A Light Gospel Ensemble
Featured Ensemble
Revels Singers
Featured Ensemble
Read More
Revels Singers
Featured Ensemble
Revels Singers is a non-auditioned community chorus open to everyone who loves to sing. The mission of Revels Singers is to engage people through singing, explore choral repertoire from around the world, hone musical skills, and build community through harmony. Revels Singers sings a broad spectrum of choral music drawn mostly from five decades of Revels performances.
Revels Spring Sing Children's Choir
Featured Ensemble
Revels Spring Sing Children's Choir
Featured Ensemble
Modern life tends to separate us from one another. Yet nowhere is the strength of diversity expressed more completely than when our voices come together in song.
Wonderful! Thank you for sharing the joy of raising up voices in celebration!
Revels Spring Sing - A Singalong Celebration of the Vernal Equinox
Adult Tickets – $35/Person (+$5.50 Processing Fees)*
Youth Under 18 – $10/Person (+$3.50 Processing Fees)*
Children Under 2 – Free
All Seating is General Admission
March 19, 2023 3:00 pm ET
EBT and WIC card holders can receive ticket discounts for Revels Spring Sing! Learn More Here
If the cost of tickets prevents you from enjoying Revels programs such as this, please write info@revels.org for details on reduced ticket pricing.
*Fee increase due to increased charges from our hosting site
Schedule
2:45 PM – Doors Open
3:00 PM – Revels Spring Sing Program Begins
Location
The Center for the Arts at the Armory, 191 Highland Ave Ste 1C, Somerville, MA 02143. Limited free parking is available on-site. Somerville street parking is also available and free on Sundays.  Directions
COVID-19 Precautions
The health, safety, and comfort of our patrons and performers are of paramount importance to Revels. With the aim of protecting the health and safety of all Revels Spring Sing audience members, performers, and staff, we welcome you to our in-person performances with the following COVID-19 protocols:
Patrons are encouraged to mask while in crowded, indoor spaces.
Patrons are advised to keep current with their COVID-19 vaccinations.
If patrons feel ill, we advise them to stay home and test for COVID-19.
If you test positive for COVID-19, please isolate and follow CDC guidelines.
The COVID-19 outlook is continually evolving. Venue and individual event guidelines are subject to change. Check back prior to your event date.
Buy Tickets
Follow us on Social Media
---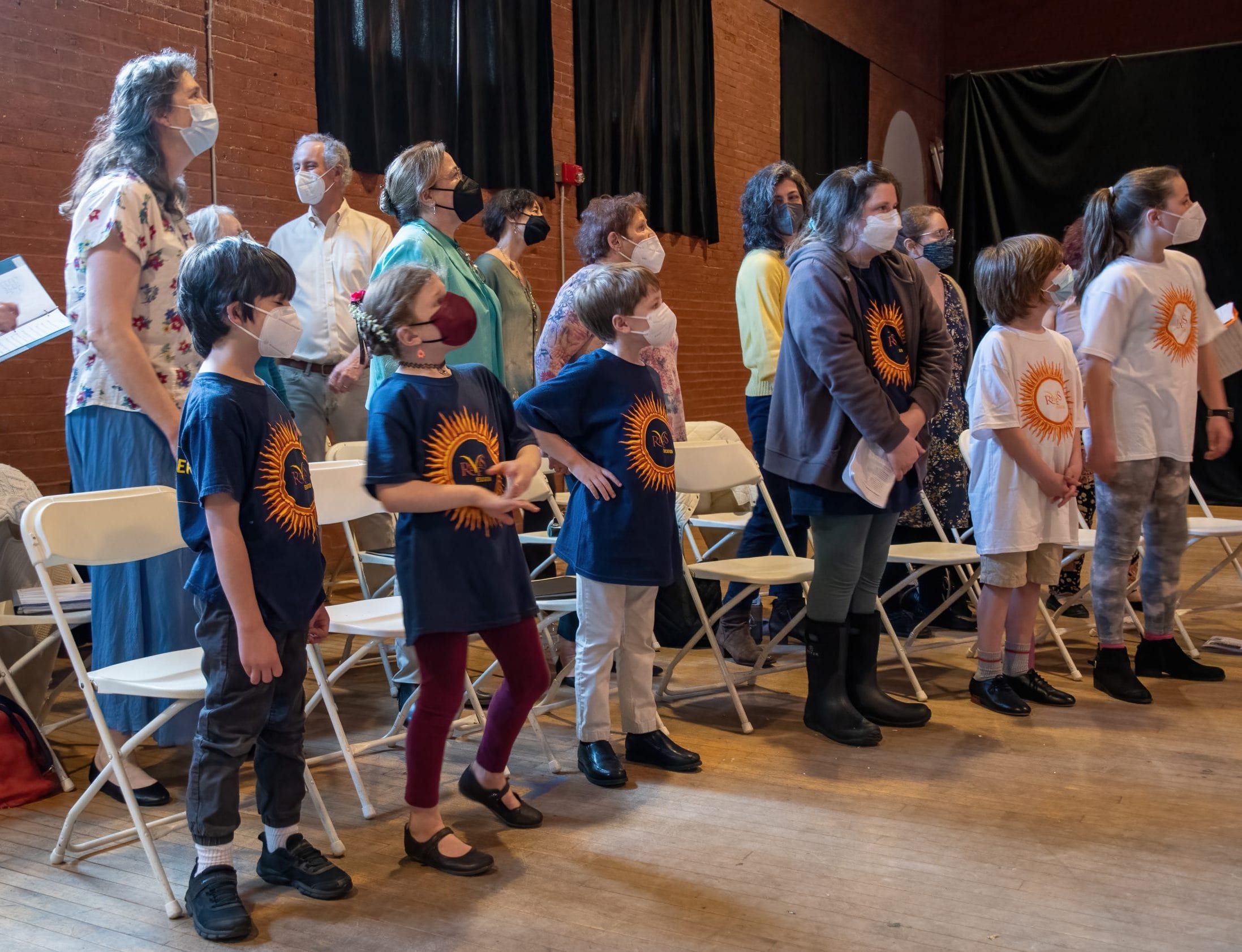 Card to Culture at Revels
Revels believes the arts should be accessible to all who wish to participate!
That's why we're proud to partner with Mass Cultural Council and Mass Department of Transitional Assistance to offer the Card to Culture program, the most comprehensive effort of its kind in the nation to open doors to arts and culture experiences for low-income families.
Card holders may purchase up to 6 tickets at $10 each; a limited number of seats are available for the performance, so tickets should be purchased at least 48 hours prior to the event to ensure availability.
Tickets for EBT and WIC cardholders will be held at will call, and cardholders must present their card in person at the box office to receive the Card to Culture $10 ticket price.
See the full list of participating organizations offering EBT, WIC, and ConnectorCare discounts and learn what you can access with Card to Culture!
Buy your WIC/EBT Revels Spring Sing Tickets
Our Sponsors
Our generous sponsors make it possible for Revels to produce world-class performances and educational programs for our audiences.
Let us know how we can work together to promote music, dance, and community!
Learn More