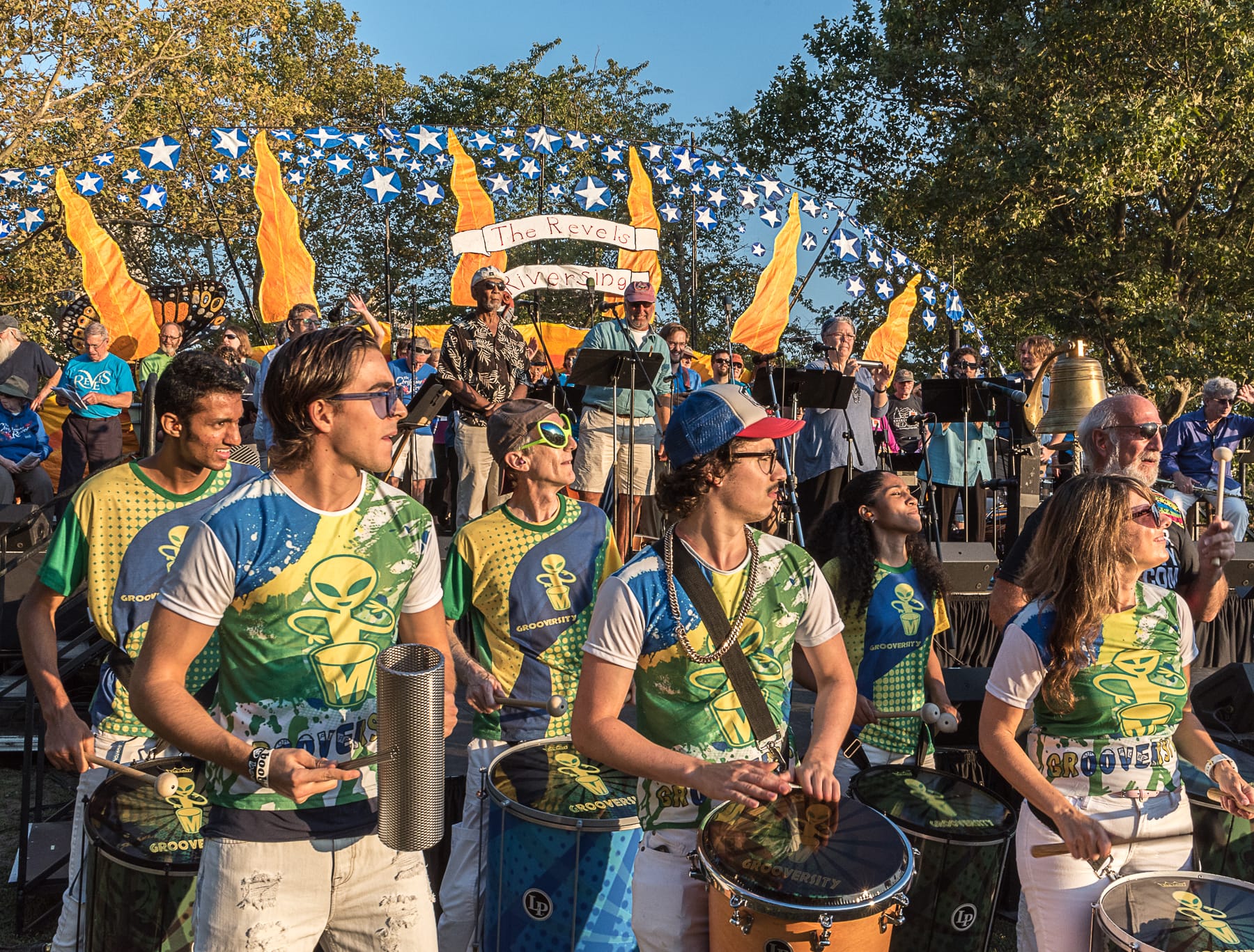 Revels RiverSing
Begun as a partnership with the Charles River Conservancy in 2004, Revels RiverSing is a participatory music event filled with music, magic, and songs celebrating the Autumnal Equinox and the splendor of the Charles River. While the performers on our Revels stage are talented professionals, the heart of RiverSing is communal singing and the joyful spirit that comes along with it.
Join Revels at the 17th Annual Revels RiverSing on Saturday, September 17, 2022 at 6:00 PM at the Herter Park Amphitheater in Allston, MA! Lift your voice in song (and in person!) as Revels waves goodbye to summer and welcomes in the fall.
Read More
Hosted by Revels Music Director Elijah Botkin, this year's RiverSing will be filled with singalongs, amazing musicians, and joy! Our program features Revels fan favorite Carolyn Saxon (The Christmas Revels 2019 – 2021) as a featured songleader alongside Artist-in-Residence David Coffin. Also returning from The Christmas Revels 2021 is Edmar Colón, who will be leading songs and playing the piano from the RiverSing stage. Rounding out the roster are special guests from the Boston City Singers youth choirs. And of course, RiverSing is not complete without YOU! Bring your best voices – song sheets will be available online and onsite so we can all sing along!
Herter Park offers free parking and a concession stand for snacks and drinks. You are also welcome to bring your own picnic to enjoy! Please note that no alcohol will be permitted at RiverSing.
For COVID safety, masks will be encouraged for all audience members sitting and singing in the Herter Park Amphitheater.
In the event of unsettled or severe weather, Revels will post updates on its website at www.revels.org.
This is a general admission event – no tickets required! ($5 Suggested Donation)
Follow us on Social Media
---
Carolyn Saxon
Singer and Songleader
Read More
Carolyn Saxon
Singer and Songleader
Carolyn Saxon is a lifelong performer who tells stories and sings songs all over the world. A longtime member of Actors Equity, her theatrical credits include Broadway, Off-Broadway, Broadway National Tours, Film and regional theatres throughout the United States including Papermill Playhouse (NJ), Alliance Theatre in Atlanta, Actors Theatre of Louisville, North Shore Musical Theatre, Forestburgh Playhouse and Connecticut Repertory. Now based in Boston, she's worked with Greater Boston Stage, Front Porch Arts Collective, New Repertory Theatre, Wheelock Family Theatre, SpeakEasy Stage, Central Square Theater, Lyric Stage Company, Moonbox Productions, Queen Mab Micro-Theatre, Starlight Square in Cambridge, Boston Opera Collaborative, the Outside the Box Festival and the Emerson Paramount. Her orchestral work includes the Boston Pops, Carnegie Hall, Teatro Colon, Boston Landmarks Orchestra, Indianapolis Symphony and the Buffalo Philharmonic. She is a member of the Boston Pops Gospel Choir, Millennium Choir, Sharing a New Song and the One City Chorus. An avid traveler who believes in the power of music to unite, she's entertained audiences throughout Japan, South Africa, Argentina, Uruguay, Colombia and the United States. Film credits include 'Sweet & Lowdown', 'Small Time Crooks' and 'The Curse of the Jade Scorpion'.  Happy to have stayed busy during the pandemic, Carolyn created and performed in 3 different cabarets, 'Songs I Might Have Missed', 'There & Back Again' and Carolyn Saxon and Friends: Singing In the New Year!'
David Coffin
Soloist and Songleader
David Coffin
Soloist and Songleader
Edmar Colón
Musician and Songleader
Read More
Edmar Colón
Musician and Songleader
Puerto Rican born Edmar Colón was awarded the prestigious Presidential Scholarship to attend  Berklee College of Music with a dual major in Performance and Classical Composition. While there,  he was a student at the Berklee Global Jazz Institute directed by Danilo Pérez and Marco Pignataro,  and went on to receive his Masters degree in Global Studies.
Colón has performed throughout the world, including at the Detroit Jazz Festival, Puerto Rico  Heineken Jazz Festival, Toronto Jazz Festival, Panama Jazz Festival, Montreal Jazz Festival, and  Monterey Jazz Festival, among others. Recently, he performed at the Kennedy Center for the Mary  Lou Williams Jazz Festival, as well as the Abbey Lincoln tribute tour with GRAMMY-award winners  Terri Lyne Carrington, Esperanza Spalding, Dianne Reeves and Dee Dee Bridgewater. Colón has  performed with artists such as Joe Lovano, John Patitucci, Danilo Pérez, Danny Rivera, Hal Crook,  Kenny Werner, Lionel Louke, John Michel Pilc, Patti Austin, Ledisi, Judith Hill, David Sanchez, Arturo  Sandoval, George Garzone, Luis Enrique and Ivan Lins, among other notable artists.
In 2016, Colón was awarded the Latino 30 Under 30 Award New England from the El Mundo  newspaper. He was also awarded first prize at the "Keep An Eye" International Jazz Awards in  Amsterdam as a part of the Berklee Global Jazz Institute. In 2017, he was honored in the annual  Patron Saint festivities of his hometown of Coamo, Puerto Rico.
As a composer, arranger and orchestrator, the last few years have been very busy for Colón. His  work has included being the copyist for Wayne Shorter's new opera, Iphigenia; being commissioned  to write an orchestral piece for the Detroit Jazz Festival Symphony Orchestra honoring pianist Geri  Allen; writing orchestrations for the title track of Esperanza Spalding's Grammy Award winning album, 12 Little Spells; copying/arranging for the Kennedy Center Honors Award ceremony honoring  Wayne Shorter, and arranging/orchestrating for Terri Lyne Carrington's acclaimed GRAMMY nominated album Waiting Game. In October of 2019, Edmar arranged and orchestrated a  commission consisting of 16 orchestral pieces for the National Symphony Orchestra at the Kennedy  Center celebrating the centennial of Nat King Cole on show entitled Nat King Cole at 100. Currently  Colón is working on original material for his debut album.
Elijah Botkin
Host and Revels Music Director
Read More
Elijah Botkin
Host and Revels Music Director
Elijah Botkin graduated from Northeastern University in 2015 with bachelor's degrees in Music History & Analysis and Mathematics. During his time at Northeastern, Elijah founded and directed the Northeastern Madrigal Singers; was President, Bass Section Leader, and Assistant Director for the NU Choral Society; and sang with and arranged for the award-winning a cappella group Distilled Harmony. In 2015, Elijah won the award for Outstanding Arrangement for his arrangement of Distilled Harmony's quarterfinal-winning set in the International Championship of Collegiate A Cappella. In the same year, his arrangement of "Nothing Feels Like You" by Little Mix also won a CARA (Contemporary A Cappella Recording Award) for Best Mixed Collegiate Song. In 2014, Elijah was granted the Gideon Klein Award in order to write his composition The Closed Town, which was premiered by the Northeastern University Chamber Choir in April 2015. Currently, Elijah continues to direct the NU Madrigals and serves on the Board of Trustees for Chorus pro Musica. He also sings with the Boston-based chamber choir Carduus and serves as their Treasurer and Business Manager.
Boston City Singers
Featured Ensemble
Read More
Boston City Singers
Featured Ensemble
Since 1995, Boston City Singers' mission has been to provide the highest level of creative youth development opportunities to underserved young people, ages 4 – 18, in the very communities in which they live. Their programs inspire personal journeys, bridge opportunity gaps, celebrate diversity, and foster goodwill. Boston City Singers' strengths lie in an unwavering commitment to social justice and acceptance of differences across socioeconomic status, race, ethnicity, and gender preference. They emphasize, diversity, inclusion, and respect; innovation and possibility; and responsibility for the communities in which they operate.
Boston City Singers performs music from many ages and cultures, while learning concepts (melody, rhythm, harmony, timbre, dynamics, form, style, and performance practice) and skills (theory, sight-reading and vocal technique).
Modern life tends to separate us from one another. Yet nowhere is the strength of diversity expressed more completely than when our voices come together in song. I am inspired by Revels' reminder of our commonality and delighted to celebrate the gifts of nature and community at RiverSing.
I have treasured memories of being at RiverSing, of bringing folks together. We need this uplifting salve more than ever.
Event Information
17th Annual Revels RiverSing
September 17, 2022 6:00 pm ET
This general admission event – no tickets required!
Admission: Free ($5 Suggested Donation)
Location: Herter Park Amphitheater at 1175 Soldiers Field Road, Allston, MA
The amphitheater is located next to the Herter Community Garden and at the opposite end of the large parking lot from the Artesani Splash Park & Wading Pool.
Herter Park offers free parking and a concession stand for snacks and drinks. Audience members are also welcome to bring their own refreshments to enjoy, although please note that alcohol will not be permitted at RiverSing. 
For COVID safety, masks will be encouraged for all audience members sitting and singing in the Herter Park Amphitheater.
Our Sponsors
Our generous sponsors make it possible for Revels to produce world-class performances and educational programs for our audiences.
Let us know how we can work together to promote music, dance, and community!
Learn More