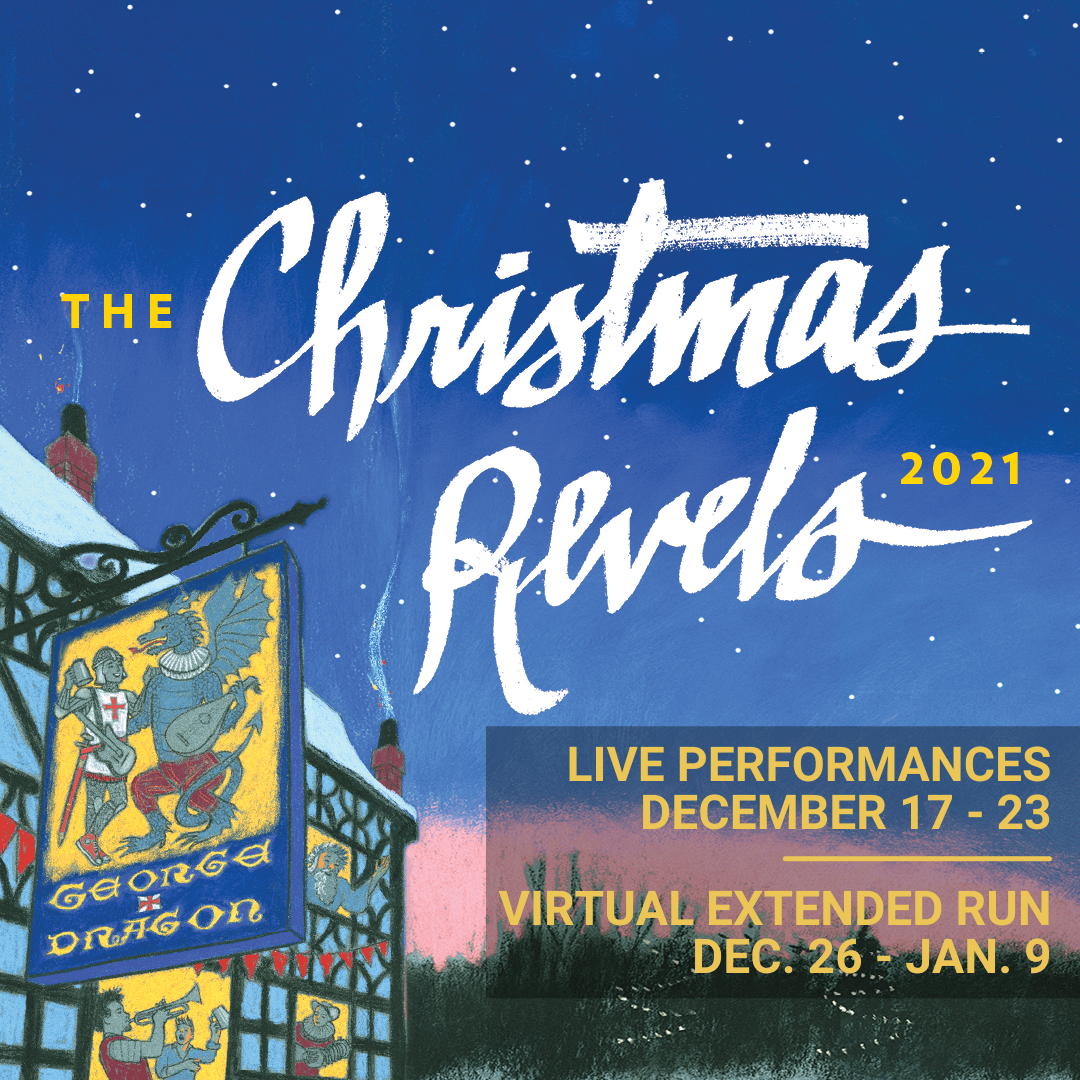 About This Year's Production
This year's production will be performed live at Sanders Theater December 17 – 23 and will be available virtually from 12:00 PM ET December 26 until 11:59 PM ET January 9!
Our 51st annual Christmas Revels takes place in the present day at the George and Dragon, a 17th-century English pub famous for its annual Christmas carol party and saved from economic extinction by an American couple. Sadly for the carolers, last year's celebration had to be canceled due to the pandemic…
NOTE: COVID protocols in place
Read More
The Christmas Revels: In Celebration of the Winter Solstice
Welcome to the George & Dragon!
The pub's regulars are looking forward to reestablishing the traditional sing-along but the hiccup in tradition has disturbed the space/time continuum and triggered an audit by a fussy Revels bureaucrat from the 17th century. Along with his Elizabethan entourage he will be making an official visit to the 21st century to put things back in order.
Will the current managers of the George & Dragon be able to regain their license for revelry?  What will Elizabethans think of the modern song list? What happens when music and dance from the Renaissance collides with the horn section of a pub band and the street-wise locals from the 21st century? In our telling of the story, old and new ways meet, and the world gets a little bigger. We think that there is something here for everyone to enjoy as we celebrate the season as only Revels can!
We can't wait to see you all in-person and 'revel' with you again. There is a glimmer of light at the end of the tunnel – and as you know, "the return of the light" is what The Christmas Revels is all about! 
Virtual Performance
We are excited to offer a fully virtual Christmas Revels experience once again to audiences around the world!
If you are unable to attend The Christmas Revels live this year (or just want to see it again!), join us for a virtual extended run, streaming from December 26 to January 9. Your virtual Event Pass includes unlimited access during the viewing period to a digitally enhanced version of this year's Christmas Revels, recorded during a live performance in Sanders Theatre. 
Buy your virtual Event Pass today!
Follow us on Social Media
---
Meet the Artists
This year, The Christmas Revels is delighted to join forces with another beloved holiday tradition--City Ballet of Boston's "Urban Nutcracker". As part of a new collaboration between the two organizations, choreographers from "Urban Nutcracker" and Revels will stage new dances for this year's Christmas Revels, merging street dance with traditional English dance with surprising results.
Paddy Swanson
Director
Read More
Paddy Swanson
Director
Paddy Swanson began his career in London as an actor at the Arts Theatre in the West End. In 1969, he toured Europe with La MaMa Plexus and subsequently got his world theater education from Ellen Stewart at La MaMa E.T.C. in New York. His numerous directing projects include opera, ensemble, music theater and circus.  He was a founding stage director of Circus Flora.
Paddy taught acting and improvisation at the London Academy of Dramatic Art (L.A.M.D.A.), the London Drama Centre, and New York University. He served as artistic director of the Castle Hill Festival at Castle Hill in Ipswich, Massachusetts, directing and co-producing opera and theater works, including the premiere of Julie Taymor's Liberty's Taken and Peter Sellars' production of Cosi fan Tutte. Other directing credits include Tristan and Iseult with the Boston Camerata at the Spoleto USA festival; Shirley Valentine by Willy Russell at Houston's Alley Theatre and Boston's Charles Playhouse;  Happy Days by Samuel Beckett, The Caretaker by Harold Pinter, and two stage premieres at Gloucester Stage Company; Talking Heads by Alan Bennett; and Fighting Over Beverley by Israel Horowitz . His Actors' Shakespeare Project (A.S.P.) production of  Shakespeare's King Lear with Alvin Epstein was nominated for three 2006 Elliot Norton awards. For A.S.P. he subsequently directed The Tempest, The Coveted Crown  (Henry IV Parts One and Two) and A Midsummer Night's Dream. His most recent acting performance was for Gloucester Stage in their 20th anniversary production of Fighting over Beverley.
For Revels, Paddy has directed a contemporary version of the medieval mystery plays, The Mysteries by Tony Harrison, co-produced by Revels and Shakespeare & Company, and Britten's opera Noye's Fludde. He writes and directs all Cambridge Revels scripts, and with music director George Emlen, serves as consultant to the other eight Revels production companies.
George Emlen
Music Director
Read More
George Emlen
Music Director
George Emlen is a conductor, composer, arranger, and music educator. He served as music director of Revels from 1984 to 2016 and has recently returned to that position. He is passionate about transforming people's lives and relationships through music, especially through singing together.
George teaches a leadership course, "Conducting Your Chorus," at the Harvard Kennedy School for senior executives in state and local public office. Previously he was on the faculty of the New England Conservatory, Lesley University, the College of the Atlantic, and the University of Maine. He also taught at Noble and Greenough School and the Putney School. He served as conductor of the Oratorio Chorale, the Mount Desert Summer Chorale and the Acadia Choral Society, of which he was the founding director. In recent years he worked with Bobby McFerrin in the vocal improvisatory genre of Circle Singing, which he incorporates into his conducting and teaching.
George is a graduate of Dartmouth College and the New England Conservatory, where he earned an advanced degree in choral conducting. His compositions and arrangements are published by Lawson-Gould, Thorpe, Lorenz/Sacred Music Press, and Redwing Press.
Edmar Colón
Associate Music Director and Bandleader
Read More
Edmar Colón
Associate Music Director and Bandleader
Puerto Rican born Edmar Colón was awarded the prestigious Presidential Scholarship to attend  Berklee College of Music with a dual major in Performance and Classical Composition. While there,  he was a student at the Berklee Global Jazz Institute directed by Danilo Pérez and Marco Pignataro,  and went on to receive his Masters degree in Global Studies. 
Colón has performed throughout the world, including at the Detroit Jazz Festival, Puerto Rico  Heineken Jazz Festival, Toronto Jazz Festival, Panama Jazz Festival, Montreal Jazz Festival, and  Monterey Jazz Festival, among others. Recently, he performed at the Kennedy Center for the Mary  Lou Williams Jazz Festival, as well as the Abbey Lincoln tribute tour with GRAMMY-award winners  Terri Lyne Carrington, Esperanza Spalding, Dianne Reeves and Dee Dee Bridgewater. Colón has  performed with artists such as Joe Lovano, John Patitucci, Danilo Pérez, Danny Rivera, Hal Crook,  Kenny Werner, Lionel Louke, John Michel Pilc, Patti Austin, Ledisi, Judith Hill, David Sanchez, Arturo  Sandoval, George Garzone, Luis Enrique and Ivan Lins, among other notable artists. 
In 2016, Colón was awarded the Latino 30 Under 30 Award New England from the El Mundo  newspaper. He was also awarded first prize at the "Keep An Eye" International Jazz Awards in  Amsterdam as a part of the Berklee Global Jazz Institute. In 2017, he was honored in the annual  Patron Saint festivities of his hometown of Coamo, Puerto Rico.  
As a composer, arranger and orchestrator, the last few years have been very busy for Colón. His  work has included being the copyist for Wayne Shorter's new opera, Iphigenia; being commissioned  to write an orchestral piece for the Detroit Jazz Festival Symphony Orchestra honoring pianist Geri  Allen; writing orchestrations for the title track of Esperanza Spalding's Grammy Award winning album, 12 Little Spells; copying/arranging for the Kennedy Center Honors Award ceremony honoring  Wayne Shorter, and arranging/orchestrating for Terri Lyne Carrington's acclaimed GRAMMY nominated album Waiting Game. In October of 2019, Edmar arranged and orchestrated a  commission consisting of 16 orchestral pieces for the National Symphony Orchestra at the Kennedy  Center celebrating the centennial of Nat King Cole on show entitled Nat King Cole at 100. Currently  Colón is working on original material for his debut album.
David Coffin
Master of Ceremonies
Read More
David Coffin
Master of Ceremonies
David recently celebrated 40 years of performing with Revels by releasing a compilation 2 CD set David Coffin Live from the Revels Stage representing his favorite songs with various guest artists, the Revels Choruses, and most importantly, you, the Revels audience. During the pandemic he has taken to creating virtual content not only in producing the #RevelsConnects series but also on TikTok since the "Sea Chantey Craze" took the world by storm winter of 2021. As a result he has just released a 12 song digital album (The Sound of Time) of all single take performances of a variety of genres.
Widely known for his rich baritone voice, David performs on an impressive array of musical instruments, including concertinas, recorders, penny whistles, bombardes, gemshorns, shawms, rauschpfieffes, or, as he explains, "Generally anything that requires a lot of hot air". At the heart of David's work is his extensive collection of songs from the Maritime Tradition.
When he's not on the Revels stage David is presenting his signature Enrichment Programs (a history of Wind Instruments and an imaginary 18th Century Whaling Program) in New England schools as the Revels-Artist-in-Residence. In the Summer he can be found on a boat in Boston Harbor taking over 10,000 inner-city kids out to a harbor island through Save the Harbor Save the Bay. www.davidcoffin.com
Carolyn Saxon
Rita (Innkeeper)
Read More
Carolyn Saxon
Rita (Innkeeper)
Carolyn Saxon returns to The Christmas Revels after joining the 2020 production! Broadway/National Tours/NY Theatre: The Civil War, Bring In Da Noise, Bring In Da Funk, Hair, Purlie, Can-Can, Linda Eder: The Christmas Concert, New York International Fringe Festival. Film: Sweet & Lowdown, Small Time Crooks, Curse of the Jade Scorpion. Boston Theatre: black odyssey boston (Central Square Theater) 1776 – (New Rep Theatre), Roald Dahl's Willy Wonka, Ragtime (Wheelock Family Theatre), The Wiz (Lyric Stage Company), Shakespeare in Love, Violet, The Color Purple, In the Heights, Far From Heaven (SpeakEasy Stage),  Brother Nat (Emerson Paramount). The Hairy Scary (Outside the Box Festival) Regional: North Shore Music Theatre, Connecticut Repertory, Papermill Playhouse NJ, Actors Theatre of Louisville, Weston Playhouse, Forestburgh Playhouse, Studio Arena Theatre, Artpark, MusicalFare, Struthers Library Theatre. Other: Boston Pops Gospel Choir (Featured Soloist), Carnegie Hall, Boston Landmarks Orchestra, Teatro Colon, Buffalo Philharmonic, Indianapolis Symphony, Sharing a New Song, NEC Millennium Choir, Boston Community Choir.  
William Forchion
Joe (Innkeeper)
Read More
William Forchion
Joe (Innkeeper)
William Forchion: Director, Producer, Poet, Clown, Acrobat, Stuntman, Father, Friend, Minister, Coach, Writer, and Teacher, all in one package. William is fueled by his desire to inspire, educate, entertain and innovate. He creates art that connects audiences, to promote emotional, spiritual, and mental growth. William is the author of "Billosophy: meditations on God, movement and miracles", "Sacred & Sacrosanct: a collection of poems" and "#ApoemAday" a year of poems. He hosts and produces the "Billosophy101 podcast and the Billosophy101 vlog on the Billosophy101 YouTube channel. William grew up in Hammonton, NJ where life on a farm nurtured his creative imagination. In 2017 William was selected to be a U.S. State Department cultural exchange Ambassador for the Arts making two trips to Turkmenistan. He is the proud father of 3 beautiful humans and has called Brattleboro, VT home since 1998.
Regie Gibson
Officer of the Revels
Read More
Regie Gibson
Officer of the Revels
Regie's lectured & performed in the U.S., Cuba & Europe. Representing the U.S. in Italy,  he competed for & received the Absolute Poetry Award in Monfalcone & The Europa in Versi Award in LaGuardia di Como. Himself & his work appear in "love  jones": a film based on events in his life. He has served as consultant for the NEA, has featured on HBO, several TED X events, & various NPR programs including On Point & Radio Boston. Regie has performed with & composed texts for The Boston City Singers, The Mystic Chorale, & the Handel+Haydn Society. He is a Brother Thomas Fellow & has received two Live Arts Boston Grants for his first play, The Juke: A Blues Bacchae in which he uses the Euripidean tragedy to explore African-American history, culture, and spirituality. He appeared in "Black Odyssey Boston, (Underground Railway Theater & The Front Porch Arts Collective) & performs with Atlas Soul: a world music ensemble. He is Artistic Director of Shakespeare to Hiphop's Shakespeare Time-Traveling Speakeasy: A multi-media performance focusing on the influence of William Shakespeare. He teaches at Clark University & is so happy to not only be part of this year's Revels & to have written for it as well!
Sabrina Selma Mandell
Flunky
Read More
Sabrina Selma Mandell
Flunky
Sabrina Mandell is delighted to return to the Cambridge Revels. She is the founder, Artistic Co-director and general manager of Happenstance Theater. She has written, produced and performed prolifically with her company since 2006. She has received 2 Helen Hayes Awards for Outstanding Costume Design as well as nominations for Choreography and Acting.
She has taught Physical Comedy, Devising and Clown at The Shakespeare Theater, Constellation Theatre, Duke Ellington School of the Arts, Gallaudet University, Round House Theater, Centerstage in Baltimore and elsewhere. Sabrina performed for 10 years with the Big Apple Circus' Clown Care Program in DC and Baltimore. She is also a visual artist and poet.
Mark Jaster
Master of the Revels
Read More
Mark Jaster
Master of the Revels
Mark Jaster performed with the Cambridge Christmas Revels as the Ghost of The Duke of Rutland (2010), The Moon Fool (2011), the saw-playing Bertie and an ugly stepsister (2014), and Marco the Italian Commedia player (2017). He has also appeared many times since the early 1980's with the Washington Revels in Christmas and Mayday shows. Performances elsewhere include over 35 years at The Maryland Renaissance Festival as  "A Fool Named 'O,'" and 20 years as "Dr. Baldy" with The Big Apple Circus' Clown Care Unit. Since 2006, he has co-directed Happenstance Theater with Sabrina Mandell, devising and appearing in critically acclaimed collaborative, original works of "Visual, Poetic Theater." The company has garnered 5 Helen Hayes Awards, including Mark's 2016 Helen Hayes/Robert Prosky Award for outstanding lead actor. Mark studied with 20th-century masters Marcel Marceau and Etienne Decroux, and served as teaching assistant to Mr. Marceau. Mark also frequently teaches mime and physical comedy and advises theatre companies on movement issues. www.happenstancetheater.com
Benny Sato Ambush
Dramaturg
Read More
Benny Sato Ambush
Dramaturg
Benny Sato Ambush, a veteran professional stage director, institutional theatre leader, educator, published commentator, and consultant, is the Artistic Director of the Venice Theatre in Venice, FL, America's 2nd largest community theatre. Previously, he artistically helmed two professional theatres (Oakland Ensemble Theatre, Oakland, CA and Richmond's TheatreVirginia) and the academically-based Rites & Reason Theatre Company at Brown University, Providence, RI. For nine years, he was the Senior Distinguished Producing Director in Residence at Emerson College's Department of Performing Arts. He has directed at numerous professional regional theatres and academic theatre training programs throughout the United States and has taught acting and directing at MFA, BFA, and BA programs in universities/colleges nationally. BA, Brown University; MFA, University of California, San Diego. Member: College of Fellows of the American Theatre, National Alliance of Acting Teachers, National Theatre Conference, Stage Directors and Choreographers Society.
Kelli Edwards
Choreographer
Read More
Kelli Edwards
Choreographer
Kelli Edwards is happy to be back with Revels after choreographing their 2017 Christmas Revels. Professional theatre credits as choreographer or movement consultant include A Confederacy of Dunces, Come Back, Little Sheba, The Second Girl, Becoming Cuba, The Cherry Orchard, and How Shakespeare Won the West, Huntington Theatre Company; 1776 (co-director), Fiddler on the Roof, The Hot Mikado (IRNE Award for Best Choreography), The Snow Queen, The Wild Party, Cabaret, Ragtime, The Threepenny Opera, Passing Strange, and RENT, The New Repertory Theatre. Other Boston area credits in choreography are with the American Repertory Theatre, Actor's Shakespeare Project, Stoneham Theatre, Whistler in the Dark, and Brandeis Theatre Company. Kelli is the co-director of and performs with Dances by Isadora Boston, a company dedicated to the work of one of the founders of American modern dance, Isadora Duncan. Kelli is on the performing arts faculty of Milton Academy.
Gillian Stewart
Choreographer
Read More
Gillian Stewart
Choreographer
Gillian has been teaching, choreographing, and performing traditional sword dancing on both sides of the Atlantic since 2004. Born and raised in the vigorous folk music and dance scene surrounding Boston, MA, she also indulges in morris, pub singing, percussive stepdance, and social dancing of many stripes. Since performing in her first Revels as a teenager in 2000, she has spent every December in Sanders as a performer, choreographer, or assistant stage manager. She is thrilled to be collaborating with Tony Tucker on the teenage dance group, and looks forward to building new cross-community and -genre relationships and performances with Revels going forward.
Tony Tucker
Choreographer
Read More
Tony Tucker
Choreographer
Tony Tucker is a dancer, choreographer, performer, and educator. After discovering a love for dance while attending Boston University's summer dance program "Reach," he joined forces with J.S. Fusement and started training more passionately in hip hop, Haitian folklore, and jazz dance. He now performs as a guest in numerous companies in Boston. Tony continues his education by attending classes in ballet, tap, jazz, hip hop, contemporary, modern, and pas de deux. He is a dedicated dancer and a talented choreographer. As a teacher, he is adored by students all over Massachusetts and shares his gift of dance and love of the art form in every way he can.
The colder and stormier the December, the better the Revels……the annual festival of song, dance and drama reflects feelings as old as humanity itself: fear of chill and darkness at the winter solstice, celebration as the sun begins to return.
Thank you for still finding a way to share Revels with us; I am newer to the show, but in the last few years it has truly become a part of my holiday traditions, and I would have missed it sorely.
Revels exemplifies the power of good ideas not contained! By creating its own annual custom, Revels has found a unique way to celebrate the seasonal rituals of the world…To my family, the celebration has become tradition wrapped in tradition.
LIVE PERFORMANCE TICKETS
The Christmas Revels: In Celebration of the Winter Solstice
$12 – $60/ Child 
$20 – $100/ Adult
Friday December 17th - Thursday, December 23rd
9 Performances – Matinees and Evenings
Location: Harvard University's Sanders Theatre, Cambridge, MA
Run Time: 90 Minutes 
Note: This year's Christmas Revels will have no intermission.
Read More
This information refers to tickets on sale through the Harvard Box Office for our live performances.
Harvard Box Office hours: Tuesday – Saturday, Noon to 6:00pm
Phone: 617-496-2222
Please note: If you are planning to purchase your tickets online, you should  take a few moments prior to the On-Sale date, to verify your account login and password. Your password will expire if there has been no recent activity on your account.  Verify your account login and password by going to the My Account link on the top menu bar. Your username is your email address. Once logged on, you may update your password if it has expired and make any other edits needed. You may also create an account if you are new to our ticketing service or if your email address has changed. 
If you encounter a problem with your account, please contact the Harvard Box Office at 617-496-2222, Tuesday-Saturday, 12 noon to 6pm or email tickets@fas.harvard.edu.
Ticket Prices
| | | | | |
| --- | --- | --- | --- | --- |
|   | Price Level | Price Level | Price Level | Price Level |
| Performance Type | Premium (P) | Top (I) | Middle (II) | Partial View (III) |
| Standard Adult | $100 | $75 | $54 | $32 |
| Standard Child | $60 | $46 | $36 | $20 |
| Value Adult | $75 | $62 | $48 | $25 |
| Value Child | $47 | $42 | $32 | $15 |
| Preview Adult | $55 | $42 | $32 | $20 |
| Preview Child | $30 | $25 | $20 | $12 |
Due to COVID restrictions, Orchestra Rows A and B will not be available for patrons this year.
Performance Types
Standard: General performances
Value: Performances with lower priced tickets
Preview: Opening Night special ticket rates
Performance Schedule and Preview Type
Friday December 17 7:30 PM* Preview
Saturday December 18 3:00 PM Standard
Saturday December 18 7:30 PM Value
Sunday December 19 1:00 PM* Standard
Sunday December 19 5:30 PM* Standard
Tuesday December 21 7:30 PM Value
Wednesday December 22 7:30 PM Value
Thursday December 23 3:00 PM Standard
Thursday December 23 7:30 PM Standard
*December 17 and December 19 performances will have ASL interpreters.
VIRTUAL PERFORMANCE EVENT PASSES
The Christmas Revels: In Celebration of the Winter Solstice
The Christmas Revels: Virtual Event Pass
December 26, 2021 12:00 pm - January 9, 2021 11:59 pm
$35 / Household
Join us for a virtual encore of The Christmas Revels! Your virtual event pass includes unlimited access during the viewing period to our 51st annual Christmas Revels, recorded during a live performance at Sanders Theatre. 
Virtual event passes can be used to watch The Christmas Revels any time between December 26, 2021 at 12 PM ET and January 9, 2022 at 11:59 PM ET.
Learn more about accessing and using your virtual event pass!
Access the Christmas Revels Program Book!
December 26-29 Live Ticket Holders: if you have notified the Harvard Box Office about donating the cost of your tickets and would like an on demand video link before the Harvard Box Office reopens on Tuesday, December 27 , please email  Jen Sur at jsur@revels.org.
Buy Virtual Event Passes
How to Watch the Virtual Show
Stay up to date
with Revels.
Sign up to receive email updates on performances, events, and news coming from Revels.
---