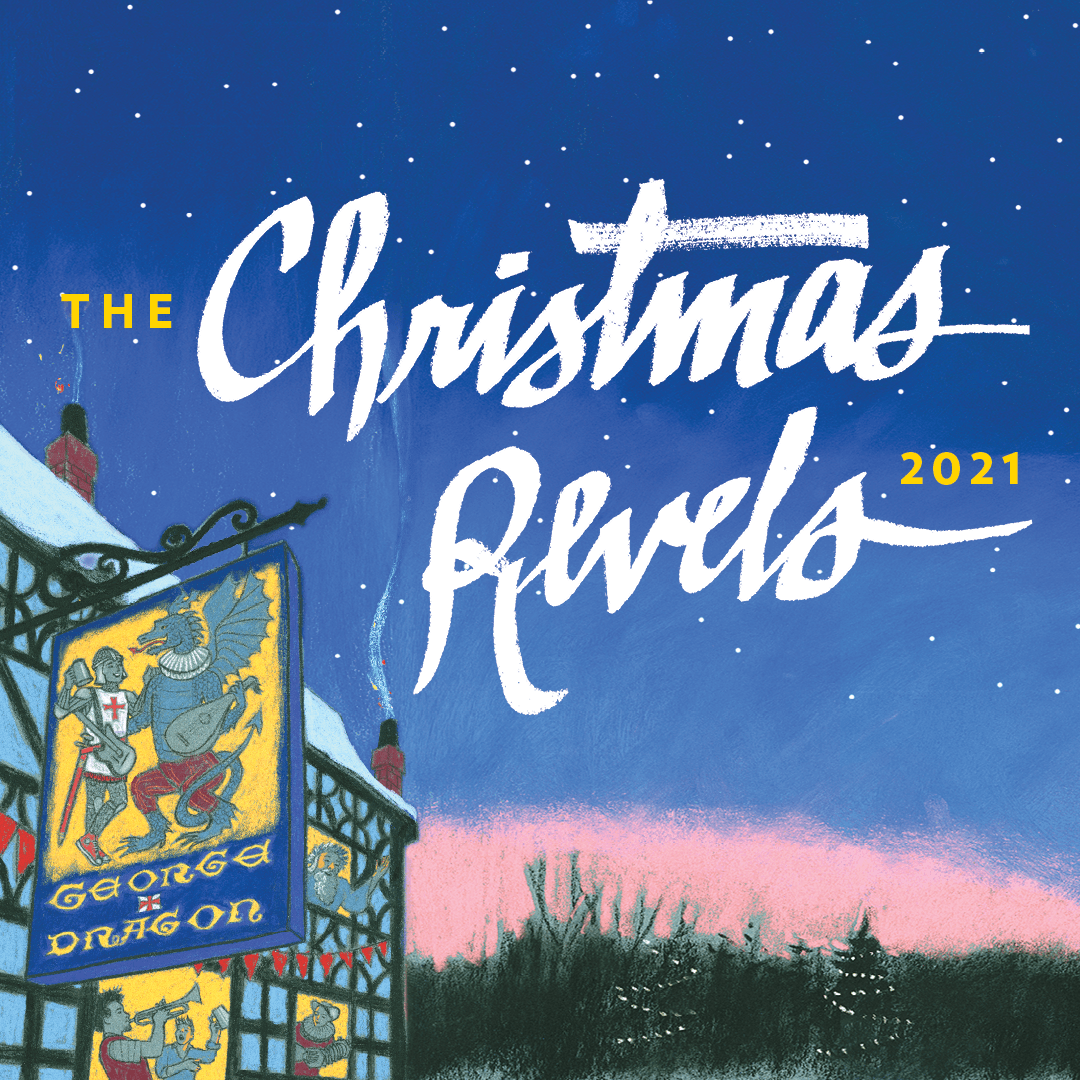 Go behind the scenes!
Grab a pint and join us at the virtual George & Dragon pub for a preview of The Christmas Revels 2021, featuring song (of course) and a conversation with this year's creative team including Revels Artistic Director Paddy Swanson, Music Director George Emlen, Artist in Residence David Coffin, Benny Sato Ambush, and Regie Gibson.
Follow us on Social Media
---
Paddy Swanson
Director
Read More
Paddy Swanson
Director
Paddy Swanson began his career in London as an actor at the Arts Theatre in the West End. In 1969, he toured Europe with La MaMa Plexus and subsequently got his world theater education from Ellen Stewart at La MaMa E.T.C. in New York. His numerous directing projects include opera, ensemble, music theater and circus.  He was a founding stage director of Circus Flora.
Paddy taught acting and improvisation at the London Academy of Dramatic Art (L.A.M.D.A.), the London Drama Centre, and New York University. He served as artistic director of the Castle Hill Festival at Castle Hill in Ipswich, Massachusetts, directing and co-producing opera and theater works, including the premiere of Julie Taymor's Liberty's Taken and Peter Sellars' production of Cosi fan Tutte. Other directing credits include Tristan and Iseult with the Boston Camerata at the Spoleto USA festival; Shirley Valentine by Willy Russell at Houston's Alley Theatre and Boston's Charles Playhouse;  Happy Days by Samuel Beckett, The Caretaker by Harold Pinter, and two stage premieres at Gloucester Stage Company; Talking Heads by Alan Bennett; and Fighting Over Beverley by Israel Horowitz . His Actors' Shakespeare Project (A.S.P.) production of  Shakespeare's King Lear with Alvin Epstein was nominated for three 2006 Elliot Norton awards. For A.S.P. he subsequently directed The Tempest, The Coveted Crown  (Henry IV Parts One and Two) and A Midsummer Night's Dream. His most recent acting performance was for Gloucester Stage in their 20th anniversary production of Fighting over Beverley.
George Emlen
Music Director
Read More
George Emlen
Music Director
George Emlen is a conductor, composer, arranger, and music educator. He served as music director of Revels from 1984 to 2016 and has recently returned to that position. He is passionate about transforming people's lives and relationships through music, especially through singing together.
George teaches a leadership course, "Conducting Your Chorus," at the Harvard Kennedy School for senior executives in state and local public office. Previously he was on the faculty of the New England Conservatory, Lesley University, the College of the Atlantic, and the University of Maine. He also taught at Noble and Greenough School and the Putney School. He served as conductor of the Oratorio Chorale, the Mount Desert Summer Chorale and the Acadia Choral Society, of which he was the founding director. In recent years he worked with Bobby McFerrin in the vocal improvisatory genre of Circle Singing, which he incorporates into his conducting and teaching.
Benny Sato Ambush
Dramaturg
Read More
Benny Sato Ambush
Dramaturg
Benny Sato Ambush, a veteran professional stage director, institutional theatre leader, educator, published commentator, and consultant, is the Artistic Director of the Venice Theatre in Venice, FL, America's 2nd largest community theatre. Previously, he artistically helmed two professional theatres (Oakland Ensemble Theatre, Oakland, CA and Richmond's TheatreVirginia) and the academically-based Rites & Reason Theatre Company at Brown University, Providence, RI. For nine years, he was the Senior Distinguished Producing Director in Residence at Emerson College's Department of Performing Arts. He has directed at numerous professional regional theatres and academic theatre training programs throughout the United States and has taught acting and directing at MFA, BFA, and BA programs in universities/colleges nationally. BA, Brown University; MFA, University of California, San Diego. Member: College of Fellows of the American Theatre, National Alliance of Acting Teachers, National Theatre Conference, Stage Directors and Choreographers Society.
David Coffin
Master of Ceremonies
Read More
David Coffin
Master of Ceremonies
David recently celebrated 40 years of performing with Revels by releasing a compilation 2 CD set David Coffin Live from the Revels Stage representing his favorite songs with various guest artists, the Revels Choruses, and most importantly, you, the Revels audience. During the pandemic he has taken to creating virtual content not only in producing the #RevelsConnects series but also on TikTok since the "Sea Chantey Craze" took the world by storm winter of 2021. As a result he has just released a 12 song digital album (The Sound of Time) of all single take performances of a variety of genres.
Widely known for his rich baritone voice, David performs on an impressive array of musical instruments, including concertinas, recorders, penny whistles, bombardes, gemshorns, shawms, rauschpfieffes, or, as he explains, "Generally anything that requires a lot of hot air". At the heart of David's work is his extensive collection of songs from the Maritime Tradition.
When he's not on the Revels stage David is presenting his signature Enrichment Programs (a history of Wind Instruments and an imaginary 18th Century Whaling Program) in New England schools as the Revels-Artist-in-Residence. In the Summer he can be found on a boat in Boston Harbor taking over 10,000 inner-city kids out to a harbor island through Save the Harbor Save the Bay.
Regie Gibson
Officer of the Revels
Read More
Regie Gibson
Officer of the Revels
Regie's lectured & performed in the U.S., Cuba & Europe. Representing the U.S. in Italy,  he competed for & received the Absolute Poetry Award in Monfalcone & The Europa in Versi Award in LaGuardia di Como. Himself & his work appear in "love  jones": a film based on events in his life. He has served as consultant for the NEA, has featured on HBO, several TED X events, & various NPR programs including On Point & Radio Boston. Regie has performed with & composed texts for The Boston City Singers, The Mystic Chorale, & the Handel+Haydn Society. He is a Brother Thomas Fellow & has received two Live Arts Boston Grants for his first play, The Juke: A Blues Bacchae in which he uses the Euripidean tragedy to explore African-American history, culture, and spirituality. He appeared in "Black Odyssey Boston, (Underground Railway Theater & The Front Porch Arts Collective) & performs with Atlas Soul: a world music ensemble. He is Artistic Director of Shakespeare to Hiphop's Shakespeare Time-Traveling Speakeasy: A multi-media performance focusing on the influence of William Shakespeare. He teaches at Clark University & is so happy to not only be part of this year's Revels & to have written for it as well!
Virtual Ticket
December 1, 2021 7:00 pm ET
Your ticket includes a Zoom link to access the event.
Buy Tickets
Become a Yule Sponsor
December 1, 2021 7:00 pm ET
Yule Sponsors will also receive an exclusive 2021 Christmas Revels ornament and a virtual Event Pass to the VOD extended run of The Christmas Revels, accessible via streaming between December 30 and January 9.
Buy Tickets
Stay up to date
with Revels.
Sign up to receive email updates on performances, events, and news coming from Revels.
---