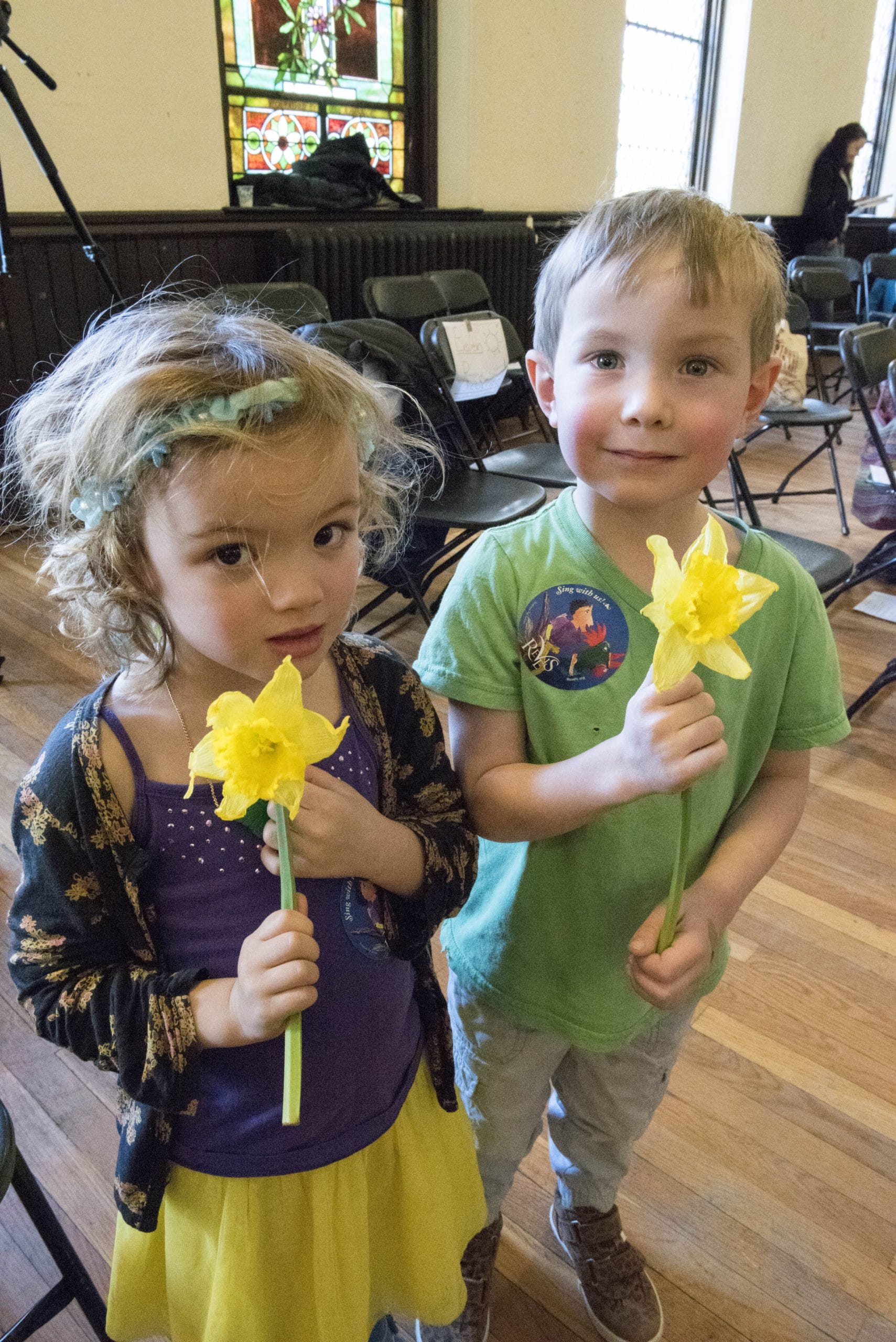 Spring Sing 2021
Since the launch of Spring Sing more than 25 years ago, Revels has gathered every spring to commemorate the vernal equinox through song and poetry. Lead by guest songleaders and poets, Spring Sing brings friends and family together for a singalong event that welcomes in the Spring season and celebrates the lengthening of the days.
Spring Sing 2021's theme was Renewal and Rebirth, with a performance including song and poetry with uplifting and hopeful energy. In addition, two young poets recited their own poems, written expressly for the event.
Read More
Featured songleaders included David Coffin, Sayida Rivers, Derek Burrows, Natty Smith and Erika Roderick, and George Emlen, who hosted the afternoon as well. Two pairs of young sisters – one from Ireland – also lead us in song.
Download the song sheet and sing along below!
Follow us on Social Media
---
Derek Burrows
Songleader
Read More
Derek Burrows
Songleader
Derek is a master storyteller, modern troubadour, filmmaker, web designer, and photographer. He is a co-founder of the Mirror of Race project. As a filmmaker, Derek has been working in Mexico on instructional films for health workers. His current feature length film, "Before the Trees Was Strange", was released in 2017.
As a storyteller, Derek specializes in Afro-Caribbean and African Diaspora tales; he has been "telling" for over two decades nationally and internationally.
Derek's work as a performer, artist, and digital technician, as well as his life-story as an immigrant to America facing the question of race, provide the inspiration for this project. 
Derek was born in the Bahamas where storytelling was a vital part of the cultural tradition. He studied music at Berklee College of Music in Boston, Massachusetts and for 32 years performed with the International music group Voice of the Turtle, specializing in music of the Sephardic Jews. The Sephardim were expelled from Spain in 1492. The four member group has traveled the world performing and has 12 recordings of this distinctive genre. Derek has also performed in many countries as a solo classical guitarist, flutist and singer. 
As an educator, Derek presents a variety of workshops for students, educators and storytellers and has been adjunct faculty at Lesley College in Cambridge, Massachusetts and at Framingham State College for many years. He has appeared as a keynote speaker and workshop leader in these venues and in the Medical field using stories to look at diversity, healing, cross-cultural understanding and conflict resolution. At Brandeis University, he used the power of storytelling with Israeli and Palestinian students to overcome prejudice by helping them identify their common humanity.
Sayida Rivers
Songleader
Read More
Sayida Rivers
Songleader
Sayida
Rivers Farmer was born in Harlem, New York. She attended to the LaGuardia HS of Performing Arts as a Vocal Major and undergrad at Westfield State College, where she earned Bachelor of Arts (Psychology, English, Music). Sayida Earned her Masters of Social Work degree at UCONN. She married her college sweetheart; the couple celebrated 20th anniversary October 202o and has a beautiful 19-year-old daughter completing her 2nd year of college.
Sayida
honed her craft singing in many choirs including
The New England Conservatory of Music Gospel Choir (Music Director, Donnell Patterson),  The Boston Millineum Gospel Choir, Joyful Voices of Inspiration. The Mystic Choral, The New Temple Singers, and many more.
David Coffin
Songleader
Read More
David Coffin
Songleader
David Coffin has performed throughout New England since 1980. He is widely known for his rich baritone voice and his impressive collection of musical instruments, which includes concertinas, recorders, penny-whistles, bombards, gemshorns, cornamuse, shawm, rauschphieffe – or, as he explains, "generally anything that requires a lot of hot air". At the heart of David's work is his extensive collection of songs from the Maritime tradition. To date, David has recorded four solo CDs; his latest, Last Trip Home, was released in the Fall of 2009 and features his daughter, Linnea, who is also a Revels performer.
David has performed with Revels since 1980 as a singer, instrumentalist and, since 1991, as Master of Ceremonies. Since 2014, David has served as Artist in Residence at Revels and has presented his acclaimed School Enrichment Programs to schools across the region as an extension of Revels Education. He runs tours of Boston Harbor during the summer months, leading over 5,000 inner-city children on boat trips to George's and Spectacle Islands. He also directs the narration program for Boston Harbor Cruises and hosts the Brunch Cruises every weekend from May to October.
Natty Smith and Erika Roderick
Songleaders
Read More
Natty Smith and Erika Roderick
Songleaders
Natty Smith is a dancer, musician, designer, and teacher. He first performed in The Christmas Revels in the 2000 Children's Chorus, and has been involved in Revels in almost every possible way since then. An alumnus of the children's teams Hop Brook and Great Meadows Morris & Sword, Natty now dances or plays music for the Pinewoods Morris Men, Candyrapper VSOP, Thames Valley, International, and Maple Morris. Natty is one of the founders of the Youth Traditional Song Weekend, served on the board of directors of the Country Dance & Song Society, and currently serves on the board of directors of Pinewoods Camp, Inc. In addition to performing, Natty has taught or played music for Revels children's workshops and at various summer dance camps. Natty is a high school English teacher and user experience and interface designer.
Erika Roderick has been a singer, dancer, and teacher for Revels since she first performed in the Christmas show in 1994. After a childhood in the Revels choruses and dancing for the childrens' morris and sword dance teams Hop Brook and Great Meadows Morris & Sword, she grew up to teach Revels music and dance workshops, Great Meadows Morris, and children's classes at summer dance camps. She performs with Muddy River Morris, Orion Longsword, Candyrapper VSOP, and Maple Morris. During the day, Erika teaches third and fourth grade at the Cambridge Friends School.
Patrick Swanson
Reader
Read More
Patrick Swanson
Reader
Paddy Swanson began his career in London as an actor at the Arts Theatre in the West End. In 1969, he toured Europe with La MaMa Plexus and subsequently got his world theater education from Ellen Stewart at La MaMa E.T.C. in New York. His numerous directing projects include opera, ensemble, music theater and circus.  He was a founding stage director of Circus Flora.
Paddy taught acting and improvisation at the London Academy of Dramatic Art (L.A.M.D.A.), the London Drama Centre, and New York University. He served as artistic director of the Castle Hill Festival at Castle Hill in Ipswich, Massachusetts, directing and co-producing opera and theater works, including the premiere of Julie Taymor's Liberty's Taken and Peter Sellars' production of Cosi fan Tutte. Other directing credits include Tristan and Iseult with the Boston Camerata at the Spoleto USA festival; Shirley Valentine by Willy Russell at Houston's Alley Theatre and Boston's Charles Playhouse;  Happy Days by Samuel Beckett, The Caretaker by Harold Pinter, and two stage premieres at Gloucester Stage Company; Talking Heads by Alan Bennett; and Fighting Over Beverley by Israel Horowitz . His Actors' Shakespeare Project (A.S.P.) production of  Shakespeare's King Lear with Alvin Epstein was nominated for three 2006 Elliot Norton awards. For A.S.P. he subsequently directed The Tempest, The Coveted Crown  (Henry IV Parts One and Two) and A Midsummer Night's Dream. His most recent acting performance was for Gloucester Stage in their 20th anniversary production of Fighting over Beverley.
For Revels, Paddy has directed a contemporary version of the medieval mystery plays, The Mysteries by Tony Harrison, co-produced by Revels and Shakespeare & Company, and Britten's opera Noye's Fludde. He writes and directs all Cambridge Revels scripts, and with music director George Emlen, serves as consultant to the other eight Revels production companies.
Keva Kirby
Poet
Read More
Keva Kirby
Poet
Keva is a 13 yr old from Northern Essex County, MA. She joined her family via foster adoption with her siblings and wants to share her experiences as a way to encourage other families considering foster adoption. She loves her large extended families and has fun with her 3 dogs every day. She is homeschooled and uses her elective time to pursue art activities including painting, drawing, creating sculptures, and writing poetry. She & her older sister and brother participate in the Maudslay State Park Sculpture Show every September. She has enjoyed classes in film-making & the performing arts with Revels, Inc. This is her first performance of an original poem.
Christian Eckford
Poet
Read More
Christian Eckford
Poet
Christian is 11 and lives in Lexington. He is at fifth grader at the Meadowbrook School in Weston and is the youngest of three boys.  In addition to acting, he enjoys skiing, reading, playing the drums, trampolining, basketball, soccer, and playing with his two cats, Gretel and Heidi.  Christian has been a Revels kid for several years and had a blast as a member of the children's chorus in the 2019 Christmas Revels.  In addition to his work with Revels, he has appeared in a commercial for the Mightier company. Christian enjoys all types of creative writing, including writing poems.  He is delighted to have the opportunity to perform his poetry!
Lilah and Nadia London
Songleaders
Read More
Lilah and Nadia London
Songleaders
Lilah London is 12 years old. She has been singing with various Revels homeschool programs, Spring Sings and Perkins performances for years, and was in the 2017 and 2019 Christmas Revels shows. She loves animals, has 2 cats, and looks after all of the neighborhood dogs. She also loves to read, play soccer and football, and experiment in the kitchen.
Nadia London is 9 years old. She has also been singing with the Revels homeschool programs, Spring Sings and Perkins shows for many years. Nadia was also in the 2019 Christmas Revels show. Nadia loves her cats, bike riding and playing outdoors. She also loves crafting, gymnastics and soccer.
Esme and Maeve Leahy
Songleaders
Esme and Maeve Leahy
Songleaders
Shamara Rose Curry
Reader
Shamara Rose Curry
Reader
Revels Singers
Singalong Chorus
Revels Singers
Singalong Chorus
Wonderful! Thank you for sharing the joy of raising up voices in celebration!
Thank you to each and every one of you who made this possible and free and visible on several digital platforms. I hope we are together soon – IN PERSON – to rejoice and sing together.
Ticket Information
Revels Spring Sing: A Family Celebration of the Vernal Equinox
Free to Watch on Facebook Live!
March 21, 2021 5:00 pm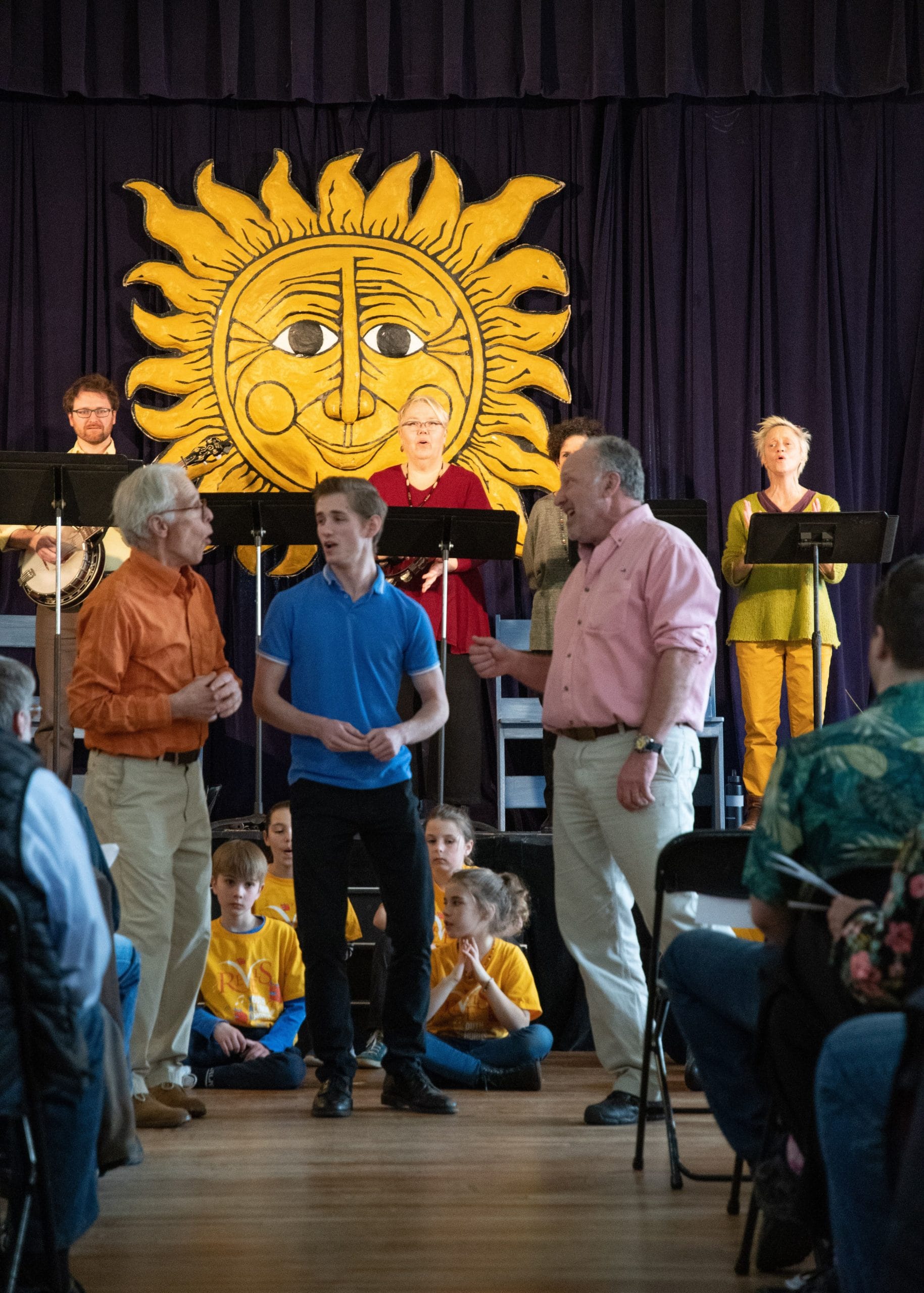 Spring Sing 2021 Song Sheet
Spring Sing Song Sheet: Download Now
Spring Sing 2021 Featured Poetry: Download Now
Production Staff:
Hosted by George Emlen
Technical Direction and Zoom Management by Dave Jamrog Audio/Video
Sponsors:
Revels Spring Sing is supported, in part, by the Massachusetts Cultural Council, a state agency