Revels Rituals
Discover the Lord of the Dance
---
As an example of cultural fusion in Revels "The Lord of the Dance" brings together Asian, English, and American traditions.
Cultural Origins
Lord of the Dance transposes a title usually associated with Shiva, the Hindu god of destruction and rebirth. The lyrics of Sidney Carter's poem gives focus to the Christian narrative of resurrection while weaving Christian and Hindu themes into a cosmic dance of life, death, and rebirth.
At the conclusion of the first part of The Christmas Revels, a trumpet fanfare signals the entrance of a singer and two Morris dancers. As the soloist sings the verses to the tune of the familiar Shaker song "Simple Gifts," the dancers dance a series of traditional figures from five different English villages as the chorus, brass ensemble, and audience join in on refrains. After the final verse, the chorus leaves the stage and joins hands with the audience, streaming into the lobby in a serpentine dance and singing the song's refrain repeatedly.
Lord of the Dance and The Christmas Revels
For many audience members of The Christmas Revels, this brief experience of shared celebration is the high point of the Christmas Revels. Since Morris dancing has long been associated with celebrations of the return of spring, Revels' creators, John and Carol Langstaff, determined that Lord of the Dance would be instrumental in restoring hope and finding renewal during the darkest point in the year. Carol Langstaff choreographed the performance of Lord of the Dance for the first Christmas Revels production in 1971, with the help of Morris dancers Martin Graetz and Jonathan Morse. It has been performed in The Christmas Revels ever since.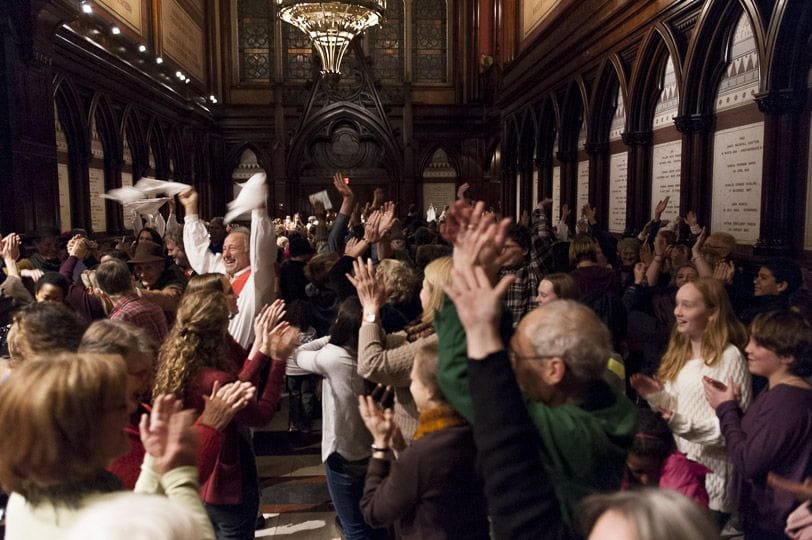 More Cultural Traditions
& Revels Rituals
Be a Part of
Our Community
Revels is a joyous sum of its many parts. We invite you to explore all the ways you can get involved with Revels, such as participating in our performances, volunteering, making a donation, or simply joining us in song as a member of the audience.
Our Sponsors
Our generous sponsors make it possible for Revels to produce world-class performances and educational programs for our audiences.
Let us know how we can work together to promote music, dance, and community!
Learn More