Home
/
Store
/
David Coffin: Live from the Revels Stage
David Coffin: Live from the Revels Stage
$21.95
Available for download through Amazon
For regular Revels attendees and past performers, this 2-CD set is a magic carpet that will transport you back to favorite moments as well as a marvelous showcase for David Coffin, Revels' Master of Ceremonies and one of Revels' most versatile performers.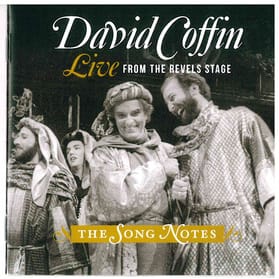 This was going to be a compilation of songs from all the studio recordings on which I participated. But in conversation with my wife Kirsten, it dawned on us that there were songs I had performed on stage that had not been recorded in the studio. Searching through the archives revealed more songs than I had remembered and the project took an about face, becoming a CD consisting solely of live performances, with many songs that do not appear on any Revels recordings.
One of the joys of performing with Revels as song leader is the opportunity to lead a large audience that really comes to sing. With this live recording, we capture the unparalleled sound of twelve hundred Revels audience members joining the cast in song. What I hope for in curating this project is that the listener will experience the energy in the songs generated from performing for a live audience…
David Coffin

Listen Now
Hear samples from select pieces.
Full playlist below:
Disc 1
1. Seaman's Hymn
2. Christmas Bells at Sea
3. The Old Yeare Now Away Is Fled
4. Well Ye No Come Back Again
5. Rocky Road to Dublin
6. Padstow Drinking Song
7. Travelling People
8. We Have Fed Our Sea
9. Here's A Health to the Company
10. Bring Us in Good Ale
11. The Fields of Acadie
12. Lament for Limerick
13. Bonhomme, Bonhomme
14. Eun Dans Kanet/Choukom Dei
15. Le Semeur
16. Poiche in Van
17. My Heartly Service
18. The Kings
19. Lord of the Dance
Disc 2
1. Abbots Bromley Horn Dance
2. Gaudete/Courante
3. Kasletila
4. Nevijska Koleda
5. Jovano, Jovanke
6. It Was My Father's Custom
7. Lisa Lan
8. Calon Lan
9. David of the White Rock
10. Praetorious Dance
11. Traveller's Prayer
12. Dona Nobis Pacem
13. Yggdrasil
14. Tonnaroti
15. Sankt Staffan's Visa
16. Mngogaja Leta/The Shortest Day