Summer Camp
Announcements
01.14.2015
Here's something new for Revels. We are organizing a summer camp that will include whole families and individuals from all over the country, bringing them together in a truly beautiful setting next to a lake in the highlands of New Hampshire. Guided by Revels directors, campers can experience the elements that go into a Revels performance including morris and sword dance, mummers plays, acting classes, puppet making and choral singing. Every evening there will be social dance and at the end of the week campers will see first-hand how we assemble these elements into a Revels performance.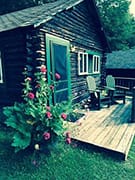 Ogontz Camp combines dramatic scenery with simple but beautifully integrated cabins and a spectacular cathedral-like dance hall with terraces overlooking the lake. Manned by an expert crew the dining hall offers fresh and splendid meals that feature home-grown produce and imaginative menus. Recreational swimming (with a lifeguard), boating and hiking are all options, and after the evening dance young children are accompanied to bed by a pied piper where they are monitored by staff patrols leaving opportunity for parents to join in the festivities at our Revels virtual pub.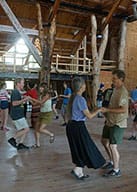 Revels offers this experience in partnership with the Country Dance and Folk Song Society as a way to combine our talents and passion for the traditional folk arts in a new setting.
Paddy Swanson January 2015
share this story on social media
---
Stay up to date
with Revels.
Sign up to receive email updates on performances, events, and news coming from Revels.
---