A Music Director Reflects
Blogs
06.06.2016
Everything I did in the first 40 years of my life led me to Revels. Not just music, but certainly music most of all. Some memories: my mother improvising at the piano as I danced at age five around the room. Lying on the floor listening to thundering Bach organ preludes on 78's. Trying to play the piano like Jerry Lee Lewis. Discovering the joys of part-singing in the school glee club and church choir. Trading in piano lessons for organ lessons. Impressing girls by singing and playing Kingston Trio repertoire on the five-string banjo with my brother Rob on guitar. Playing the organ in school chapel four days a week in my junior and senior years. Realizing I had a great ear by breezing through college harmony and counterpoint courses. Conducting "Once Upon a Mattress" (starring a young Robert Reich as the mute king) in junior year of college. Transcribing obscure Baroque cantatas from the college library and performing them with our collegium musicum. Waking up years later one morning in Maine to the vivid realization that I had to put music – specifically choral conducting – at the center of my life. Learning in grad school that I had a knack for arranging folk songs. Composing my first choral piece and winning a competition with it.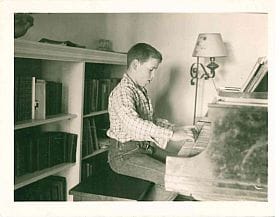 My definition of music always encompassed the wider world of sound. Every bird's song, every gust of wind in the branches, every person's laugh, the din of a thousand peepers on the pond, the ring of my blacksmith's hammer on the anvil, the drone of the fridge compressor (somewhere between B and Bb) – all were part of a vast, never-ending oratorio. The gentle rhythms of sailing and skiing and the more commonplace rhythms of driving, biking and walking gave rise to melodies, gestures and phrases in my ear. Languages, especially Mandarin with its lilting tones but also English with all its wild, disparate sonorities and cadences, were bursting with musical possibilities.
When Revels and I finally met, I felt as though I had come home. Here were songs my mother had sung to me – "The Tottenham Toad" and "Tiny Man" – brought back to life by Jack Langstaff. Here were shawms and sackbuts on "Masters in this Hall" and "Personent Hodie" giving new meaning to carols I'd banged out on the piano as a lad. Here was a chorus, costumed and dancing through a giant tableau, rather than standing on risers holding black folders. Here in fact was a whole new genre that not only brought together multiple arts forms seamlessly but also crossed over effortlessly between "art" and "folk" music and combined ages and skill levels in ingenious ways. I knew immediately that I had to be part of this phenomenon and learn from this man whose worldview was so broad and eclectic and resonated so amazingly with my own.
Over the course of three decades my understanding of Revels' essential function in the world has deepened. I have always known from countless cast and audience testimonials what a powerful effect the Revels experience has on people of all generations. But today I see with greater clarity how the magic we create year in and year out feeds into an elemental, binding force in the universe, one that nourishes our humanity. Using the ancient tools of music, theater, ritual and celebration, we have actually become a necessity. I am privileged and proud to have devoted my life to something as vitally important as Revels.
share this story on social media
---
Stay up to date
with Revels.
Sign up to receive email updates on performances, events, and news coming from Revels.
---