Artist Spotlight: Ken Field
Blogs
09.22.2021
This year's Revels RiverSing will kick off with pre-show music from the Revolutionary Snake Ensemble, a costumed funk/street beat improvisational brass band performing a unique blend of original and traditional music based in New Orleans traditions. The Revolutionary Snake Ensemble is led by internationally acclaimed saxophonist, flautist, and composer Ken Field, who also happens to be a long-time friend of Revels! Revels Digital Communications Manager Sydney Roslin got the chance to sit down with Ken and discuss his work with the band, as well as his career and upcoming projects.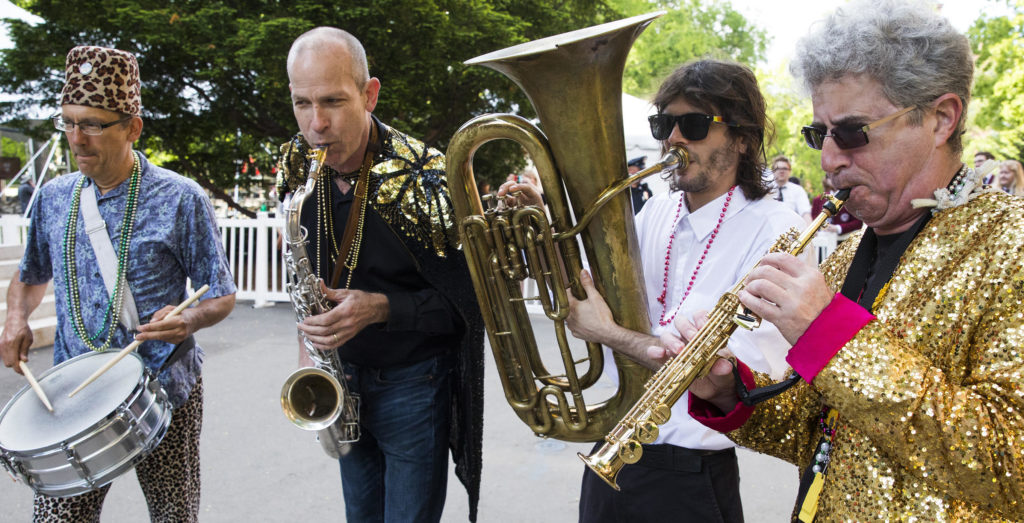 Thank you for talking to me, Ken! You have joined us for RiverSing before, yes?
I've done a bunch of things for RiverSing over a number of years, and it really has moved me. I'll be honest with you, I'm not usually a big group singing person, but the community that Revels has built over so many years is astounding, and the way RiverSing brings people together and just makes people happy is really moving.
The music of the Revolutionary Snake Ensemble is based on the New Orleans brass tradition, how did you end up playing that genre of music in particular? 
I've always liked improvising, which is really a key component to the music of New Orleans brass bands. You have a lot of melodic instruments, but hardly any chord instruments – you can't march with a piano, you can't easily march with a guitar, so a lot of those brass bands just have horns, tuba, and drums. The way you create the harmonies is by multiple instruments playing together, maybe even improvising together, and I really like that style. I also was really moved by the scene in New Orleans – musically, culturally, just the complexity of it was really amazing. The Revolutionary Snake Ensemble even got the chance to go down to New Orleans six years in a row to play for Marci Gras parades, and really learned a lot from the source. We've just fallen in love with the music and the city. 
How did you get started on the saxophone?
I actually started out on clarinet as a kid and I switched to saxophone in college because I ran into a door with my front tooth. It put a little dent, literally, in my clarinet playing. The saxophone has a slightly different embouchure so it makes it easier to play with a fake top front tooth than a clarinet.
And you're a composer as well, what kind of music do you write?
I write music for the Revolutionary Snake Ensemble, I write a number of soundtrack pieces, and I've also written a number of things for my solo work, which is generally layered alto saxophone, often played all by me in the studio. I've also written music for a group called Bird Songs of the Mesozoic, which is a group that I've played with for years That group is a post-punk chamber rock ensemble with two keyboards, guitar, and saxophone, a very different instrumentation.
When you perform with the Revolutionary Snake Ensemble, how much of what you play starts with what you've composed for the ensemble and how much is improvised?
I would say maybe half and half. We always start with an actual piece, whether it's something I wrote or a traditional New Orleans piece. Then there's a fair amount of soloing, or group soloing, improvised melody making using the chord changes of the piece. Our arrangements are very fluid and spontaneous as well – we don't set in stone how many bars a solo is, who's going to solo, or who's going to play the melody. Maybe I'll just turn to the trumpet player and say "You take the A section and I'll take the B section." It changes every time we play it, and all of the musicians in the group really enjoy that level of spontaneity. When I first started doing this band it was nerve-wracking, because when you're doing stuff like that, it's possible to fail. But I think it's important in music, in improvised music in particular, to be willing to take some risks, and I gradually learned how to communicate with people in the moment, so it became a lot more comfortable. On top of that, if I forget to say something, or if I don't think of something, the other musicians will make it happen on their own. We know each other well enough after many years playing together that everybody does have agency, everybody can come up with a little thing that changes the direction of the piece, and I love that. It's not always something I would have done or directed, but it's great when it happens, and usually, it's better than what I would have thought of. 
Which musicians will be joining you for RiverSing? 
I'll be leading the band and playing alto saxophone. Then Tom Hall will be playing the tenor saxophone, Jerry Sabatini will be on the trumpet, Jim Gray will be playing tuba, and Phil Neighbors will be on drums. 
Where did the name "Revolutionary Snake Ensemble" come from? 
Many years ago, a group of us got together to play at a loft party in Cambridge at a place called the Chicken Loft thrown by a group of women who called themselves the Snake Women. We needed a name, so we became the Snake Ensemble. And then the word Revolutionary  just popped into my head, and we became the Revolutionary Snake Ensemble.
What sorts of projects have you been working on during the pandemic? Were you able to rehearse virtually as the Revolutionary Snake Ensemble? 
More recently, we have been able to play a bit more, probably six or seven outdoor gigs over the course of the pandemic, and I really feel like we've kept in touch and kept active. We also tried to do some recording individually at home, but it's a lot harder to do that with improvisational music. On top of that, I have been pretty active individually – I recorded a whole album of improvised solo saxophone with my looping device, and I released that back in April. I have also been working with Erdem Helvacioglu who lives in New York and Istanbul, on an album released under the name "Transmitter" that came out in the spring. And finally I've been working hard on my craft. I spent a lot of time memorizing Bach's first cello suite that I transcribed for saxophone. My ultimate goal is to be able to play them well enough to actually perform them. So I feel like I've been able to keep busy and keep creative.
Where would one be able to find these albums?
Both albums can be found on my website, Kenfield.org. 
Is there anything else you wanted to share with the Revels community?
Again, it's so moving to see what Revels has done for many years to bring the community together. I remember after one Revels event, everybody got together at a pub, and I just remember walking in and hearing everybody singing drinking songs. The vibe was so beautiful, so engaging, so joyful, so friendly. The word community is something that has really stayed with me.
Please visit https://revolutionarysnakeensemble.org/ to learn more about the Revolutionary Snake Ensemble, and visit https://kenfield.org/ to access Ken's solo projects, albums, and upcoming events!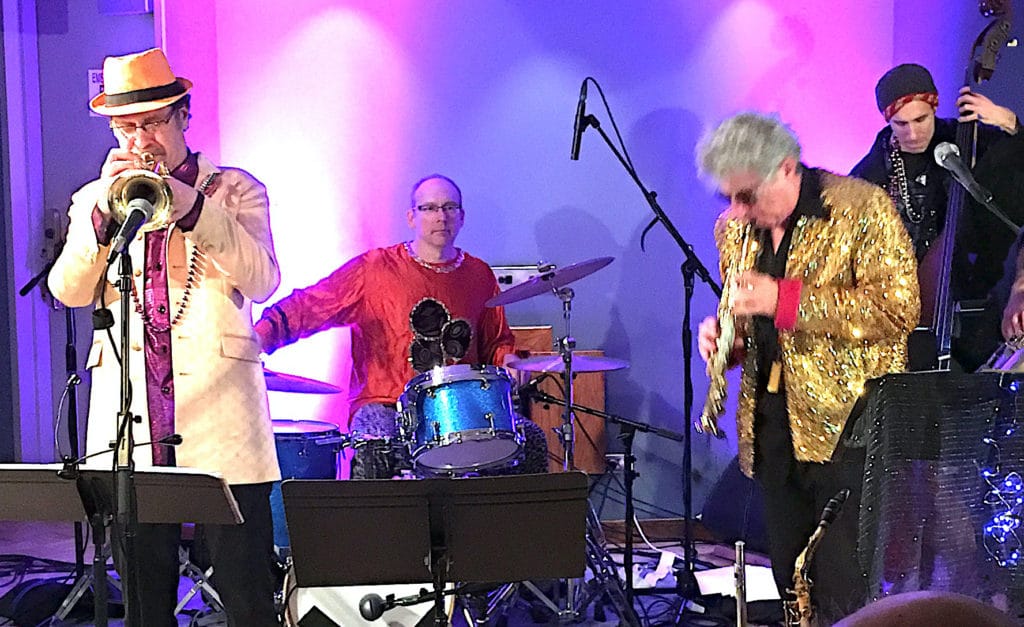 share this story on social media
---
Stay up to date
with Revels.
Sign up to receive email updates on performances, events, and news coming from Revels.
---