Volunteer Spotlight: Ross Hall
Volunteer Spotlight
10.01.2020
Chorus Member, Raffle Ticket Seller, Envelope Stuffer, Auction Bidder – uh oh – we're running out of room!
When did you first get involved with Revels?
We have been in the audience since 1979, returning to Boston from the south. My mother was a music teacher (Belmont Day School; Advent School) and knew John Langstaff, so she got the word to us. We were so impressed with the Revels Chorus that we didn't dare to audition until our son Alex was in the 2008 Thomas Hardy Christmas Revels and told us to try out.
What other activities have you done with Revels?
Both of us were in The Christmas Revels 2010-11, I was in the 2017 Christmas Revels, and then RiverSing, Revels Singers, Spring Sing, Perkins programs, preparing sets and props for Christmas shows, harbor cruises, URP groups, attending galas and fundraisers, wearing ridiculous but eye-catching hats to sell raffle tickets at Sanders, folding envelopes at the office, set-up volunteering at cast parties and Spring Sing, the list goes on.
What do you like about being involved with Revels?
I view it as a cause, and a very worthy one, with wonderful friends to work with (and for).
Of what contribution or achievement are you most proud?
Singing in the Adult Chorus and ringing a handbell on stage. Oh, yes, and being the Abbotts Bromley man-woman in the 2017 Acadia show!
Are there any particular incidents or events with Revels that really moved you or made an impact on you?
Having my Perkins student check out the bass viol in the ensemble one year. Trying not to choke up during the Sussex Mummers' Carol thinking of my Mom and how proud she would have been to see me on that stage.
Does anyone in your life play a role in supporting your involvement or providing inspiration?
My wife, Bonnie, of course, and Alex, the Welsh dragon guy. Also, the groups of youngsters dancing in the Christmas shows — just a joy to watch.
Is there anything else you would like others to know about Revels and/or what is it like being a volunteer with Revels?
It's a precious chance to help make things happen that are marvelous, fulfilling, and in rather short supply. We need what Revels is!
Do you have any interesting Revels related "factoids"?
I think of all the wolf-whistles and catcalls I endured during a fire alarm evacuation at intermission in the 2017 show, when I had already changed into the man-woman costume.
What do you do when you are not volunteering with Revels? Do you volunteer with any other organizations?
I volunteer with the Harwich Conservation Trust. I also built a model railroad (HO) in "my" half of our garage — laying ties, spiking rails, designing operating schedules. It's a wonderful way to stay out of trouble. That, choir, and the motorcycle, among other things.
Do you volunteer with any other organizations?
Since COVID-19, I have been making and donating masks and I also created a driveway version of a "Little Free Library." Before that, I regularly ushered at Cary Hall for Spectacle Management and loved having the opportunity to experience the musical magic they bring to Lexington. I also belong to the Needle Arts Guild of LexArt and was a member of the Junior League of Boston for many years. My work at the library keeps me very busy, as did raising two children. However through all that I always found moments to participate with Revels and have been thrilled that Revels embraced the opportunities I was able to offer!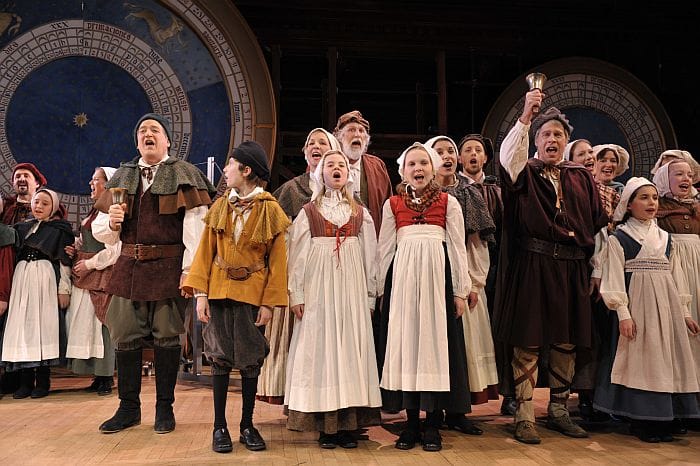 share this story on social media
---
Stay up to date
with Revels.
Sign up to receive email updates on performances, events, and news coming from Revels.
---