Volunteer Spotlight: Haley Fisher
Volunteer Spotlight
01.26.2021
When and how did you first get involved with Revels?
I saw my first Revels in 2004, at the age of eleven. It was the wonderful Quebecois show with the flying canoe! To this day, my parents and I talk about that production like it might have been a dream: "The canoe flew above our heads, right? You saw that too?"
Most folks tell a version of this story when they reflect on their first time in a Revels audience. I went in expecting a nice performance. I came out transformed, like my heart had burst open sometime between Acts One and Two. 2004 was a lifetime ago, but the post-Revels feeling of "I'd like more of whatever that was, please" has never left me.
What other activities have you done with Revels?
It has been my honor to sing in the Revels chorus for five Christmases in a row, beginning with the Welsh show in 2015. Part of me still can't believe it. Not long ago, I wouldn't have called myself a singer. Nowadays, the best part of my life is learning and sharing music. I certainly haven't found a better, more sacred, more fun place to do it than on the Sanders stage. When I lend my voice to that chorus, I can hear my joy echoing back from the beloved castmates around me, and from out in the audience, too. It's magic.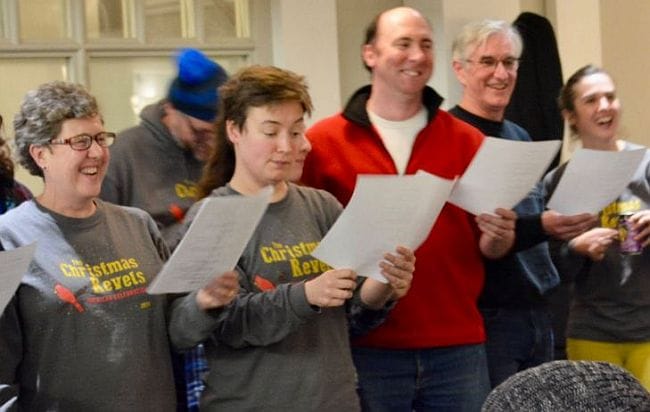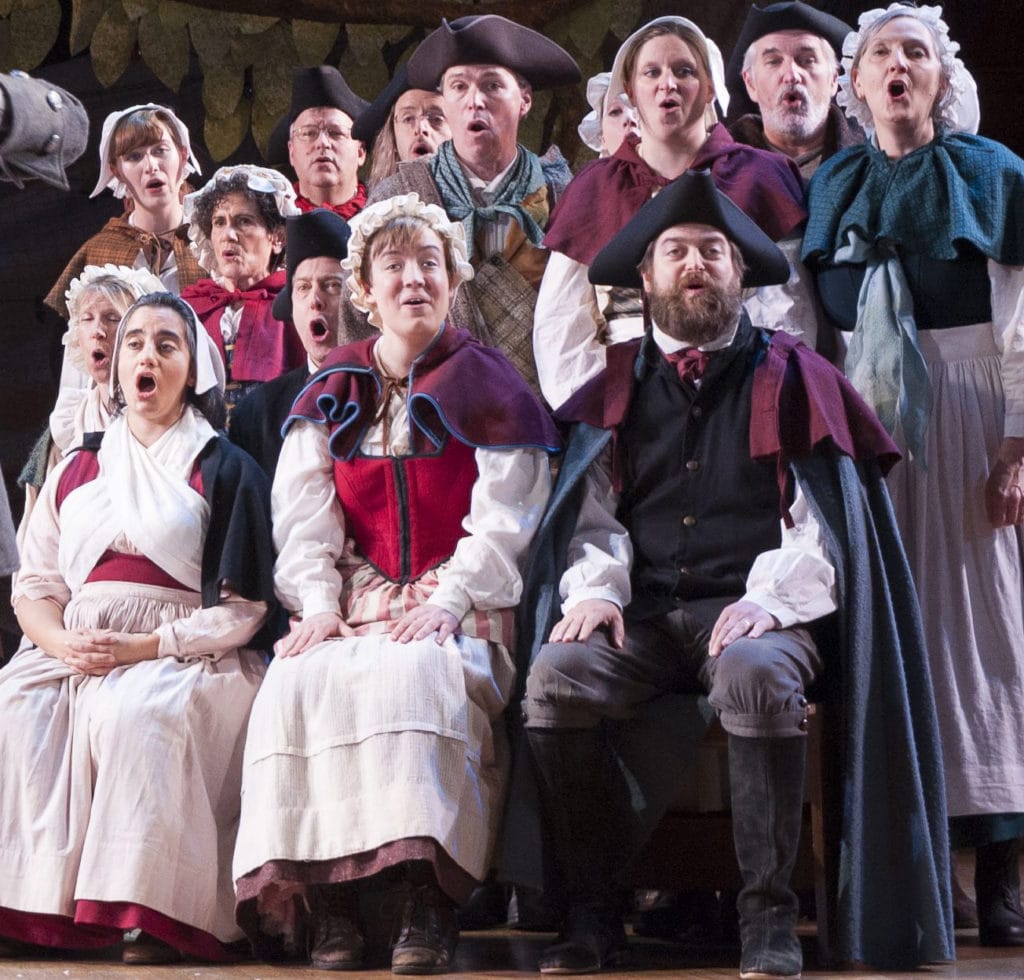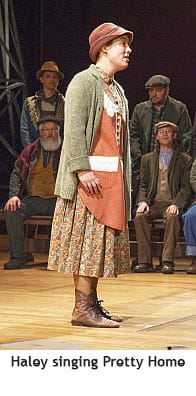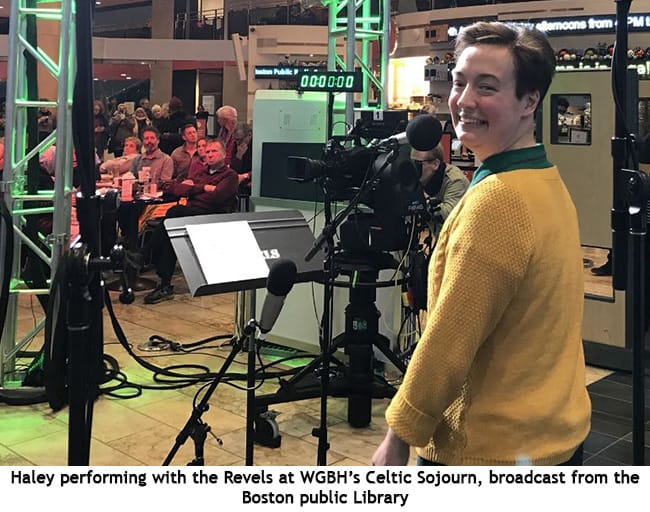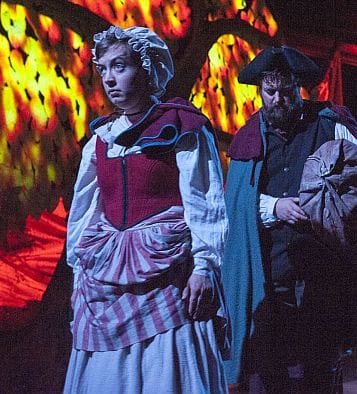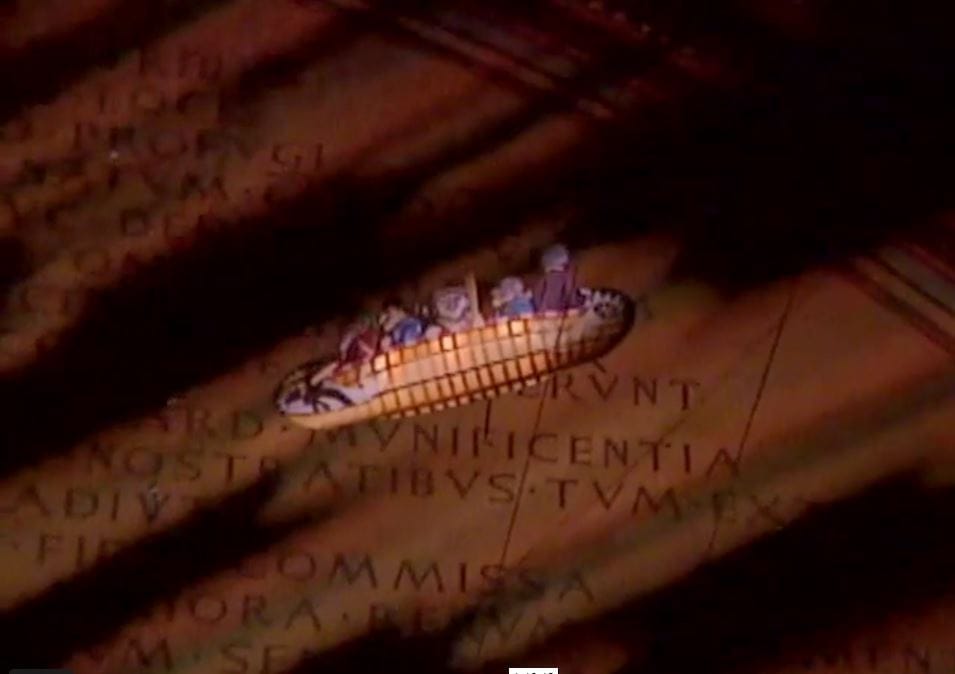 What do you like about being involved with Revels?
You know that thing everyone says about the Revels community becoming your family? It's utterly, beautifully true. Revels has felt like family since I first showed up to rehearsal as a starstruck newcomer who didn't speak any Welsh. Revels still feels like family in 2020, when the need for physical distance makes activities like group singing — to put it delicately — tricky.
There aren't many situations in life that come with a ready-made group of friends who are the exact same type of nerd that you are. When you find a community like this, cherish your good luck and hold those friends tight!
Of what contribution or achievement are you most proud of?
It's unreal that "Pretty Home" — the Shaker tune from the 2019 American Crossroads show where I sang the first few lines solo — appears on the 50th anniversary album. I am humbled to have my own "patch" on the quilt of Revels history.
Are there any particular events with Revels that really made an impact on you?
Revels staged a remarkable show in 2013, set in the northwest corner of Spain. It centered around the ancient pilgrimage route, el camino de Santiago. Though I Revelled from the audience that year and not the chorus, the music — in particular, the Galician bagpipes! — totally rattled my soul. Listen to "The Road to Compostela" album and you'll see what I mean.
About a month after the Galician Revels closed, I traveled to Spain for a college semester abroad. I promise I didn't plan for these two things to coincide! Of course I had to get myself to Santiago de Compostela to hear the raw power of those bagpipes again.
I walked a tiny bit of the camino and sang the All Sings from the Revels program I carried with me. I went inside the cathedral for the Pilgrim's Mass, where, sure enough, the giant incense burner was swinging to and fro just like it had on stage. I was alone in Santiago, but I felt the same full heart as if I were packed in the Sanders seats with a thousand like-minded Revellers.
Does anyone in your life play a supporting role in your involvement?
How many paragraphs do I get? Every fellow chorus member who has made me laugh on stage, every Reveler who has given me a ride to the train after a post-rehearsal pub sing or a CD recording. Everyone who has hosted a party or a potluck, or a "let's-practice-our-Norwegian" cram session (I remember a few of those in the weeks leading up to the Scandinavian show!)
Every co-worker who has thought to themselves "When December's over, will Haley finally stop talking about the Shakers?" My parents, who regularly let me disappear for a whole holiday season. I love you!
Is there anything else you would like others to know about Revels?
Read The Magic Maker, Susan Cooper's biography of Revels founder Jack Langstaff! We are carrying on Jack's legacy, and Cooper's book really made me understand just how cool that is.
Do you have any interesting Revels-related factoids?
I don't have a driver's license, so I'm happy to live, work and Revel in a city with robust public transit. I was still in college, outside of Boston, at the time of my first audition for the Revels chorus in the spring of 2015. I took four different modes of public transportation to get there!
What do you do when you are not volunteering with Revels?
I work for an adventure tour operator, designing air itineraries for folks who have a passion for world travel.
share this story on social media
---
Stay up to date
with Revels.
Sign up to receive email updates on performances, events, and news coming from Revels.
---