Volunteer Spotlight: Nick Browse
Volunteer Spotlight
10.29.2020
When did you first get involved with Revels? 
I've been in the Boston area since the early 80s, and my wife Cary and I began attending Christmas Revels performances in the 90s when our kids were young. We were active in the Scottish dance community and many of the Revels dancers and chorus singers were familiar faces. But it wasn't until perhaps 2002, when my oldest was in middle school and a Morris Dancer, that I made the connection. That December, the Morris Dancing dried up and all the kids vanished – it turned out they were spending every waking moment in Sanders Theatre! And I realized, this might be something I could do.
In 2009 the kids were old enough that I could consider auditioning for the Christmas show, and to my great delight, I was cast.  There was of course no preparation for the months of rehearsal, the wealth of songs and dances crammed into my head, and the exhaustion of December spent in the theater.  When the show closed, the Music Director George Emlen asked us to write to him about our experiences and I occasionally still return to this letter as a reminder.
What other activities have you done with Revels?
Since that year, I've done half a dozen more Christmas Revels shows, sung with Revels Singers and in RiverSing, and made a number of recordings. Every event, every year, is different, yet consistent threads run through them. New faces join and the Revels family grows; we miss those who move on, particularly our stage children, who may return a generation later with children of their own.
I've also been honored to serve on the Board of Directors. It was of course fun to see behind the scenes and be part of the decision process, but it was more an ability to give back, to help carry Revels into the years ahead. It was a busy period; we closed Revels Repertory Company, changed Executive Directors, and saw the retirement of George Emlen. But George is back, and Revels Rep lives on as In Good Company.
What do you like about being involved with Revels?
We talk a lot about community within Revels and it's all true. The work put in volunteering, in the Christmas show and otherwise, comes back manyfold in the warmth of community and lasting friendships made. I've met people from all over the world and helped interpret unfamiliar cultural traditions. And the opportunity to sing has been magical. One memorable moment was an impromptu song in the parking garage late one evening after performing, our voices reverberating through the empty space.
What is it like being a volunteer with Revels?
As for the experience of volunteering, it has meant a number of things. First, it's been an opportunity to participate in the music and dance that I love, at times for myself, and at times in the background, helping make the opportunity possible for others. And it maintains my involvement for the years I'm not on stage at Christmas, sustaining the sense of community that is really the reason I'm here. Second, an organization like Revels just takes a lot of work to run. There are phone calls to be made, envelopes to stuff, banners to hang. Volunteers are essential. And finally, and perhaps most importantly, Revels is good people. The values of cooperation, of trust and appreciation, are values I aspire to. Revels supports its volunteers and its entire company, and I've felt welcomed and appreciated from the start. We take this for granted and we shouldn't.
What do you do when you are not volunteering with Revels?
Back in the "real world" I work as a consulting engineer, designing audio-visual systems. Cary and I are still active in the dance communities, mostly English at this point, though during these pandemic times that's mostly meant supporting dance musicians. And I've got a couple of other volunteering roles, chairman of the cable access committee in the town of Harvard where we live, and also the treasurer of Great Meadows Morris & Sword, a high-school sword team in Sudbury. And I'm on the building committee for a new elementary school going up in Harvard.
Nick with his 2016 Christmas Revels "stage family"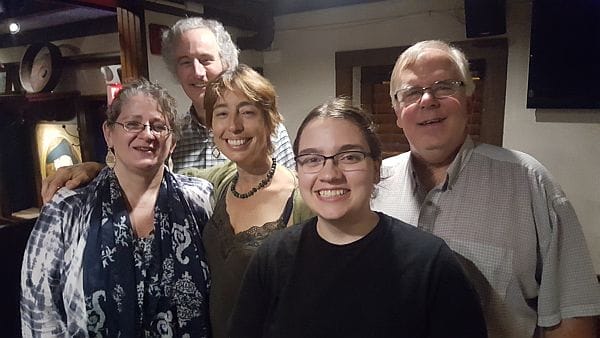 share this story on social media
---
Stay up to date
with Revels.
Sign up to receive email updates on performances, events, and news coming from Revels.
---