A Revels Director in Wales
Blogs
07.17.2015
Wales Tales
Since the first of the year I have been accumulating and sifting through loads of music possibilities for our upcoming Welsh Christmas Revels and our new CD, A Revels Christmas in Wales. At the same time, my long-held desire to go to Wales to explore my family roots began to merge with this new desire to steep myself in the land and people I'd come to know and love through their music. By Spring I knew we were going.
At the risk of sounding naively romantic, or like a copywriter for the WelshTourist Board, I have to report that this sojourn through Wales was truly magical. The experience of walking among the castle ruins of Newcastle Emlyn, birthplace of my surname, after dreaming of it since I was a teenager, was overwhelming. Built in 1200, the crumbling walls stand in silent testimony to the tumultuous history of conflict not only between the Welsh and the English but between Welsh princes as well. Standing on these walls, with only birdsong and a gentle breeze to break the stillness, I felt the presence of the nobles, courtiers, soldiers, artisans and laborers who were the fabric of daily life here centuries ago.
At the urging of fellow Reveler Susan Cooper, whose childhood memories of these places are deep in her soul (not to mention the settings of several of her novels), Jan and I drove up out of the seaside village of Aberdyfi (English version: Aberdovey) along narrow (one car's width) winding roads, higher and higher, across cattle guards, with a broad expanse of an impossibly green valley opening up beside us. Each field, flecked with sheep and bounded by bold hedgerows, emanated a different shade of green. Atop one rise we parked (occupying the whole road), munched on sandwiches and took pictures, knowing that our camera could only begin to capture the sweep and richness of the vista. Once again, the loudest sound was the wind, punctuated by bleats of ever-present sheep.
Castell-y-Bere is one of the lesser-known of Wales' 600 or so castle ruins, but Susan had made a point of telling us about it. Besides, it was just down the road from our lakeside inn, which was under the shadow of the legend-filled mountain Cader Idris, so off we went. We were lucky enough to have the place to ourselves. We sat in wonder imagining the comings and goings of castle residents and the forays of attackers. Gazing out over the valley at the opposite hillside, I was reminded of an Imax theater screen, so tall and wide and yet so close. If there were ever a time to claim that time stood still, this was it.
A different kind of magic unfolded in the unlikeliest of situations. In Aberystwyth, when we blew out a tire (don't ask) on a Saturday evening, no fewer than four men in succession, strangers to one another, stopped to help us out of our jam. A fifth one, a tire dealer several miles out of town, came to find us (we got lost trying to find him) and put on a new tire in exchange for a ridiculously low sum and some lively conversation about the joys and challenges of raising children in these plugged-in times, the karma of helping one another, and other timely topics. What could easily have been a disastrous episode turned into an extraordinary display of good will and generosity, which in fact we encountered everywhere we went.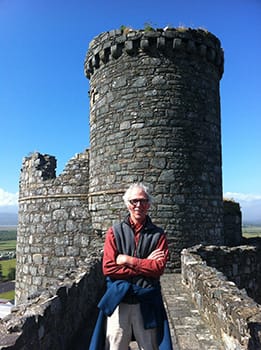 In my introduction to our new recording, A Revels Christmas in Wales, I compare the process of creating this recording to a journey through Wales. I can now assert with my newly-established, first-hand-experience credentials that the landscape and the people of Wales are even more extraordinary and magical than I had imagined them to be. All spring my head has been filled with Welsh music; now, after having seen the mists on the mountains with my own eyes and felt the warm breezes off the ocean on my own skin, I have entered into a more deeply rooted relationship with Wales, one that will inevitably inform the 2015 Christmas Revels performances. I have tasted the magic for myself.
share this story on social media
---
Stay up to date
with Revels.
Sign up to receive email updates on performances, events, and news coming from Revels.
---