Just Add Audience
Blogs
11.12.2018
From mid-September onward, The Christmas Revels' Chorus meets once a week to make a joyful noise in the Watertown rehearsal hall. Throughout the fall, our primary identity is 'chorus.' But come early December, when everything moves to Sanders Theatre on the Harvard campus, we are reminded that we're actually just one element of a very elaborate theatrical creation. What reminds us of this is Tech Week.
Tech Week is the birth pangs of any production, when the design elements and human elements are wrangled together into a harmonious whole. Costumes, sets, sound cues, and lighting effects have to be integrated into the blocking we've already practiced.
Tech requires a lot of focus and goodwill from everyone. The directors, designers, techies, and stage managers are "on" nonstop all day and night; the actors and other professional performers toggle between being "on" and being patiently unmoving as cues are set and adjusted; the chorus spends hours standing around in winter costumes under hot lights without speaking.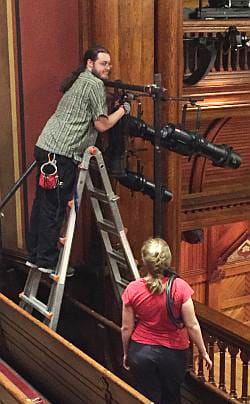 The Revels Tech Week lasts three full days. I used to work in theatre, and surviving another Tech Week as a volunteer seemed masochistic, so I confess the first year I did Revels, I was a tad grumpy by Day 3. I decided maybe this whole Revels thing had been a mistake. Obviously I was going to be a good sport and smile through all 18 performances – but I probably wouldn't audition for the following year's show.
We finished that third night of Tech. It included running the choreography for "Lord of the Dance," during which the chorus members dance in a long line off the stage, out of Sanders Theatre, and into the transept (the lobby area) of Memorial Hall, inviting the audience to join them. As anyone who's ever been to a Christmas Revels knows, this means chains of hundreds of people, winding past each other in the high-ceilinged transept, singing boisterously to the ringing music of the Cambridge Symphonic Brass Ensemble. This is a hallmark element, the glorious communal highlight, of The Christmas Revels experience.
But late at night at the end of Tech, when we finally dragged/danced our way out into the transept, its cavernous echoing emptiness seemed almost to mock us. Our tired but determined smiles felt fake, when there was nobody to smile at but each other, all tuckered out and needing sleep. At that moment I decided, for sure, that I wouldn't be auditioning next year.
The following night was dress rehearsal.
I knew to expect a partial audience for dress rehearsal because patrons, donors, board members, etc. were invited. There were three or four hundred people in the house. Their presence changed everything. Not just because applause and laughter fuel any performance, but because now the final missing element had been added: just as we were running out of steam to do all this for ourselves, we had the opportunity to do it as an offering to other people.
My mood improved as my house-right chain of Revelers slowly wended its way out of Sanders with smiling audience members in tow. But I was not remotely prepared for what greeted me when I rounded the corner into the transept proper.
The cast members who had exited the theatre from the far set of doors were approaching us in the transept, trailed by audience who had joined their chain. As the two lines of dancers passed each other, I first saw a dozen or so of my hearty but tired fellow choristers… followed by dozens and dozens and dozens of audience members, whose faces beamed with a joyful brilliance that I hadn't seen since… since right before Tech Week. And where had I last seen that kind of joyful brilliance? Oh, yes, at a Revels rehearsal! 'Twas Revels created the joyful brilliance.
And…now I was a part of it! However zombie-exhausted I secretly felt, I was contributing to the delight on all those passing faces. We-the-Chorus were making You-the-Audience ecstatic, and that ecstasy filled all of us up, propelling us to continue to do what made them ecstatic. My cheeks hurt from smiling so hard. By the time the Brass Ensemble ended with its signature flourish, and the entire transept burst into cheers and applause, I wanted to run back into the theatre and start it all from the beginning. The alchemy of adding audience had transformed Memorial Hall into a self-perpetuating Glee Machine.
I felt that way every moment for the rest of the run. And I've auditioned every year since then. The only thing better than being in the audience during "Lord of the Dance," is being the chorus member who gets to see how happy you've made the audience. It's an extraordinary experience and you should give it a try yourselves! Auditions are usually in March. You can check the Revels website for more information.
Nicole Galland is an Alto and a novelist. On The Same Page, her new romantic satire set in small-town New England, comes out December 31 from HarperCollins.
share this story on social media
---
Stay up to date
with Revels.
Sign up to receive email updates on performances, events, and news coming from Revels.
---