Volunteer Spotlight: Cathie Ghorbani
Volunteer Spotlight
08.05.2020
It's the people (plus the music and culture!) that keep this Lexington librarian connected to Revels!
How did you first get involved with Revels?
My first Revels experience was as an audience member at the Northlands show in the early 90s, after recently moving to Boston from Charlotte, North Carolina. I cannot remember how I discovered Revels originally, but I knew of John Langstaff all my life. My grandmother was a children's librarian and then a children's bookstore owner. Jack's CDs and books were among the very first titles they stocked when the store opened. I still have my childhood copies of Froggie Went a Courtin' and Over in the Meadow and, thanks to Ruth Heespelink [longtime Reveler, volunteer, and fellow librarian], they have been autographed by Jack!
What other activities have you done with Revels?
I have volunteered with product sales, mailing parties and more recently on harbor cruises. I loved being a part of the Revels Salons too. I also helped at many events like a Wassail party, Spring Sing, Revels FRINGE concerts, the party at the Scandinavian center, George's retirement party at WGBH (where my decorative skills were put to the test) and David's CD release party. I made some Scottish cookies for one show, but to this day I have no idea if they were a success or better used as hurling sliotars! I helped with Summer Revels at Decordova early on, including one summer when Jen and Alan were not sure if I was helping or requiring help when I was too pregnant to sit on the hillside but did it anyway. More recently I started helping with RiverSing.
What do you like about being involved with Revels?
I've always loved the people of Revels. There is a feeling of family and camaraderie that extends beyond "cast" and "crew." It is wonderful seeing new families become part of the wider Revels family and continue to breathe life into this organization because that gives me hope for many more years of joyful merriment to come.
Are there any particular incidents or events with Revels that really moved you or made an impact on you?
I met Ruth Heesplink soon after I discovered Revels and her early support of my growth as a librarian as well as her welcoming smiles whenever I see her at Revels events form a long line of happy memories.
Also, I was thrilled that my parents were able to come to Boston one year to attend a Christmas Revels and that they were able to see a Summer Revels performance too. Every year I would bring home the program from the show and my dad would spend the Christmas holidays enjoying the latest CD and reading all the program notes.
What do you do when you are not volunteering with Revels?
I began my career as a children's librarian at the Boston Public Library in 1991 and have worked also at the Wellesley Free Library and Cary Memorial Library. In 1998 I started working at Cary one Sunday a month in the Children's Department and have since moved through various positions to become the Head of Reference and Adult Services. It was so exciting to me to join Revels and Cary Library, bringing the Revels Singers to raise the rafters in the library's renovated Living Room area. I'm still hoping to find more opportunities for the library to highlight Revels in our community, when we are able to gather in person once again.
I also love to read, knit, travel, walk and listen to music. I went to Nashville for a conference in February, and while that seems like a long time ago, what a fun musical week that was! I've been on two walking holidays in the Lake District and am longing to get back to England to visit friends and share more adventures with them. On my last visit I achieved one of my dreams – visiting Lucy Boston's house near Cambridge. She wrote the Children of Green Knowe, among others, and what a fascinating tour that was.
Do you volunteer with any other organizations?
Since COVID-19, I have been making and donating masks and I also created a driveway version of a "Little Free Library." Before that, I regularly ushered at Cary Hall for Spectacle Management and loved having the opportunity to experience the musical magic they bring to Lexington. I also belong to the Needle Arts Guild of LexArt and was a member of the Junior League of Boston for many years. My work at the library keeps me very busy, as did raising two children. However through all that I always found moments to participate with Revels and have been thrilled that Revels embraced the opportunities I was able to offer!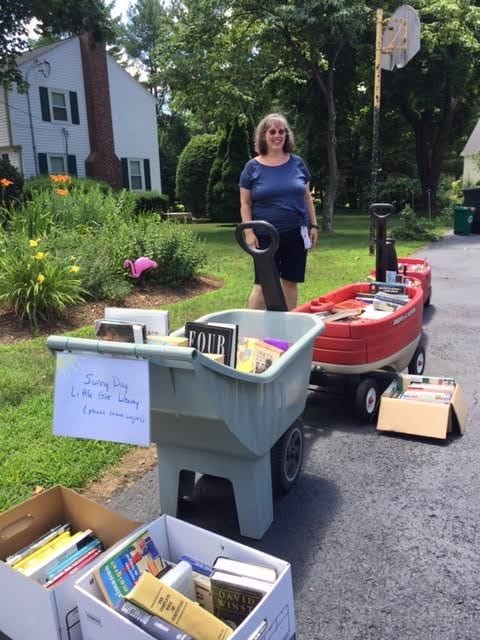 share this story on social media
---
Stay up to date
with Revels.
Sign up to receive email updates on performances, events, and news coming from Revels.
---