Volunteer Spotlight: John Recroft
Volunteer Spotlight
05.13.2020
John Recroft has been involved with and helped Revels in many ways over the past twelve years. This is particularly impressive since he is only seventeen years old! Revels has been fortunate to benefit from this young man's positive energy and many skills and talents. And for John, volunteering with the Revels has been a life-changing experience. John says it has "opened my life to all kinds of music, dance, and other cultural phenomena that I would've had no idea about. It has also introduced me to most of the best friends I have now!"
John's first experience with Revels was the Revels Homeschool program, which he attended from age five until he was fifteen. He continued with Revels, joining the childrens' choruses for several Spring Sings and RiverSings. Since 2013, John has been involved with The Christmas Revels both on stage (in the chorus, acting as a Swiss Guard, and as a sword dancer), and backstage (as a member of the Revels Apprentice Program (RAP), running crew, and as a props handler. Most recently, John helped Revels by editing 68 individual chorus members' videos together in just 48 hours to create an incredibly beautiful video of the May Day Carol 2020.
John is grateful for the wide-ranging opportunities Revels has given him and is very proud to be able to work for a large-scale production like The Christmas Revels. He has also had the chance to work side by side with his mom, Susan Only, as she has been the In-Theater Volunteer Coordinator and Backstage Manager for The Christmas Revels for the past few years. John (and Revels!) really appreciate Susan's support and help over the years!
In addition to Revels, John also regularly volunteers with Cradles to Crayons and in the summers he volunteers at Community Boating Incorporated as an instructor in training. Like Revels, these organizations are extremely fortunate to have an amazing volunteer like John. Thank you John for all the ways you help Revels. We're so glad you're part of our family!
Looks like we wore him out!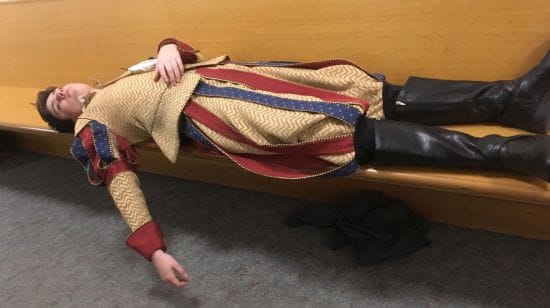 share this story on social media
---
Stay up to date
with Revels.
Sign up to receive email updates on performances, events, and news coming from Revels.
---