Thanks Giving
Blogs
11.23.2021
from Revels Artistic Director, Paddy Swanson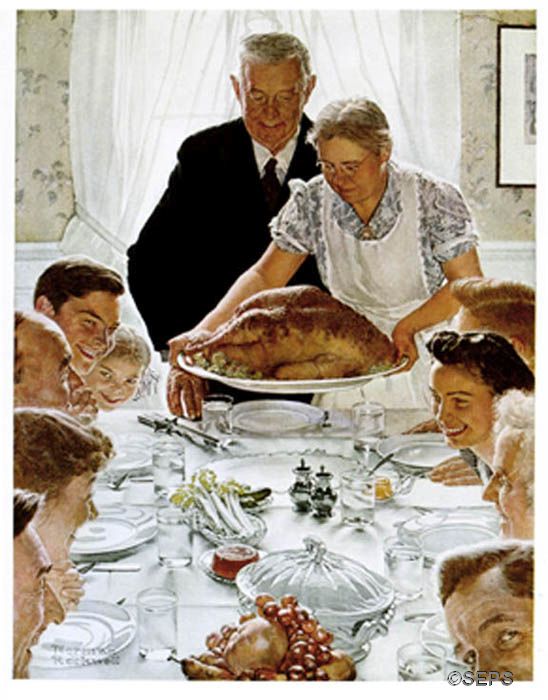 "It was the best of times, it was the worst of times…"
Dickens knew an inflection point in history when he saw it. For most of us dealing with the ravages of a long-drawn-out pandemic, it is harder to see the benefits of our collective trials and tribulations. Perhaps, the global nature of our burden, the collectiveness itself, is key to perceiving a more hopeful future. We share humanity. We share the earth. Sharing has become imperative to our survival.
The Norman Rockwell depiction of sharing the Thanksgiving Dinner was painted during WW2 and titled "Freedom from Want." While capturing the warmth and security of an ideal American family, it both mirrors and perpetuates the popular myth surrounding the original meeting of the Wampanoag tribe and the Plymouth settlers. Myths can be both aspirational and political. Under scrutiny, one would have to admit goodly servings of fiction and idealization along with the stuffing.
And yet, those glowing faces and that ceremonial meal with a theme of giving thanks has a deep resonance that comes from older customs and rituals that simply acknowledged the bounty of the earth. That is genuine. That we can all share that and more. Thanks for the families and communities that support us, thanks for the gift of perception that the worst of times makes possible, and thanks for the heroic and tireless work that the few are doing for the many. Sometimes the best of human nature comes out of the worst of circumstances.
 P.S.
share this story on social media
---
Stay up to date
with Revels.
Sign up to receive email updates on performances, events, and news coming from Revels.
---