Farewell from Steve
Announcements
01.26.2015
It is with bittersweet emotion that I need to let the Revels community know that I'll be stepping down from my role as Executive Director on February 28. My partner and I will be relocating to Seattle where I'll be taking on the position of Executive Director of Flying House Productions, home of the largest community chorus in America.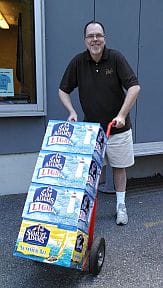 While this new job is a wonderful professional and personal opportunity, I reluctantly leave Revels with great love and respect. I have enjoyed every day of the past four years and the personal growth and satisfaction of being part of the Revels family has taken root in my soul forever.
Together – with my beloved staff colleagues, our board, and our supporters – we have reinforced the foundation of Revels. It is now strong and will support a new generation of Revelers. Over the past four years we have jumpstarted our audience, growing it by 21%. We have adjusted our business model and worked our way back to good financial health. We have put a new focus and energy into our education and Fringe programs to begin to build a new generation of fans. And perhaps most importantly, we have reconciled the inevitability of change with our culture of building and preserving tradition.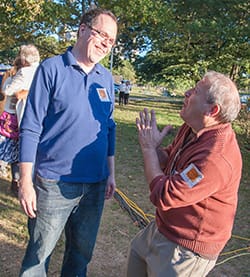 Without change, we would not be able to discern the value of tradition. Change is the friend of tradition, providing a counterpoint that helps us to cherish the things that really matter. Revels will continue to thrive as we give it the time, resources, and freedom to explore and celebrate the wealth of cultures and ideas in our world.
To our fans and especially my Watertown staff and colleagues at Revels companies across the country, my deep personal thanks for your forbearance as I learned to revel, and for making me a better colleague every day. While my role is changing, I am now a Reveler for life. No solstice or equinox will pass unnoticed. I will be in the audiences for The Christmas Revels in our two Pacific Northwest companies. I will link my hand with yours in Sanders Theatre whenever I can. Thank you for allowing me to become a small part of the ongoing story of Revels.
share this story on social media
---
Stay up to date
with Revels.
Sign up to receive email updates on performances, events, and news coming from Revels.
---