Dylan Thomas: the intersection where poetry and drama meet
Blogs
10.26.2015
At The Poets' Theatre, we concentrate our work on the intersection where poetry and drama meet, and if ever there was a poet who lived at that crossroads, it's Dylan Thomas. His language just cries out to be spoken aloud, and not just beautifully, sonorously, but with a real, honesty, personal connection to the words that is the very essence of good acting. Thomas himself was a gifted actor. When you listen to his recordings of his work you hear it: He not only speaks his text clearly and boldly, with good attention to rhythm, tone, and pitch, but he imbues it with a deeply personal sense of meaning, and an undeniable flair for the theatrical.
I was lucky enough to participate in TPT's last foray into Thomas' work, when we read "Under Milk Wood" at Sanders Theatre in September of 2014, along with Cherry Jones, Alvin Epstein, Christopher Lydon, Thomas Derrah, Karen McDonald and others. The event was simple enough: fourteen actors and poets sitting in a semi-circle of music stands reading to one another and the audience. We were helped along a little by John Malinowski's subtle use of the simple lighting system in the hall, and by Dave Remedios' carefully orchestrated sound, but the language did most of the heavy lifting when it came to creating an atmosphere that was truly theatrical: in which the audience could see and experience events unfold in their minds as clearly as if they were being acted out in front of them.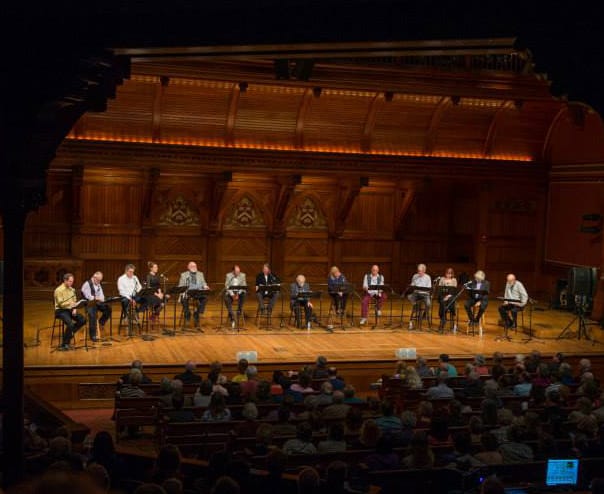 Dylan Thomas' language is all about evocation. That's why it's so theatrical, and so playful. Take line like, "And the cold postman, with a rose on his button-nose, tingled down the tea-tray-slithered run of the chilly glinting hill." The assonance, alliteration and piling on of images create a vivid, almost physical, sense of the man slip-sliding down the icy street. You can see him, clear as day, as if he were acting it out on a stage.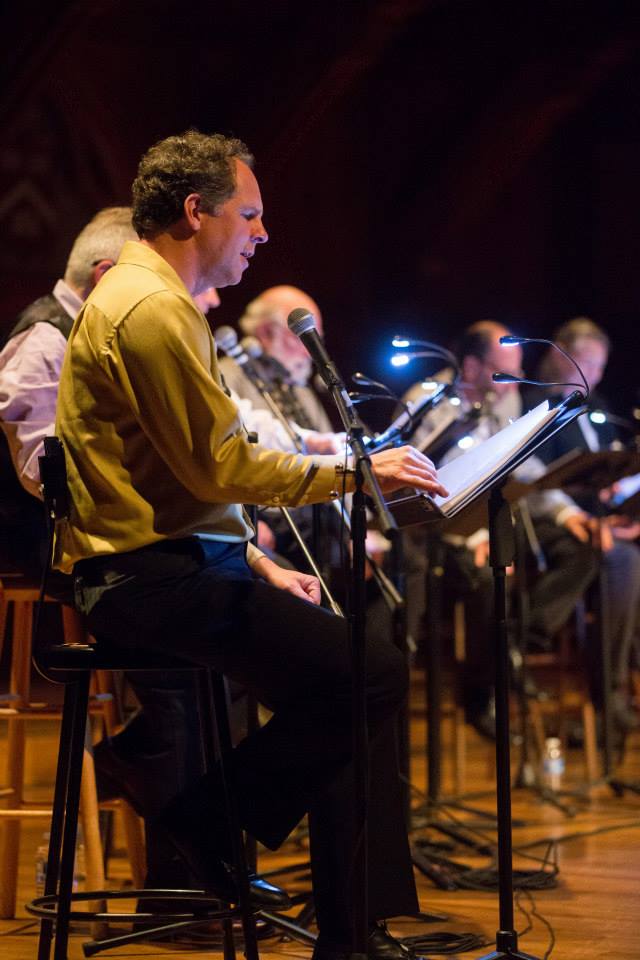 Ben Evett and Georgia Lyman are the guest presenters at our November 20th Salon on Dylan Thomas and A Child's Christmas in Wales.
share this story on social media
---
Stay up to date
with Revels.
Sign up to receive email updates on performances, events, and news coming from Revels.
---